Description
The GI Partnership North is an opportunity to exchange ideas about green infrastructure planning, delivery and research.
Our meeting on the 20th June will consider green infrastructure in the new government, green infrastucture planning and the exciting H2020 funded project in Liverpool.
We have a busy morning of presentations - with some time for discussion - and we are planning a short session after lunch where more in depth discussion about the presentations and other GI issues.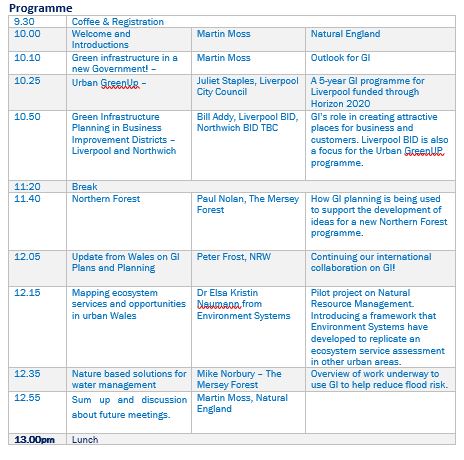 Followed by dicussion from 13:45 - 15:00
Organiser of Green Infrastructure Partnership - North
The Community Forest Trust works to support the development of Community Forests and other community forestry initiatives in England. The Community Forest Trust exists to provide project support and generate funding and raise awareness of the Forests, enabling them to continue their vital work, creating attractive environments in which businesses and local communities can thrive.
The Community Forest Trust is a non-profit making company limited by guarantee.
Registered in England no. 3598556. Registered charity no.1072706.