Description
We know from research that children learn better in a natural environment, and this is especially so for children with learning difficulties. However, to the best of our knowledge, there is no specific educational material on nature-based skill development across these three countries. In particular, we are interested in Green Learning Environments and how it can support informal learning.
Green Learning Environments is a project funded by Erasmus+. We are working with environmental partners and schools for children with special needs in the UK, Belgium and Slovenia.
Over the past two years we have collated examples of good practice, such as Forest School, developed new teaching tools and spoken to experts in SEN education and outdoor learning.
Our conference on 18th October 2018, at Bluebell Park School, Knowsley, is an opportunity for us to share what we have learnt, explore what opportunities there are to develop the work further and see if we can develop a network of practitioners and schools who wish to work together in the future.
We have some great, experienced speakers and lots of opportunities to discuss Green Learning and try out the teaching plans and tools that have been developed.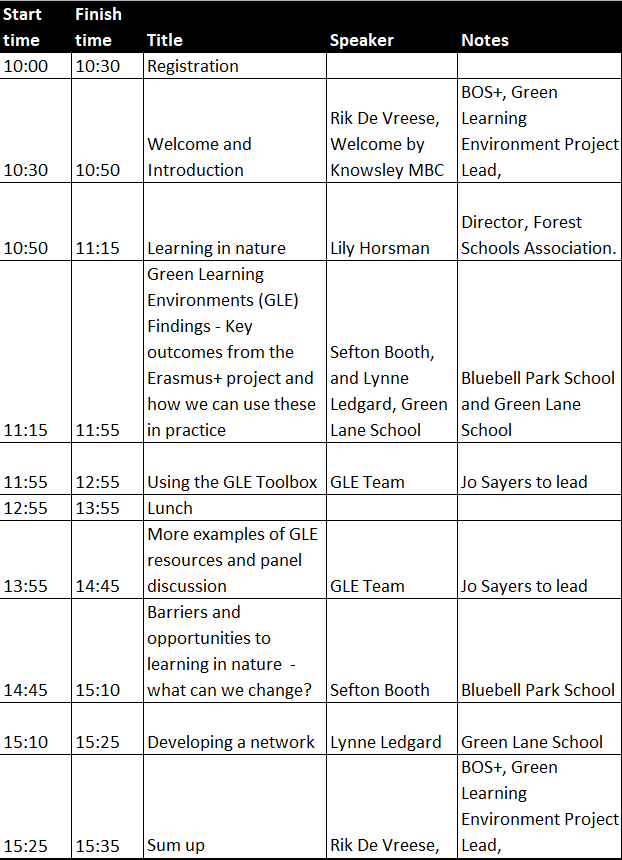 Organiser of Green Learning Environments Conference
The Community Forest Trust works to support the development of Community Forests and other community forestry initiatives in England. The Community Forest Trust exists to provide project support and generate funding and raise awareness of the Forests, enabling them to continue their vital work, creating attractive environments in which businesses and local communities can thrive.
The Community Forest Trust is a non-profit making company limited by guarantee.
Registered in England no. 3598556. Registered charity no.1072706.