Description
Visit inspiring eco-homes!
Join us for an inspiring day of eco-home visits, meet and speak to people who've retrofitted their homes and get your questions answered!
Have you got questions about insulating your home? Want to understand how others have thought through home improvements? What to know how others have found trades people?
*WHAT*
Open Homes
Homes that have had energy efficiency improvements are open for one weekend. Click here for a description of the homes:
Workshop
An introductory workshop at Levenshulme Inspire: Beginners Guide to Retrofit. Helping you understand the basics and get your head around the jargon before you head out to see the homes.
Bus Tour
We will start the day at Levenshulme Inspire for a Carbon Co-op workshop: Beginner's Guide to Retrofit. Marion Lloyd-Jones will explore what we mean when we talk about energy efficiency and retrofit. We will explore basic ideas and concepts, and help you think through questions to consider when visiting eco-homes.
We will provide a free lunch and then head off on the tour!
The bus tour will stop at two Carbon Co-op member homes. Both are at different stages of development so this is an exciting opportunity to see the process.
*BOOKING*
Use the 'Tickets' link to book your place to visit a home, attend the workshop or get on the tour.
Use this link to book visits to Ecospheric, Chorlton.

*WHEN*
Open homes

Get their under your own steam, hourly visit slots throughout Saturday 19th and Sunday 20th October 2019 (see timetable below).
Workshop & Bus Tour
Saturday 19th October 2019, 11am - 5pm.
11:00 - 12:00

Workshop: Beginners Guide to Retrofit

12:00 - 12:30

FREE lunch for workshop attendees

12:30 - 17:00

Eco-home Bus Tour
*WHERE*
Open Homes - Locations across Greater Manchester. NB we do not circulate addresses of the homes publicly, you will be contacted a couple of days before the event with the addresses of the homes you have booked to visit.
Workshop - Levenshulme Inspire, Stockport Road, Levenshulme..
Bus tour - Meet outside Levenshulme Inspire at 12:30 pm
*COST*
All free, but booking essential!
We are asking all bus tour attendees to pay a refundable deposit of £10 when booking. Your deposit will be returned if you attend the tour/make your apologies in advance.
Many thanks to Ecology Building Society for supporting this event.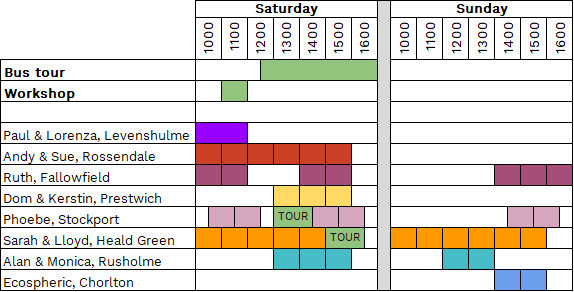 Organiser of Green Open Homes 2019
Based in Greater Manchester, we are a community energy organisation working to assist our members and the wider community to make large, significant reductions in their home enegry usage. Our work encompasses activities such as whole house retrofit, smart grid technologies and householder training programmes.