Green Shoots - Growing the Skills for a Sustainable Future Hosted by Truro and Penwith College, with Simon Reeve (Author and Presenter)
About this event
How can businesses adapt or change their practices to recover from the pandemic in a green and sustainable way?
This conference will highlight the opportunities that underpin Cornwall and the Isles of Scilly's Local Industrial Strategy for skills, careers and business growth and explore why, and how, environmental considerations and actions must be at the forefront these aspirations,
Join us as we showcase the businesses who have embraced the opportunity to put sustainability the heart of what they do, participate in workshop discussions and ask questions of our expert panel, including Simon Reeve, to help us to develop a local response to the global challenge presented by Climate Change.
Event Agenda:
11:30 - 12:30 Registration, Refreshments and Exhibits
12:30 - 13:00 Introductory Remarks
13:00 - 13:45 Workshops
13:45 - 14:00 Break
14:00 - 14:45 Keynote Speaker: Simon Reeve
14:45 - 15:30 – Question Time Panel (hosted by Kim Conchie, Cornwall Chamber of Commerce)
15:30 – 16:00 Closing Remarks
16:00 Event Close
As part of the registration process please choose to take part in one of the following workshop groups
• What skills do businesses need to grow in a green and sustainable way?
• What technologies will businesses need and how can they access them?
• What will the future green jobs market look like?
• How can businesses self-assess and improve their green credentials?
Please note that in order for this session to be fully funded by the ESF RISE Project you will be required to provide proof of employment and proof of right to work in the UK (recent payslip or similar)on registration.
This event is delivered by the ESF RISE project, which provides professional development opportunities and bespoke training solutions to support business performance, productivity and potential for sustainable growth and competitive advantage'
The ESF RISE project is part-funded by the European Social Fund as part of the 2014-2020 European Structural and Investment Funds Growth Programme in England.
For further information, please contact esftraining@truro-penwith.ac.uk.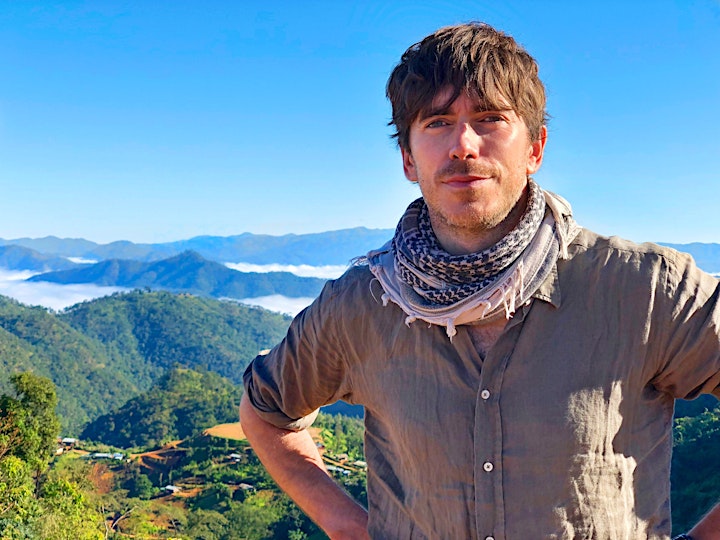 Simon Reeve is an author and TV presenter, and one of the world's most adventurous travellers.
As the presenter of multiple BBC television series including Indian Ocean, Australia, Tropic of Cancer, Equator, and Tropic of Capricorn, he has travelled extensively in more than 110 countries, across jungles, deserts, mountains and oceans, and to some of the most beautiful, dangerous and remote regions of the world.
Reeve is also a New York Times bestselling author who has written or contributed to numerous books on international terrorism, modern history and about his adventures, including The New Jackals (1998), the first book in the world on Osama bin Laden and al Qaeda, One Day in September (2000) and Tropic of Capricorn (2007). He has received a One World Broadcasting Trust Award for "an outstanding contribution to greater world understanding" and the prestigious 2012 Ness Award from the Royal Geographical Society.
Simon's unique brand of documentary-making, combining travel and adventure with current affairs, history, wildlife, culture and conservation, has seen him cover a huge variety of stories, often in developing, poverty-stricken and war-torn countries.
He's dodged bullets in war zones, hunted with the Bushmen of the Kalahari, dived with sharks, survived malaria, walked through minefields, tracked lions, been taught to fish by the President of Moldova, adopted by former headhunters, and detained for spying by the KGB.
Simon holds an official Somali diplomatic passport – bought from a man called Mr Big Beard in Mogadishu, the most dangerous city in the world. He's been surrounded by a pack of hungry cheetahs, adopted by a tribe of former head-hunters in Borneo, blackmailed and abandoned by drivers in an Ebola zone, pursued by a huge amorous camel around a poisoned sea, had his life saved by Vietnamese sweet wormwood, and eaten a feast of weird and wonderful food, from zebu penis soup to grilled squirrel.
Reeve has played tribal polo with the corpse of a headless goat, swum with sea-lions, fished for piranhas, climbed the equivalent of half-way up Everest while surviving on coca leaves, travelled around the planet by van, canoe, car, train, boat, horseback, helicopter, plane, and a 50-metre-long $1m truck, and used a zip-line to get inside one of the most repressive states in the world.
His TV adventures have been broadcast in dozens of countries, enthralling millions.
PRIVACY NOTICE:
The information you provide to Truro and Penwith College will be shared with the Department for Work & Pensions (DWP) and used to evaluate this project and to report to the Truro and Penwith College and European Social Fund for monitoring purposes, in line with European Commission regulatory requirements.
Your information will also be shared with research organisations working on behalf of the Department for Work & Pensions who may contact you to discuss your involvement in the project for research purposes. Participation in research is voluntary and you will be asked to consent before taking part in any research activity you may be contacted about.
Data will not be used or shared for any commercial or marketing purposes. At all times your information will be kept securely, and nobody will have access to it that shouldn't.
For the purposes of the General Data Protection Regulation (GDPR), the DWP is the data controller in respect to information processed which relates to all participation in the European Social Fund. ESF grant beneficiary organisations are data processors in respect to information processed which relates to participants in the operations and projects funded by the European Social Fund.
Organiser of Green Shoots - Growing the Skills for a Sustainable Future