GREY GOOSE® brings together two of Britain's most dynamic and exciting new talents to create an extraordinary cocktail experience.
About this event
In the same way that GREY GOOSE Vodka combines just two essential ingredients —water and wheat— and the martini cocktail combines just vodka and vermouth, BRIT award nominated musician, Rina Sawayama and star British-Filipino chef, Luke Selby, have come together to launch GREY GOOSE 'Duet', an exclusive martini cocktail bar pop-up series.
Duet is an opportunity to celebrate the French heritage of GREY GOOSE, blended with Rina's Japanese heritage and Luke's signature flair for the finest, local ingredients.
A ticket to Duet includes a delicious four-course dinner paired with a selection of playful twists on the classic martini cocktail– all made with GREY GOOSE Vodka. What's more, ticketholders will enjoy entertainment curated by Rina, including a live acoustic performance from breakthrough musical talent - Sans Soucis.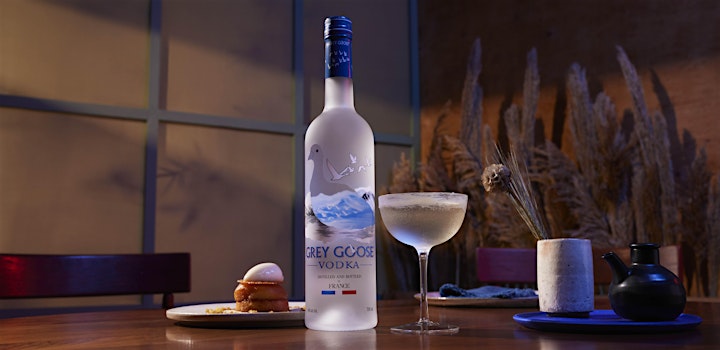 Duet Menu:
GREY GOOSE Opening Act: A petit martini cocktail to sip upon arrival, this amuse-bouche style serve comprises GREY GOOSE® Vodka and tomato sake, garnished with lemon verbena oil drops
Starter: Ikejime Trout sashimi sourced from Hampshire with fresh herbs, a zesty Bergamot dressing and a pickled radish flower* complemented with a GREY GOOSE Alpine Martini Cocktail; a citrus twist on the long martini cocktail featuring GREY GOOSE® Vodka, fragrant Genepie and fresh Yuzu liqueur
First Course: Mushroom gyozas with pickled walnut and sesame
Main course: Slow cooked Shorthorn Jacobs ladder beef, glazed in a red wine sauce with a blackberry reduction, celeriac puree, pickled blackberries and bitter chocolate gratings* paired with a GREY GOOSE Sage & Vanilla Martini Cocktail; a fresh take on the classic dry martini cocktail created with GREY GOOSE® Vodka, sage-infused MARTINI® Bianco, Tio Pepe and peat
Dessert: Poached pears served on a warm almondine cake with a light caramel sauce, yuzu and confit ginger served alongside the GREY GOOSE Encore; an indulgent blend of GREY GOOSE® Vodka, NOILLY PRAT® Dry Vermouth, ST-GERMAIN ® Elderflower Liqueur and Briottet Crème de Cacao Blanc
*Vegetarian options available.
GREY GOOSE Duet will run for four nights with limited tickets available. A portion of all ticket sales will go to The Drinks Trust in support of providing care and assistance to the drinks industry workforce.
Tickets are available across the following dates:
• Friday 26th November
• Saturday 27th November
• Friday 3rd December
• Saturday 4th December
There will be two sittings per date: 6pm and 9pm. You can purchase tickets based on your party size with tables accommodating 2, 4 and 6 people.
Pricing is £50 for single bar seat, £100 for 2 person table, £200 for 4 person table, and £300 for 6 person table, exclusive of VAT and any Eventbrite processing fee. Tickets are sold on per table basis and not per person, for instance 3 diners at a 4 person table are still charged £200.
If you do not see the table size you require, please contact greygooseuk@ogilvy.com and we will try to accommodate you.
You must be 18 or over to attend. ID required at the door.
COVID-19 REQUIREMENT
All ticket holders must agree to the following statement at the time of purchase:
By attending this event, I confirm the following:
• I am not experiencing or exhibiting any COVID-19 related symptoms; a high temperature, a new continuous cough, a loss or change to sense of smell or taste.
• I have not tested positive for COVID-19, nor have I been asked to isolate in the last 10 days.
• I acknowledge I am aware of, and agree to follow the safety protocols that have been implemented at the event.
• I acknowledge the contagious and evolving nature of COVID-19 and voluntarily assume the risk that I may be exposed to the virus and become infected as a result.
DIETARY & ALLERGEN INFORMATION
Please note that ticket prices include the full four course meal and pairing cocktails, all of which have been expertly crafted with care to match your meal.
Kindly be advised that as this is a set menu, we cannot meet special dietary requirements or requested changes to the dishes / cocktails. No additional cocktails will be served on the night.
All meat/fish are not Halal and Kosher.
IMPORTANT INFORMATION: All our food is prepared in a kitchen where nuts, gluten and other known allergens maybe present. Please note we take caution to prevent cross-contamination, however, any product may contain traces as our entire menu is produced in the same kitchen. Our dish descriptions do not include all of the ingredients used to make the dish. Therefore, if you have a food allergy please speak to Management before dining. Full allergen information is available. Management can advise of all ingredients used.
If you do have a food allergy you may be required to sign a disclaimer when you arrive prior to you being seated.
Please see the Grey Goose privacy policy for more information about how we use your personal data.