Within the context of oppression - how does the artist stay grounded, but also connected?
About this event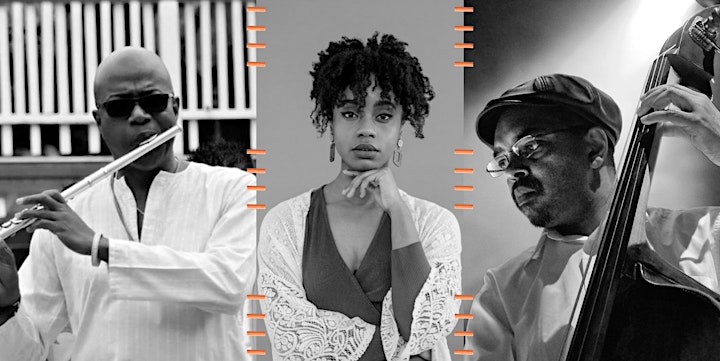 Integrating practice:
"Artistic groundings, Creativity & Wellbeing"
Award-winning musicians, flautist Keith Waithe and double bassist, Gary Crosby OBE, will be joined by Cherise to talk about how staying grounded supports their creative and artistic practices, sharing insights in developing young talent.
Join us on Tuesday 1st December 2020 at 18:00 to 19:00 where we will:
Weave together various perspectives on the importance of sharing intergenerational dialogues
Examine the role of art as a mediator between the artist and the environment
Explore how to cultivate a space for self-care and what that looks like through the creative process
Ask within the context of oppression - how does the artist stay grounded, but also connected?
Our guest contributors:
Keith Waithe, Award-winning flautist, composer, teacher and expert proponent of vocal gymnastics
Gary Crosby OBE, British jazz double bassist, composer, music arranger, and educator.
Cherise, Jazz and soul vocalist, flautist, composer and educator
PROGRAMME
18:00 INTRODUCTION Theresa Jones
18:05 IN CONVERSATION with our contributors
18:40 PANEL Q&A 
18:55 CLOSING REMARKS
More about "Grounded Revolutions: Notes to the Future"
Developed by FHALMA volunteers Véronique Belinga, Amarachi Iheke and Theresa Jones, this new co-curated digital project, is inspired by a series of essays by Guyanese scholar activist, Dr. Walter Rodney. 2020 – the 40th anniversary year of his assassination for his political views – has been a time for reflection and for some, the beginning of new journeys of discovery around Blackness and identity. Created with the aim of generating constructive intercultural, intergenerational conversations around revolution and well-being during radical times, our online platform also provides a focal point to contextualise profound and powerful lessons that Rodney developed and shared in concert with the community. Over the series, we will be joined by special guests from music, education and activist backgrounds who will discuss how they cultivate creative expression, nurture self-care – against the backdrop of contemporary modes of oppression.
We will announce future events for 2021
Follow up on our social media with #GroundedRevolutions for updates