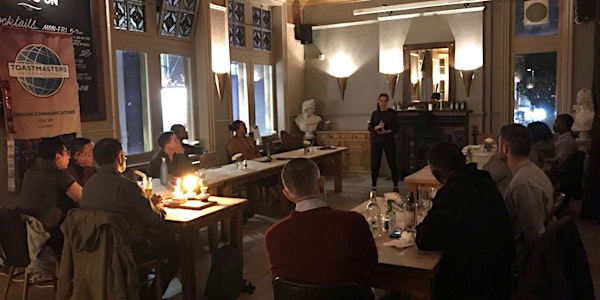 Grow Confidence through Public Speaking with London Communicators
Event Information
Location
The Angelic
57 Liverpool Road
London
N1 0RJ
United Kingdom
Would you like to... Be a confident public speaker? Improve your communication skills? Practice facilitating? ...then come learn with us!
About this event
We are London's friendliest public speaking club and our doors are always open for new guests and members like you!
We offer a fun and friendly learning environment based on the Toastmasters framework which is designed to give you real-world workplace skills, such as communication, leadership and collaboration.
Come along to find out more and experience first-hand that public speaking does not have to be daunting. Many of us started out a little unsure about public speaking, but now we enjoy doing it and sharing the learning experience with guests and new members.
You will hear prepared speeches and you can participate in impromptu speaking too. We learn by doing – so all speakers get personalised and positive evaluations on the spot. Everyone benefits from the feedback given to others – so from your very first meeting you will leave with precious tricks and tips to take home.
Whether it is for work, a special occasion or just because you want to get better at one of the most feared but rewarding skills you'll ever learn in your life, come along and see what we do.
London Communicators is a non-profit Toastmasters International club run by members for our members. We meet every 2nd and 4th Monday of each month in central London.
We look forward to seeing you!
Date and time
Location
The Angelic
57 Liverpool Road
London
N1 0RJ
United Kingdom