Event Information
Refund policy
Contact the organiser to request a refund.
Eventbrite's fee is nonrefundable.
GROW live! - A virtual event to boost your mind, body and business. Listen to 25+ Mind, body and business experts over 2 days.
About this event
Grow Marketing and Media
Presents
GROW live! - A virtual event to boost your mind, body and business.
25+ Mind, body and business experts
2 days packed full of personal development
Learn from the comfort of your own home.
When: 17-18th September 2020 between 9.00am- 5:30pm
Costs: Single day access pass: £49 or Full 2 day event access pass: £97
What is GROW live?
GROW live! Is an online personal development event to give you some fire in your belly. It is the ultimate event to help you reset, recharge and start thriving.
Starting on Thursday 17th September 2020 at 9.00am, our event will give you all the tools to become your level best.
It will give you a great opportunity to revisit personal development cornerstones as well as new exciting concepts.
This is your chance to help you and your business go forward and leave the malaise behind.
Tickets for all sessions are a whopping £97. (An absolute bargain)
Why attend GROW live?
✅Mind, body and business experts sharing their skills and knowledge.
✅You will get involved in workshops, live fireside interviews and Q and A sessions
✅Learn personal and business techniques to drive you forward.
✅Join a thriving and welcoming community of business professionals willing to share their best practices
✅All on Zoom, so you get to enjoy it from the comfort of your home.
✅After the event, you will get access to a full library of recordings.
Plus, so much more!!
What will I need to attend?
✅Internet access and a comfortable chair
✅Pen and paper
✅A cup of tea and a packet of biscuits (sorry, just 1 biscuit obviously)
✅1 Open mind
Yes, it is that easy!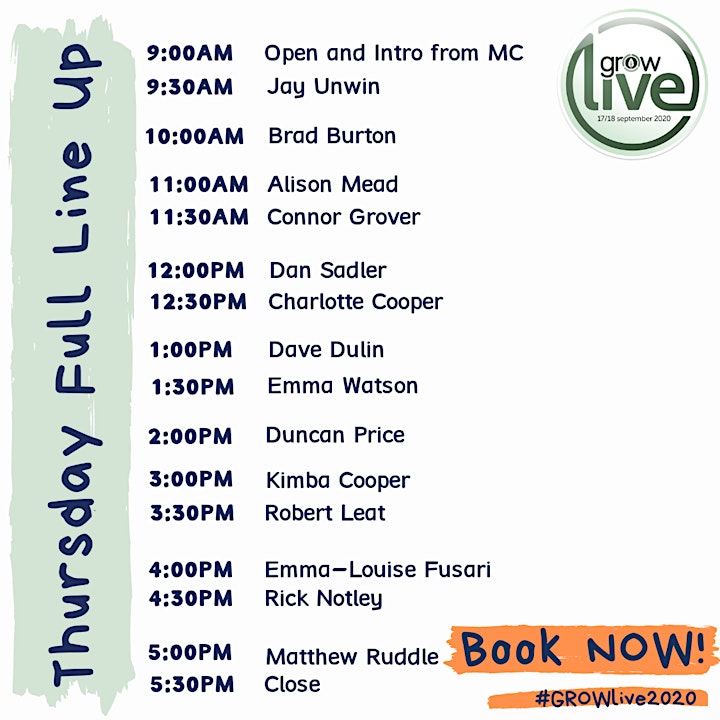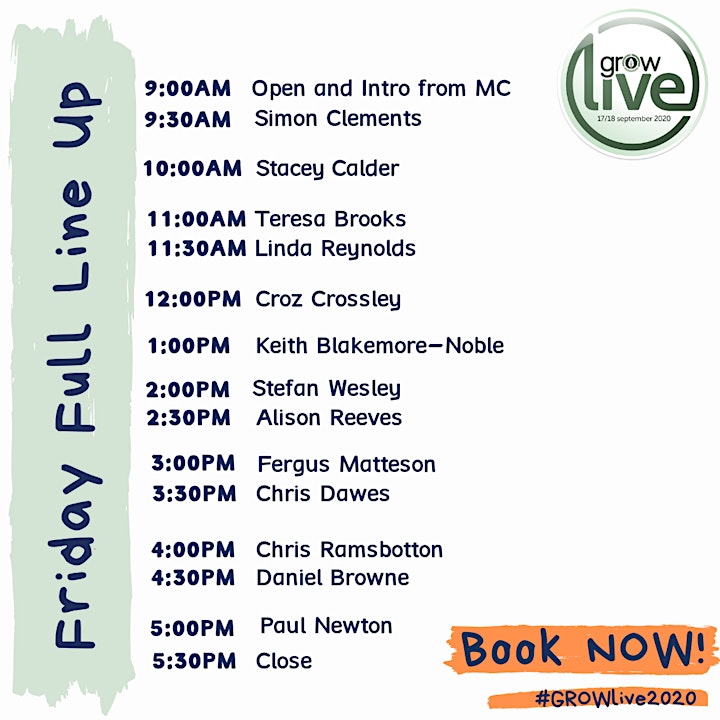 Our Experts
Here are some of the experts that Grow live! has on board.
MOTIVATION: Brad Burton - The UK's #1 Motivational Business Speaker, bestselling author and founder of 4Networking. Brad Burton will show you fundamental lessons and teachings of business and life. He will more importantly show you how to avoid burnout.
MINDSET: Croz Crossley-The Mindset Master has over 30 years in the personal development space as well as 50 years as a successful entrepreneur He will help you transform your business and personal life.
MIND: Duncan Price- Hypnotherapist who will give you techniques to unleash your potential through challenging your fears, phobias and reducing your stress.
MENTAL FITNESS: Jay Unwin- mental and physical fitness expert who will give you the tools for your body and mind to recover from stress.
DIGITAL MARKETING: Kimba Cooper will be giving you advice on how to build sustainable leads for your business whilst developing your online presence.
WEB DESIGN: Chris Dawes is a self-confessed geek and Star Wars obsessed web designer will be giving you actionable tips to make your website thrive.
SOCIAL MEDIA: Stacey Calder A.K.A the ASSETS QUEEN. Stacey is an expert in building online communities. Her community building expertise is industry recognised and she was invited to Facebook HQ. She will help you fire up your social media and help build your online community.
COACHING AND NLP: Teresa Brooks is a Business Coach and NLP expert who will help give you the clarity to move you and your business forward. She started the magazine COACH to educate the public about the benefits of coaching.
BOOKKEEPING: Alison Mead known as the 'Singing Sage Lady' will give the tools to get your books in order and sort your processes out. She may pop into song.P.S: Ask Alison to sing Gloria Gaynor.
FITNESS: Robert Leat is a fitness expert who simple strategies to help you lose some of those lockdown pounds. This is without any shakes, pills or potions. Rob will also discuss the myths about dieting and exercise. Rob will tell you why it is okay to enjoy a dirty burger and fries!
So..... what's stopping you from booking in?
We look forward to seeing there at GROW Live 2020!
Date and time
Location
Refund policy
Contact the organiser to request a refund.
Eventbrite's fee is nonrefundable.
Organiser of GROW Live 2020