Learn how your startup could access free, 3-month support via the London & Partners Business Growth Programme.
About this event
Looking to scale your startup in London? 🚀📚
Join the Business Growth Programme team on Wednesday 17 February to find out how our free, 3-month support programme could help your business grow.
In this short, informal webinar meeting you will:
Hear from Business Growth Programme graduate, Co-founder of London-based startup Cellen, Benjamin Viaris de Lesegno who will be sharing his experiences of the programme and overview of the health and life sciences sector
Learn about key programme information and dates
Learn how the Business Growth Programme supports companies in the innovation, life sciences, creative, urban, financial, business services & technology sectors
Get top tips to get the most out of the programme
Have the chance to ask any questions
About the Business Growth Programme
If your business is based in London and has between 3-250 employees, then you might be eligible for the London & Partners Business Growth Programme.
On the programme, you'll get:
📋 A business growth adviser - who will be your main point of contact and guide you through your tailored growth plan
🤝 Access to corporates - connections and collaboration opportunities with top corporates in London
📝 Workshops and events - virtual opportunities to learn from expert advisers and peers
🗣️ A mentoring scheme - expert help and advice from those who have experienced it first-hand
📈 Local business support - introduction to a full range of London & Partners' service providers
For more information about the programme and eligibility criteria, please visit our website.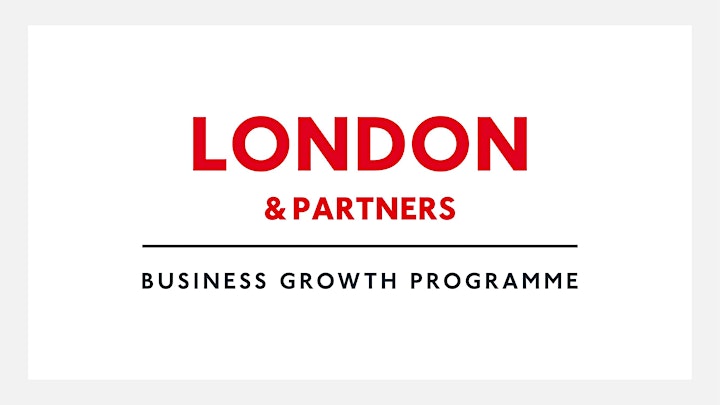 Organiser of Grow & Scale in London - A Business Growth Opportunity
London & Partners Business Growth Programme can help you grow your business and boost your innovation, productivity and profitability. This free 3-month programme offers tailored, impartial advice to businesses based in London looking to develop at different stages of their growth journey. With strategic solutions including mentoring, workshops, business growth advice and opportunities across our London network, we can help unlock your business potential.
Thanks for your interest in our event. This event may be taking place as a webinar, virtual meeting or another virtual event which we may record. If the event is face to face we may have photographers at the event who may be taking photographs and video footage. In either situation your image may be captured in this content. We use event content for our promotional purposes on our website, in our promotional materials, and on other platforms for example, our social media accounts. If we are running this event in partnership with other organisation(s) they will be named in the event description above. In these cases, we may share the content with them. For more information about how we use content (and other personal information about you) please see our Privacy Policy. If you do not want your image taken, or do not wish it to be shared with our partners, please let us know by contacting us at the email address in the event overview quoting the event name. If the event is face to face you can also let our staff know at the event.
 
If you are registering someone else for this event please ensure that they are aware of the above information. Please also make sure that you enter accurate contact details for them. You may also be contacted for post event feedback, either by us or by someone acting on our behalf. This is so we can understand our impact and improve our events.  
 
Webinars & virtual events:
Webinars and other virtual events may be made available on content sharing platforms e.g. Wistia, Twitter and LinkedIn post the event and these will be made available to companies that either participated or were unable to attend and would like to watch the session at a later date.  
 
Face to face events: 
If someone turns up for an event who has not been registered, they may be refused entry on health and safety grounds. 
 
If you have any special physical access requirements or dietary requirements, please let us know by contacting us at the email address in the event overview quoting the event name. We will only use this information for the purpose of making sure that we consider (and, where possible, meet) these requirements during the event. If you provide us with this information, you are giving us your consent for this information to be used for this purpose.