Description
Struggle to speak up?
Confidence limiting you?
Struggle to find new clients?
Forget Everything You Have Been Led To Believe About Public Speaking. And Forget What Everyone Else Has Told You.
"From where I started to where I got to at the end of the day were just two different places! I didn't want the day to end" - Franco Sharp
If you have a strong desire to overcome stage fright, deliver high impact presentations that move your audience and convey your ideas more effectively and passionately, then watch this and keep reading...
This is your chance to join other smart individuals on the award winning, high impact 'Public Speaking Confidence & Presentation Skills' course. A practical course that takes the mystique out of public speaking.
Delivered by professional speakers who have been there, felt your pain, and will take you right through those barriers - fast.
Presenting Without Fear
"Absolutely fantastic... it's a very safe environment, it's very supportive. I would definitely recommended the Masterclass and the Workshop to anybody." - Tahira Akhtar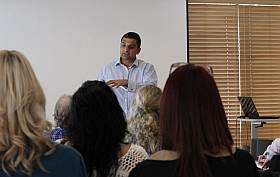 At the Public Speaking Confidence & Presentation Skills course we demonstrate and reveal the most effective approaches to THINK, FEEL and SPEAK with confidence.
You will learn:
How to find the courage to speak in public
How to manage those nerves
How to get audiences to engage with you and take action
To think on your feet and never forget your words
Immediate changing techniques to look professional, command respect and heighten your confidence
3 Professional Speaking Secrets that instantly transform your delivery
+ much, much more!
You will complete the Masterclass with a new found confidence in public speaking, less anxiety for your next presentation, and the tricks and tips on how to present professionally without forgetting what you are going to say.
"The most amazing public speaking course... very safe, and just a day! A huge shift. Amazing experience, highly recommended"
- HRH Princess Noor Asem
k)
Our Team
The Public Speaking Academy are award winning professional speakers and coaches to Royalty, CEO's, Politicians, Leaders, Executives and Media personalities. Our unique approach delivers consistently and drives genuine breakthrough change in 99.8% of course attendees.
(our testimonials show it and our 100% money back guarantee proves it! )
And whilst we are a proud Northern team, our courses are acclaimed across the UK, and the world.
What Do Previous Attendees Think?
Here are just some of our course delegates, filmed immediately after attending (many who had never spoken in public before, let alone direct to camera!):
"It was just amazing!" - Daria Ni
"...took me from feeling like a nervous amateur speaker to appearing like a polished professional. It was a really empowering experience and one I'd happily recommend" - Amal Stapley
What Will I Achieve?
What if...
you could be seen as an authority in your field
you could deliver presentations that impact better than anyone else in your company
you could pitch your business with uniqueness and spark
...would that shift your career and your life?
For many of our delegates it already has... Dramatically.
And in today's competitive market place. Today's uncertain economy. The ability to step above 90% of the UK population who fear public speaking, will give you the upperhand. And the confidence, to become a new you.
So join us
Hook up with like-minded people, and say goodbye to any anxiety. We guarantee to wake up the speaker inside of you.
"To say we enjoyed it is a massive understatement, the structure, the content, the support, the encouragement, the direction has been immense, the best money I have spent, EVER!" - Graham Cosier, Network Marketing Director and Leader