Description
Please enter this event at the rear entrance of City Hall from College Street. The entrance is in the middle of the building and is signposted.
New UK Government incentives will shortly be available in the Bristol City Council and Bath & North East Somerset areas to help businesses get gigabit broadband. Come along to this event, as part of Venturefest Bristol & Bath, to find out more about how your business could get a gigabit broadband boost.
The average SME employee loses 15 minutes every day due to slow internet - full fibre, gigabit connectivity could be transformative for your business, helping its growth and expansion:
boosting productivity by saving time and speeding up processing

opening the door to new innovations, like far greater use of cloud services and VOIP phones
enabling employees to work remotely and more flexibly
delivering more satisfied customers, more likely to come back
Hear from other West of England SMEs already with faster broadband.
Get ahead of the pack
Following new investment, there are now more options to get full fibre / ultrafast broadband in the area than ever before. Thanks to new incentives from the UK Government for gigabit-ready broadband - the time is right for businesses and organisations to upgrade their connections
Come along to our event and hear about:
the difference ultrafast broadband makes, from businesses themselves
how your business could benefit
the new ultrafast options available to many Bristol businesses
doing better digital business
UK Government incentives for you to get gigabit-enabled speeds
There'll be time to network with other businesses and organisations, talk through the options and answer any questions in our Connectivity Market Place before and after the event. Drinks and canapes will be provided courtesy of CityFibre from 18:00.
Doors open at 18:00 and the event begins at 18:30 and will last for about 60 minutes.
Entrance is at the rear of the building in College Street. The event takes place in the Cash Hall of Bristol City Hall. #wegrowthhub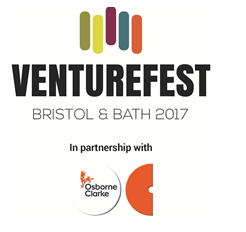 Audience: this event is intended for businesses, organisations, the third sector and the telecoms sector.

---
Registration is also open for the Venturefest Bristol and Bath Thought Leadership Conference at: www.venturefestbb.com - Follow us on twitter: @venturefestbb #VFBB17