Looking at grassroots organisations and what tools they have used to grow a consistent and evolving community.
About this event
Join Mathieu Ajan as he takes you through a 2 hour workshop on discussing, "The Importance of growing a Community" and more importantly, how he grew Bounce Cinema as a grassroots organisation.
During this interactive session Mathieu will be discussing the main tools he's used to grow a consistent and evolving community, not forgetting his wins and lessons along the journey.
Mathieu Ajan
Mathieu Ajan is an artist & founder of Bounce Cinema, London's leading platform dedicated to connecting communities with film. Previously the BFI Network Talent Executive for commissioning Short Films. He has also curated and programmed for the Tate Modern, Institute Of Contemporary Arts & Aesthetica Short Film Festival. Mathieu is passionate about supporting emerging talent and been a speaker at key festivals including the Cannes film festival, Sundance, and Sheffield Doc Fest.
This event is part of Creativity Works, a Mayor's Fund for London programme supported by Citi Foundation and delivered by Create Jobs at A New Direction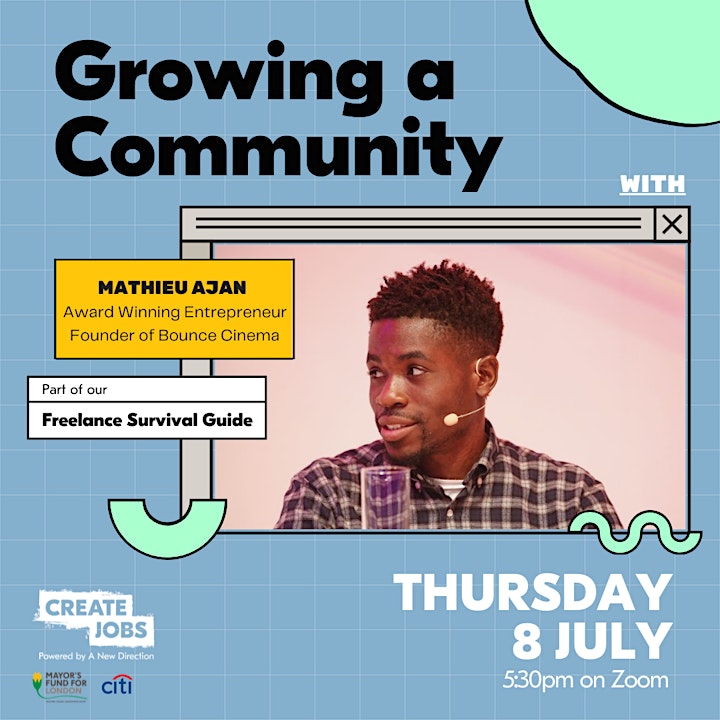 Organiser of Growing A Community with Mathieu Ajan