Growing the Cambridge Biomedical campus- Hospitals and Organisations accele...
Description
Growing the Cambridge Biomedical campus: New hospitals and organisations accelerating specialist research
NIHR Cambridge Biomedical Research Centre Public Open Evening 2019
Talks are between 6.00pm and 7.30pm. Doors open at 5.30pm, networking with speakers and researchers until 8.00pm.
The Biomedical campus continues to expand, with the recently completed Royal Papworth Hospital and Jeffrey Cheah Biomedical Research Centre to be joined by a specialist Heart and Lung Research Institute and a Cambridge Children's project. There are also ambitious plans for a specialist cancer research hospital.

Join us for the NIHR Cambridge BRC Open Evening 2019 as we share how the new additions support our world-class research to improve patient care.

Researchers in Cambridge are at the forefront of tackling major health challenges such as cancer, paediatric conditions, autoimmune disease, heart and lung disease. Find out how we are turning our discoveries into life-changing treatments for our patients and how local people are supporting and influencing this work.
If you are interested in finding out more about the new developments on the campus and how they support research, this evening is for you.
Light refreshments (tea/coffee and nibbles) are available on arrival and during the exhibition.
For further details of the day visit our website www.cambridgebrc.nihr.ac.uk
Here you'll find:
Speakers involved

How to get to the venue

Accessibility information

A downloadable poster to advertise the evening to others
FAQs
Accessibility information
The venue has full disabled access and disabled toilet facilities. The theatre is fitted with an induction loop to assist the 'hearing impaired' and a lift to provide wheelchair access down into the lecture theatre.
Parking facilities for Blue badge holders are available. Please contact Georgina Norris on gan23@medschl.cam.ac.uk or telephone 01223 254608. We will require your car registration number.
Getting to the Venue
By car
For free on-site parking please use Staff Car Park S. The entrance to this car park is off Robinson Way and opposite the Cambridge Academy for Science and Technology. Robinson Way entrance can be accessed off Long Road.
Staff Car Park S is an outdoor car park and is adjacent to the venue. You can walk directly across Puddicombe Way to reach the Open Evening venue, the Cambridge Cancer Research Institute (CRUK).
Please note that this is a staff car park and that the barriers will not be opened for the event until 5pm. There are plenty of parking spaces, however, to reduce the amount of traffic coming into Addenbrooke's site we ask that you use public transport where possible.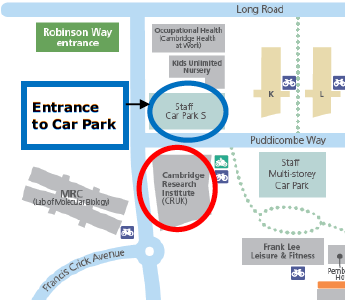 By Bus
Cambridge Biomedical campus is well connected from the city and nearby villages by bus. There are lots of buses to the campus (Buses A, D and U stop close to the venue on Puddicombe Way). For details visit www.cuh.nhs.uk/corporate-information/finding-us/public-transport
Where can I contact the organiser with any questions?
Please contact Georgina Norris via email: gan23@medschl.cam.ac.uk alternatively Tel: 01223 254608