Growing the energy transition (DAY 2 - 15 September)
Strategies for Consumer & Citizen Engagement in the Energy transition
About this event
The PlatOne consortium is happy to announce that its "Growing the energy transition" conference will be held on 14th September, from 13h30 to 16h00 CEST, and 15th September 2021 from 9h30 to 12h00 CEST.
"Growing the energy transition" by Platone is an event that aims to boost knowledge sharing, know-how and expertise by discussing key topics of the present global transformation of our sector. On the first day the focus lies on the Platone Open Framework and how the demo sites facilitate and contribute to the future of flexibility and digitalization and the second day evolves around customer engagement and energy communities. It will not only be possible to discuss with experts of different fields to what extent are R&I projects needed to close the gaps between ideas and reality or how the DSO business model is changing to adapt to flexibility but also share your expertise and knowledge about key aspects to foster a fair deal for consumers and how can LECS, CECS and DSOs contribute to the energy transition.
Don't forget to register for the first day!
This conference will be eco-friendly, if you share our mission and would like to receive our GIVEAWAYS, please give us your consent to share your data with a third party and indicate your address.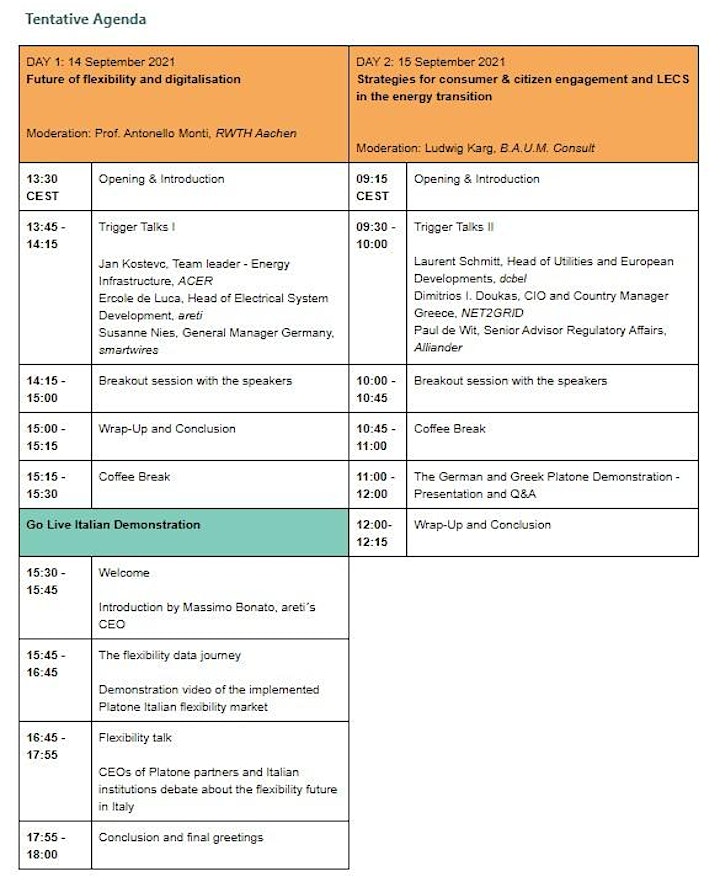 Organiser of Growing the energy transition (DAY 2 - 15 September)