Mata Sahib Deva Sikhia presents a two-part workshop on Children's Mental Health Week through the lens of Gursikhi.
About this event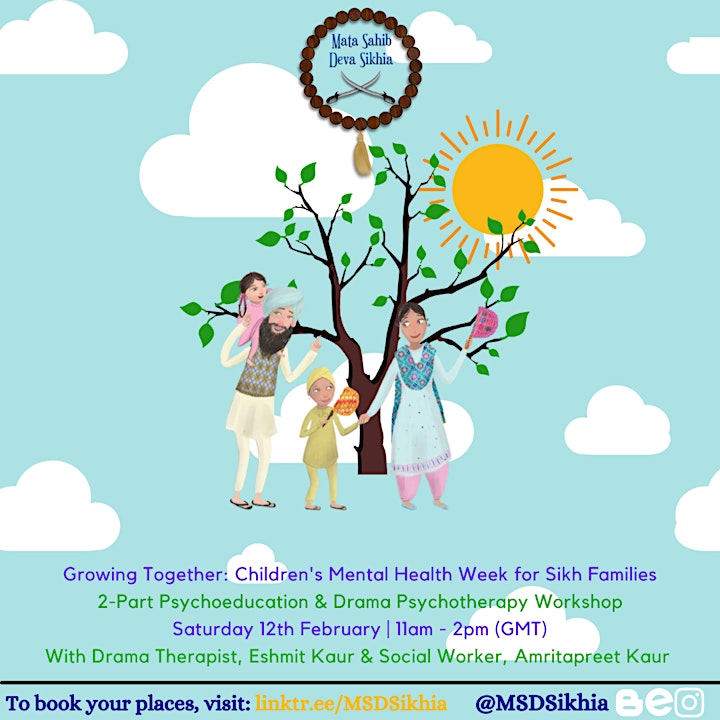 Mata Sahib Deva Sikhia is a Sikh family initiative, sharing Gurmat Ithiaas through play and creativity. You can visit our blog here. Click here for our social media and past project links.
***THIS EVENT IS NOW TAKING PLACE ON INSTAGRAM LIVE @MSDSIKHIA AT 11AM ON SATURDAY 12TH FEB***
What is this workshop about?
Part 1: This psychoeducation session will be for parents/carers of children and young people under the age of 18. 10am-11am.
In this workshop, we will be considering the theme of Children's Mental Health Week 2022, "Growing Together." We will be supporting parents and carers of young people to think about the various aspects of growth, through a spiritual, mental and bodily lens and how "Growing Together" is a concept that can be applied through Sangat [congregation] and the family home and structure. This important workshop offers ideas and information to parents/carers as to how fundamental Gursikhi is in the concept of inner growth.
Part 2: This Drama Psychotherapy workshop session is for carers and children, who attended part 1. 1pm-2pm.
We invite young people onto the Zoom screen to engage Narrative Therapy exercise known as the Tree of Life.
That sounds interesting! What resources will I need to attend?
Access to Zoom on a smartphone, laptop or tablet
A5 pieces of paper
Magazines, photos, stickers, tissue paper, feathers etc. - an abundance of arts and scrap materials including photos of family or important people in one's life
Paints, coloured pens and pencils - anything that can be used for getting messy and decorating!
Writing pens and paper
Scissors, glue and sellotape
Who runs Mata Sahib Deva Sikhia? Are you qualified to run this workshop?
Yes! We are both registered mental health professionals with experience working with vulnerable adults, young people and children between us. We both have enhanced DBS' too. You can read about us here:
Eshmit Kaur is an HCPC and British Association of Dramatherapists (BADth) Registered Drama Psychotherapist. She runs a private therapy service, EK Therapy, which encourages Oneness of the Soul, Mind and Body. It is a specialist Creative Arts / Drama Psychotherapy Service for the Sikh community or any individual who values faith and spirituality as part of their healing journey. Eshmit specialises in supporting survivors of Complex Trauma in her roles within the Child and Adolescent Mental Health Services (CAMHS), including a low-secure hospital and Looked After Children service. She is a co-founder of Mata Sahib Deva Sikhia.
Amritapreet Kaur is a Registered Social Worker Best Interest Assessor working with vulnerable children, adults and family promoting well being and promoting rights to life. She has a passion in advocating for those without a voice, promoting positive change and working to support individuals to live their life to the fullest of their abilities. Extensive knowledge and experience within Adult Mental Health namely Forensic Low Secure services and CAMHS.
Phew... that's a relief! Can you tell us what to expect once we sign up?
Once you sign up, you will be sent a confirmation email. You will also receive an automatic link with the Zoom details in, however, we will send you this beforehand too to ensure that you have no problems logging in on the day. We will also send you an email with the template image for the creative workshop. We kindly ask that you do not share the Zoom details with anyone to ensure the safeguarding of attendees.
Sounds good... but can you explain why this event is "donation only"?
We decided to keep this event as donation only as a way of being able to raise Seva to continue to help us offering events and building on our resources. Guru Gobind Singh Jee Maharaaj tells us "The charities bestowed on Them [the Khalsa] will bear fruit in the future. The charities given to others [outside of the Khalsa] are unmatched to the donations of Them [the Khalsa]." We feel that it's important to encourage our community to support community projects in whatever capacity they feel able to - whether it's 50p or £500, every penny counts towards strengthening our community and building upon the initiatives we can offer.
OK! Is there anything else that I need to know?
One final thing... when you register for this event, you permit MSDS to contact you regarding this event and future events. You also give us permission to take photos and videos of the event and participants for the use of publicity and promotion, which will be stored according to GDPR Guidance. You can contact us at any time if you have any questions on our social media (which can be found on the link at the top of this page) or via email: msdsikhia@gmail.com
With the Guru's Grace, we hope to see you there!