Event Information
Refund Policy
Contact the organiser to request a refund.
Eventbrite's fee is nonrefundable.
About this Event
We're all having to adjust to a new way of working. If you don't have a system to keep you and your work organised, then it's easy to become overwhelmed by your projects. This impacts on your ability to deliver good work on time, and to your client's expectations, and may end up costing you money.
What you need is a method for managing your time, clients, projects and wellbeing better.
In this online workshop, we will explore ways to set up and track your workflow, so you can manage your time, clients and projects in a more focused, efficient, productive and supportive way, whilst juggling your current work from home situation.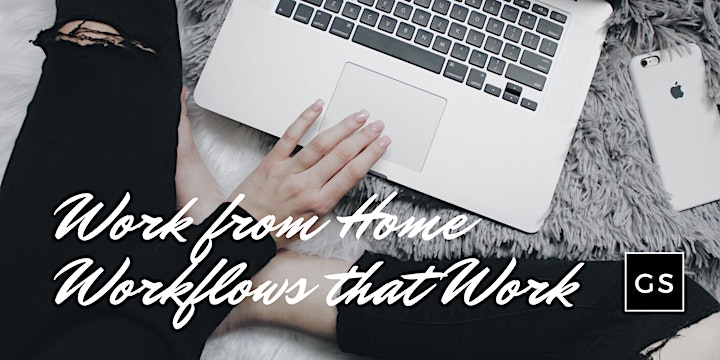 Why Workflow?
Workflow is the set of actions we follow when we define, execute and automate our business processes. It includes the tasks, information, documents, outputs and deliverables that are passed between you, your clients and your suppliers.
In this session, we'll look at:
What your workflow should take into account, to stay on top of all the bits you need to do, from project start to project success.
How to simplify your processes and systems for maximum efficiency and organisation.
Rituals that will help you stay focused, creative and productive, so you can rock your clients socks, without feeling overwhelmed or over-stressed.
Note:
There is some prep in advance of the session, so that you have examples to apply this learning to during the workshop. And optional homework afterwards, creating or adjusting your own system and sharing for further feedback.
Who is this for?
This workshop is for Freelancers, Independent Business Consultants, Small Business Owners and Solopreneurs spending more time online and working from home.
You may be …
Just starting out and looking for guidance on how to work best in our new WFH digital environment.
Or you may be running an established micro-business, but struggling with the overwhelm of a growing client base and workload, on top of needing to work in a new way.
It's a relaxed, hands-on and practical 2 hour workshop session. There will be opportunities for reflection and interaction with a small group of participants. There are a few different dates/times to choose from.
The session is hosted by Mich Bondesio, a seasoned communications consultant, project manager and performance mentor. Her Growth Sessions talks, workshops ad mentoring programmes support small companies and independent professionals to build healthier work cultures and develop more mindful approaches to work.
What people are saying about this workshop:
"Thank you for a great session re. workflows. Sharing your first hand experience and taking the time to answer all our questions was really appreciated. Very practical advice offered, plus support between attendees too. Looking forward to seeing what you get up to next! I've since used your journal idea to replace my daily 'to do' lists that I'd tick off and then scrap - leaving (literally) no paper trail. The journal shows me what I've accomplished, how I can prioritise and what is coming up next." Rebecca Greaves
"The session felt really bespoke, modern and fresh, full of mind opening ideas. The key thing I took away was the ways we can put our work into a physical system. It has prompted me to make changes as I realise stress kills my productivity." Scott Bradley
"Really informative, well planned and expertly delivered.My key takeaway was that I need to treat myself like my own client and be as organised and deliberate when it comes to working on my business as I am working in it." Gordie Smyth
Terms & Conditions:
Refunds are only offered if notice of cancellation is received at least 4 days prior to the start of the event. If you're unable to attend, please notify the organiser immediately, as there may be waitlisted people who can attend in your place. Thank you.
Location
Refund Policy
Contact the organiser to request a refund.
Eventbrite's fee is nonrefundable.