Description
Take action to GROW your
business in 2016?
You will need a plan…. one that you can stick to and act upon! One that can give you focus, will excite and motivate you and your team to bring in real measurable results.
GrowthCLUB is your 90 day planning workshop. We will inspire and assist you to build a step-by-step practical, relevant and tailor-made Action plan for the next 90 days, aimed at driving more profit into your business.

Join other business owners to review their business challenges, learnings and successes to learn from them and move your business forward towards a brighter future….
Learn our proven strategies and plan to acheive more in the next 90 days than most businesses will acheive in the next year!
By the end of this workshop event you will:-
Identify key goals for 2016

Create new action strategies to drive your sales and profits right away

A detailed action plan of how to achieve your goals

Vision, focus and enthusiasm for the next 90 days

Develop practical systems to save time, stress and money

Work alongside a group of like-minded business owners

Get back the excitement and motivation for your business

Learn bullet proof strategies

Create MASSIVE results
In January it is vital for every successful business owner to step out of their business to review the previous year and set new goals for success in 2016. Explore what's working, what's not and needs to change. Learn new strategies to propel your business into your best year yet!
Registration is at 9.00am, join us for breakfast. Seminar from 9.30am to 4.30pm. The price of £295+VAT includes all workbooks, refreshments and includes lunch.
DOUBLE YOUR FOCUS AND RESULTS




Get first-hand insight into how to more effectively take CONTROL of your business, PLAN its direction, and BUILD a positive future for yourself.

You are invited to our GrowthCLUB — an EXCLUSIVE, VIP workshop to gain laser-sharp clarity in the first stage of building a business that works without you. If you have any questions about GrowthCLUB 90 Day Planning business workshop – Phone Andrew on 07801 612889 or email andrewcussons@actioncoach.com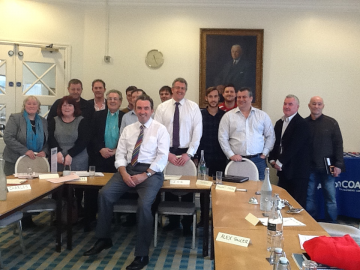 Multi Award Winning Coach - Andrew Cussons
Here's what a few previous clients have to say:
"What an inspirational day to spend out of the office! Andrew was on fire today, bombarding us with insight after insight. I wrote pages of notes. We came out of the day with a focused and clear business plan for the next three months and met some great business owners during the day. I would highly recommend Andrew's 90-day planning day to any ambitious business owner."

Wylde by Design,

Brand Design Specialists,

Harrogate
"The 90 Day Planning System will turbo charge your business, what you learn will have a very big impact on your business"

Jonathan Batchelor,

MD Ramus Seafoods, Harrogate and Ripley
Organiser of GrowthCLUB workshop - 90 Day Profit Plan for your Business
Yorkshire's Original, pioneering  ActionCOACH, Andrew has been supporting business leaders for over 25 years in the Yorskhire area, and his no no-nonsense practical tips ,based on his experience as a qualified accountant and entrepreneur, will equip you to SEE and ACCEPT your current reality, provide   ''WHAT TO DO''   tools and show you  ''HOW TO DO IT''. You provide your  ''WHY: This is what I Choose '' and a DETERMINATION to GROW and CHANGE for BETTER RESULTS  in your life and your business.Your 90 Day Plan will show your next few steps towards your DREAM..
Andrew's vision for Kingdom 90 Day Business Plans and KIngdom Business Clubs is based on Andrew's  Christian calling to address the needs of some 4.2 million small businesses in UK and the fact that up to 80% never make it past 5 years.The human cost in terms of anxiety, stress, debt, addictions ,family and relationship breakdowns, divorces, are enormous. By providing EDUCATION , KNOWLEDGE,COMMUNITY , members and attendees can  also share ideas and experiences and complete a 90 Day Plan which will be prayed over for 90 days  by our Intercessor. By reconvening every 90 Days we can together raise the bar for everyone and build Kingdom and rebuild lives, familes and communities  thereby giving Hope and a Future.Addditional support provided by Kingdom Business Clubs and Whats App Groups
Others will, in turn be attracted to the transformation they see in members' lives and want to find out more .The Kingdom Business Clubs will signpost new members  to Apla Courses and local churches throughout the UK . Together we will improve people's lives, grow God's Kingdom and be a blessing to our familes, communities,cities  and nations.