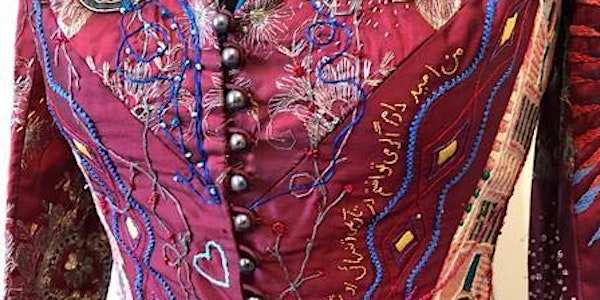 Grym mewn Gwnïo | Embroidery for Empowerment
Location
National Waterfront Museum
Oystermouth Road
Swansea
SA1 3RD
United Kingdom
Grym mewn Gwnïo | Embroidery for Empowerment
About this event
Ymunwch â ni ar Ddiwrnod Rhyngwladol y Menywod am weithdy creadigol hanner diwrnod i ddathlu menywod o bob cwr o'r byd, wedi ein hysbrydoli gan y Wisg Goch anhygoel, sydd i'w gweld yn yr Amgueddfa yn ystod mis Mawrth.
Braint fydd cael yr artist Kirstie Macleod yn arwain y gweithdy - hi wnaeth gychwyn a sbarduno project y Wisg Goch.
Bydd y gweithdy mewn dwy ran, ac ar y diwedd bydd cyfle i ychwanegu darn eich hun at gopi o'r wisg, gan wau eich stori eich hun i'r pwythau.
Manylion y gweithdy
Rhan gyntaf: Cyflwyniad i'r Wisg Goch gan Kirstie Macleod a chyfle i'w gweld. Yn dilyn hyn bydd Kirstie yn rhannu syniadau ac yn arddangos ei gwaith, ynghyd â Menna Buss, dylunydd lleol, fydd yn helpu i siapio eich syniadau.
Cinio
Ail ran: Sesiwn greadigol hamddenol, lle cewch gyfle i greu brodwaith eich hun i ychwanegu at ein replica maint llawn o'r wisg goch. Cyfle i ychwanegu eich stori chi'ch hun at ein fersiwn Gymreig o'r wisg anhygoel, sy'n symbol o gydsafiad a grym menywod.
Gorffen am 3pm
Darperir yr holl ddeunyddiau.
Nid oes angen profiad blaenorol. Croeso i bawb, boed yn ddechreuwyr llwyr neu'n bwythwyr profiadol.
Am ddim
Mae hwn yn ddigwyddiad byw, yn y cnawd yn Amgueddfa Genedlaethol y Glannau.
Oherwydd y cyfyngiadau, nifer cyfyngedig o lefydd sydd, ac mae modd archebu ymlaen llaw. Bydd mesurau diogelwch Covid ar waith.
Gyda chefnogaeth Rhwydwaith Cydraddoldeb Menywod Cymru
Mae'r tocyn digwyddiad hwn yn rhoi mynediad i'r Amgueddfa i chi yn awtomatig, heb yr angen i orfod archebu tocyn mynediad safle ychwanegol
_______________________________________________________
Join us on International Women's Day for this half day creative workshop celebrating women around the world, with inspiration from the amazing Red Dress, on display at the Museum during March.
We are honoured that leading the workshop will be British artist Kirstie Macleod, the woman who conceived The Red Dress project and made it happen.
Set in two parts, the workshop will culminate in the chance to add your own piece to our replica dress , interweaving your own personal stories with your stitches.
Workshop details
First part:
Introduction to The Red Dress by Kirstie Macleod and the chance to view The Red Dress. This will be followed by some inspiration and demonstrations by Kirstie who will be joined by local designer/maker Menna Buss to help shape your ideas.
lunch break
Second part:
A relaxed creative session to make your own small embroidery to add to our full size replica dress. A way to add your own story to a collective Welsh version of this amazing story of empowerment and women's solidarity. Finish by 3pm All materials provided
No experience necessary, all welcome from beginners to experienced embroiders.
Free
This is a live, in-person event at the National Waterfront Museum.
In line with current restrictions this event will be limited capacity, available to book in advance, and there will be covid-safe measures in place.
Supported by Women's Equality Network Wales
This event ticket automatically gives you entry to the Museum, with no need to book an additional site entry ticket