GS Breaking Barriers in Your Career and Business

Wednesday, 16 November 2016 from 18:00 to 21:30 (GMT)
Event Details
Breaking Barriers is for the UK's new budding entrepreneurs to network and learn from experts in their field, to take away tools that they can use to grow their business and professional career.  
Our aims: Network, Learning, Achieving
Networking: Connecting entrepreneurs with each other, highly skilled professionals and the UK's brightest prospects

Learning: Give all attendees valuable skills and tools that they can apply to grow. If our economy is to grow then business and entrepreneurs most be given as much assistance as possible 

Achieving: All attendees will leave the event with tools that they can take apply into their business / careers and achieve the aims they want.

 The event kicks off with stimulating keynote speakers and is followed by networking and a choice of 11 skills development workshops, facilitated by a Senior director from a multinational company or an expert in that field. So that our attendees gain the most out of the mini-seminar, only one may be selected and attended on the evening. Places are allocated on a first come first serve basis (maximum of 30 attendees per workshop) during the Eventbrite registration process. 

6.00 pm                   Registration
 6.25pm                    Opening Remarks
 6.30pm                    Speaker talks 
 7.00 pm                   Classes Commence
 8:30pm                    Networking Commences
M

ain Talk and Key Note Speakers (6.30pm)
Richard Millar- CEO, UK + Regional President, Europe at Hill + Knowlton Strategies
Richard is CEO of one of the UK's biggest public relations and integrated communications consultancy, with 86 offices in 48 Countries, an additional 50 affiliate office giving them a comprehensive global reach and a client base of leading brands they are a true leader in their field. 
---
June O Sullivan CEO of London Years Foundation 
June is CEO of LYF which is one of the UK's largest social enterprises with a turnover of 15 million pounds a year
The workshops (7pm - 8:15pm)
Running A Social Business And Engaging With A Corporate Company 
By June O Sullivan CEO of London Years Foundation

June will be talking about her experience of running one of the UK's largest social enterprises with a turnover of 15 million pounds a year. She will explain about the lessons learnt and provide advice of how to run a not for profit organisation and engage with potential sponsors and  donors.
---
How to Engage And Grow Your Client Base On A Global Scale 
By Melissa Romo- Director of Global Content at Sage
 Melissa will share her skills and knowledge on doing cross-border market research and add campaigns to grow your client base on a global scale. Learn how to sell your product or service internationally and build your online brand for an international audience. 
---
Leadership: How To Inspire Your Team To Perform At Their Best 
By Nousheh Paris - Sales Director,Mid-Market, American Express
You will learn from Nousheh's personal experience how she has been able to get the most out of the team that she manages. Inspiring, motivating and mobilising her people to be better, greater and more than what they ever thought imaginable. 
---
Commerical Awareness: Tips For Job Applications And Interviews In The City
By Sheikh Bilal Khan - Senior Adviser to the All Party Parliamentary Group on Islamic Finance
This workshop will help you to get ahead and transform your prospects of acing your applications and interviews. Learn the commercial awareness skills and language that can set you apart from the competition. 
---
Presentation Skills : Speaking for Impact and Results 
By Leanne Page- Project Director at MSLGROUP (Publicis)
In her interactive workshop, Leanne will work with you to look at different ways to which you can raise your self- awareness, pinpoint your own style and build in practical tools to enable you to enhance your skills
---
How to Build Business Relationships to Close the Deal
By Louisa Weinstern - Mediator and Trainer Conflict Resolution Centre
"The most important single ingredient in the formula of success is knowing how to get along with people" (Theodore Roosevelt). This session provides tips to  help you get in front of the right people, grow your network, overcome challenges with difficult personalities and cement the relationship and secure the deal
---
 How to Get Your Dream Job By Using Social Media 
By Julie Bishop – Social Recruitment Trainer Jobhop

Many people have to understand social media before they get their head round social recruitment. I will talk about strategies to propel your profile or business using social media. We will look at various market, social media platforms. 
---
Make Your Career Change And Start A New Business 
By Melanie Eggers- CEO and Founder of Ap'et | IP Lawyer

Melanie has secured substantial funding for her start up technology company. Their technology is set to disrupt the way we shop. She will be sharing her experience of navigating from a successful professional career into a trail blazing entrepreneur. 
---
The Single Biggest Skill Overlooked
By Entrepreneurs Preventing Them From Success 
By Angela Jouanneau-Managing owner 21st Sanctuary

This workshop will provide you with the  mental tools to remain calm and  thus reduce stress and anxiety  for optimal performance.In addition learning how to create  and maintain a healthy work/ life study/ life  balance is also crucial to long term effectiveness and durability.These are skill for LIFE which will allow you to excel and enjoy the process too.
---
Smash Self Limiting Beliefs That Hold You Back From Achieving Success 
By Tim Robins, NLP & EFT Mindset Specialist 

This workshop will teach you how to let go of anxiety, worry, doubts and fears. By tackling the critical inner voice you will be able to remove mental and emotional blockages that are stopping you from taking steps to your career / business goals
---
 Twenty Three Tips To Build Your Brand Online 
 By Vee Roberts - Insight2Marketing
 Workshop on  building your brand online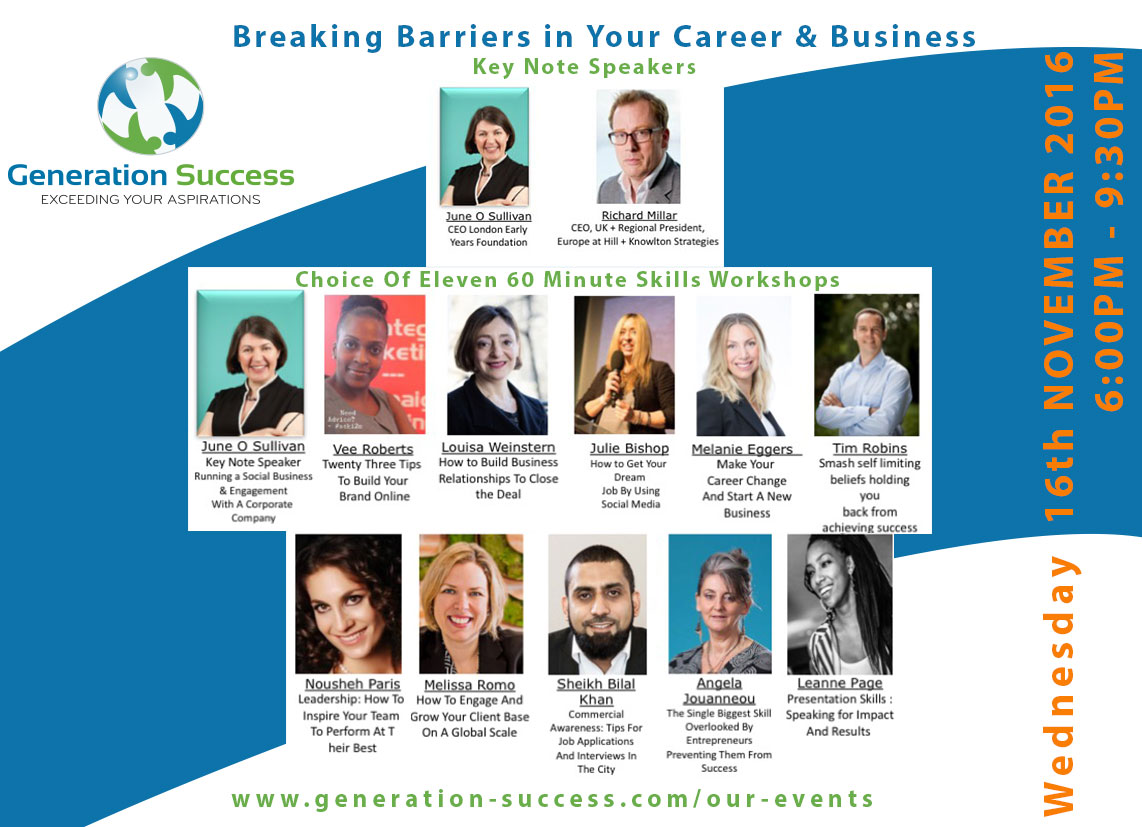 Our Guarantee:
      1)  Direct access to Leading figures
2)  Top and secret tips about career progression.
3)  Diversity of audience
4)  Speakers who are inspiring and want to inspire other people (paying it forward)
5)  Casual welcoming atmosphere  
6)  Opportunity to sign up to our mentoring program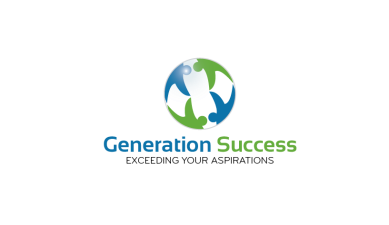 Thank you to the following organisations for their continued support: 

When & Where

BPP Holborn
68-70 Red Lion St
WC1R 4NY London
United Kingdom


Wednesday, 16 November 2016 from 18:00 to 21:30 (GMT)
Add to my calendar
Organiser
Generation Success is an inspiring network that advances social mobility by empowering people to reach their career aspirations.
                             Sign up to our upcoming events listed below.
Contact Us

Email: james@generation-success.com
Web: www.generation-success.com 
Alternatively, get in touch via LinkedIn, Facebook and Twitter
Video of our  https://www.youtube.com/watch?v=jleXPW88nKk