Location
Frog Hoxton
45-47 Hoxton Square
London
N1 6PD
United Kingdom
Join us for this year's guest chef series at The Frog Hoxton, featuring a menu co-created by our team and some of the UK's emerging chefs
About this event
Ferdinand "Budgie" Montoya swapped his suit and tie for an apron and never looked back. Moving from Sydney and having worked in London from 2012, he counts his time at Restaurant Story, Dean Street Townhouse, Flat 3 and Foley's as his biggest influences.
Sarap London was born out of a craving for chicken adobo and a means of rediscovering his Filipino roots. Centred around the mantra of authentic Filipino flavours delivered proudly inauthentically. Sarap
aims to marry traditional recipes and reinterpret them with a modern and local narrative.
After 3 successful residencies, the most recent being at The Sun and 13 Cantons in Soho, Sarap will be moving to Brixton Village in Autumn for their first stand-alone site after recently winning the Brixton Kitchen competition.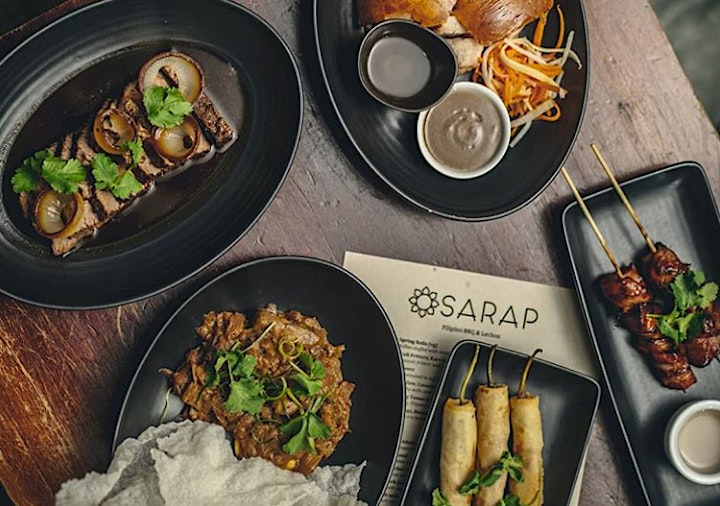 As part of Adam Handling's initiative to offer up-and-coming chefs a platform to showcase their talents, The Frog Hoxton guest chef series will see an exciting line-up collaborate with Adam and the Hoxton team over the next couple of months.
For one night only, chefs are invited to create a unique menu to showcase their individual style, all surrounded by the vibrant East London Restaurant.
IMPORTANT INFORMATION: The team will get in touch to check dietary requirement and book a time slot between 18.30 and 21.30 depending on the restaurant's capacity.
The full line up for the The Frog Hoxton Guest Chef Series:
7th of April: Kitchen FM
5th of May: Jay Morjaria (JAE)
19th of May: Ivan Tisdall-Downes & Imogen Davis (Native)
2nd of June: Ferdinand 'Budgie' Montoya (Sarap)
7th of July: Andy Stubbs (Low 'N' Slow)
4th of August: Yasmin Godfrey (Masterchef: The Professionals 2019)