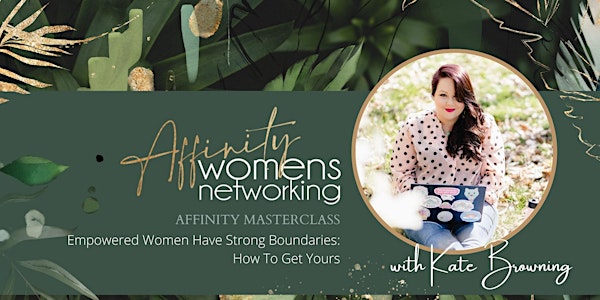 GUEST MASTERCLASS:Empowered Women Have Strong Boundaries: How To Get Yours
GUEST MASTERCLASS:Empowered Women Have Strong Boundaries: How To Get Yours
About this event
NO NEED TO GET A TICKET!
Just register here: https://us02web.zoom.us/meeting/register/tZEvduirrzIsGN2qjSPRZfm0eBWOpqcoyYJQ
And save it to your calendar!
Welcome to Affinity Women's Networking Free Guest Masterclasses!
The Affinity women's networking community is over 1K strong and a highly engaged community of supportive women, so it's a great place to demonstrate your expertise and connect with your future clients, as part of this we host up to 3 expert masterclasses per month.
Our masterclasses are free to attend.
About the masterclass;
Having strong boundaries gives you a business that works for you, a personal life where people respect you, manages clients expectations, promotes self care and helps you build the life you want.
Main Takeaways;
Learn how define your boundaries.
Feel confident in enforcing your boundaries
How to tie them into your self care
About our expert Kate:
Kate is a Empowermet & Organisational Unicorn and is the Founder of a small team of Wonder Woman Virtual Assistants, who support purpose and heart led business owners to grow the business and build the life they have always wanted.
To find out more about Kate & Cherry Blossom Management check out;
https://cherryblossommanagement.co.uk/
https://www.instagram.com/cherryblossommanagement/
Business Links
https://cherryblossommanagement.co.uk/
https://www.instagram.com/cherryblossommanagement/
Our (Totally Different) Networking;
If you'd like to attend one of our networking meetings then check out our other events here;
https://www.eventbrite.co.uk/manage/collections/470189/events