Description


Premium Venue
Premium Food
Premium Networking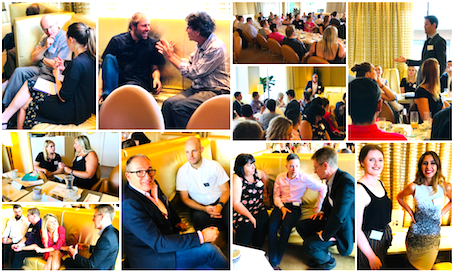 Photos from the EVO Alpha Launch Event on Wednesday 25th July 2018 at Harvey Nichols


What is EVO?

Now over 3 years old, EVO is a membership-based, truly business-driven network, for an evolving business landscape. We've used the best venues like the Ivy to Harvey Nichols.


What is EVO?
You can view testimonials here.
You can find out more about the format via our website here:

www.evo-networking.com
You can view the Alpha Group Membership Application Form online at this link

here

Visiting Guests can try out the breakfast and also the evening meal once
Speaker: Danny Gosling
Selling without the hard-sell: the art and science of Pre-suasion.
Are you a business introvert?
Getting clients is easy, if you enjoy selling. But it can be a nightmare if you hate the thought of coming across like a slick salesman. Yet without clients, you don't have a business.
So, how can you find a steady stream of new clients who are ready and willing to do business with you, if you don't like to be the pushy, aggressive sales type?
In this talk I'll show you how to bring new clients to your door who are eager and ready to buy.
They come to you pre-sold, or 'pre-suaded' as we like to say at Thinkography.
Forget rejection, forget being salesy, forget persuasion – think pre-suasion.
In a 25 year career in branding Danny has worked on projects for many global brands including: Barclaycard, BMW, Coca Cola, Credit Suisse, Manchester United, Mazda, MINI, Nissan, Universal, Clarks Shoes, and more.
Yet Danny felt unfulfilled working as part of a big-budget marketing machine, and was drawn to solving a greater challenge: how do you build a successful brand when money and resources are in short supply?
Danny now concentrates on helping small businesses with underdog brands punch above their weight, proving that you don't need huge financial investment to build a powerful, authentic brand that attracts premium clients.
Danny is a qualified member of the Design Business Association (DBA).
Our Mission
We think the members know best, so our mission is to create a networking group that enables them to achieve their objectives. To actively create great business opportunities for Members to broaden their circle of contacts, to meet potential clients, to develop the trust within a network of dynamic introducers and referrers.
Why
EVO is the newest UK business network founded by a networking expert and created via 6 months of in-depth consultation with different businesses

Business Networking is a brilliant way to create new contacts, gain new referrals, make introductions and build your reputation.


The second Bristol Group's venue is held in the stylish restaurant at Harvey Nichols


It is membership based and wholly business-driven

Fresh, diverse, new and affordable. Guests can visit the Group once to try it out at the Breakfast and the Evening Meal. We usually welcome 5 to 15 Visiting Guests per meeting



Where

27 Philadelphia Street, Quakers Friars, Bristol BS1 3BZ
How Much

As a Visiting Guest, there is no membership fee/joining fee. We do however ask guests to pay for their place.

Guests for this event may be invited to apply to join the Group/s at the conclusion and dates, format and pricing info is found below and will be discussed on the day too.
Menu

Refreshments included – English breakfast tea, filter coffee, fruit juices
Mini bowls of scrambled egg and smoked salmon with brioche soldiers
French toast with bacon and maple syrup
Greek yoghurt, fruit compote, granola
Freshly baked pastries
Fresh fruit skewers


What is EVO Really Like?
The last June EVO Genesis Group breakfast meeting was full - and welcomed senior influencers as guests. They included James Durie - Chief Executive of Bristol Chamber of Commerce and Initiative & Executive Director - Business West and John Hirst - CEO of Destination Bristol.
You can see the SUPERB unsolicited feedback on Linkedin here from Founder Jamie Breese's timeline.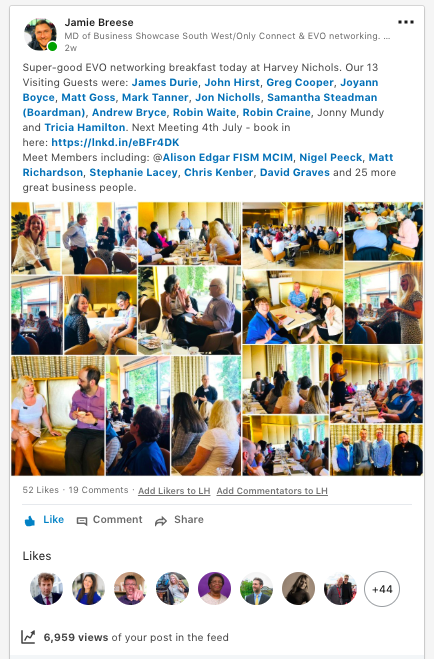 Can't Make It This Time?

Just register your interest here and we'll email you occasionally with new dates and Group Launches.
About the Founder
Jamie Breese has over 11 years experience in running networking events and bringing people together. In March 2016 he received The Lord Mayors Medal for services to the community and is active in the charity sector. Jamie is also a television presenter and expert with his last US TV series airing to 2.9 billion Discovery Channel subscribers worldwide whilst he's been the weekly art and antiques columnist at the Mirror for 17 years. His business exhibition - Business Showcase South West - is now in its 5th year and has welcomed thousands of delegates and speakers from Baroness Brady to Levi Roots. His Only Connect networking evenings have welcomed over 15,000 guests to date and EVO is the next step to provide great referrals.

Tips on Getting There

There is ample parking around the venue from Cabot Cirucs Car Park to the nearby NCP next to The Marriot Hotel. The restuarnat is located on the top floor and the venue access is easiest from the side entrance. The Galleries shopping centre car park is CLOSED at 7.30am in the morning.

FAQs
What can/can't I bring to the event?
Business cards are useful. So is a spirit of collaboration.

Where can I contact the organiser with any questions?
e: info@evo-networking.com

Do I have to bring my printed ticket to the event?
No.

What is the refund policy?
The food needs to be ordered beforehand with our venue so regretably we cannot offer refunds once the ticket is booked.