Event Information
Location
Broughty Castle Museum Ramp .
Castle Approach
Ferry
DD5 2TF
United Kingdom
Refund policy
Contact the organiser to request a refund.
Eventbrite's fee is nonrefundable.
Meet at the foot of Broughty Castle Ramp. Enjoy a stroll through centuries of history with your friendly and informative Guide.
About this event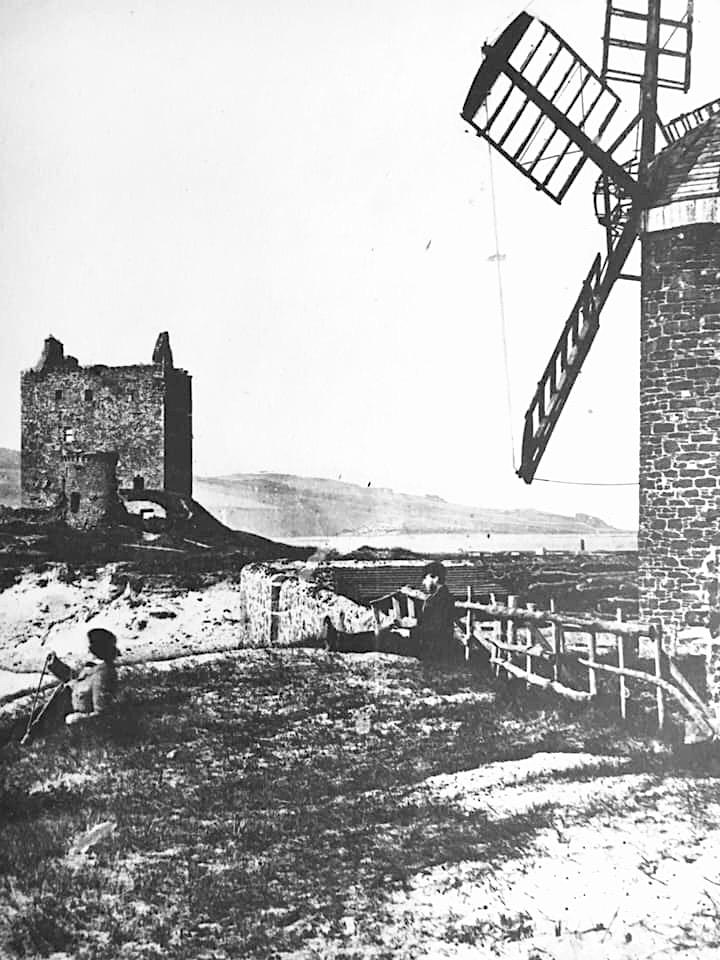 Broughty Castle- defending the Tay Estuary for many centuries. Here the ruins are seen from a former windmill which is still commemorated nearby. The castle has withstood sieges , invasion scares and two World Wars.
We will take you from as far back as the arrival of the first known humans in this area, then lead you safely through some of the disasters, battles and happier events which have affected Broughty Ferry. You will hear engrossing tales of everyday fisherfolk, as well as some unforgotten heroes .
The tour is around a mile (1609 metres) in distance. Though we would wish to welcome everyone, we regret that all tours are over uneven pavements, cobble stones and often per narrow alleyways and lanes . Accordingly, this should be considered by everyone before booking a tour, please .We wish to avoid any disappointment. Well- behaved dogs are welcome. There is no such thing as a well-behaved cat.
Walks will go ahead irrespective of the weather. Please do take care to dress accordingly - we are situated at the Tay estuary ,leading to the North Sea. Dundee is, however, the sunniest city in Scotland .Yes really. It will be fun!
Please note that your tour ticket price does not entitle you to entry to any of the attractions which we will view or discuss. We would however be glad to recommend that you do try to visit or investigate them for yourselves. Tour tickets are for sale online only. No refunds will be made after tickets have been purchased under any circumstances.
*Our meeting point is on the quayside at the foot of the Broughty Ferry Castle drawbridge and ramp. We finish outside the Lifeboat Station on Fisher Street.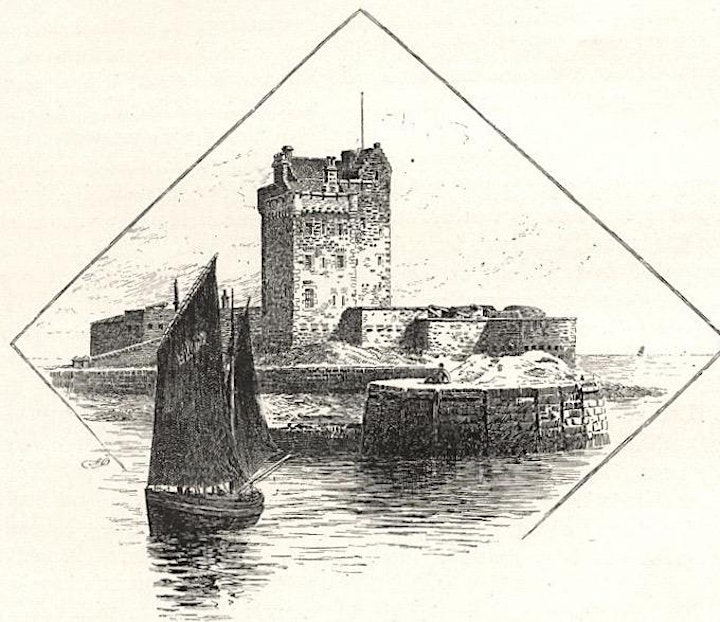 This pier at the castle was built in the 1840`s to service the ferry crossing from Tayport following the arrival of the railway there. They used what must have been one of the first RO-RO ferries in the world. Though a fishing boat is shown, the locals were not allowed to land their catch at this pier- and you` will learn of the struggle that they had to obtain a safe landing site.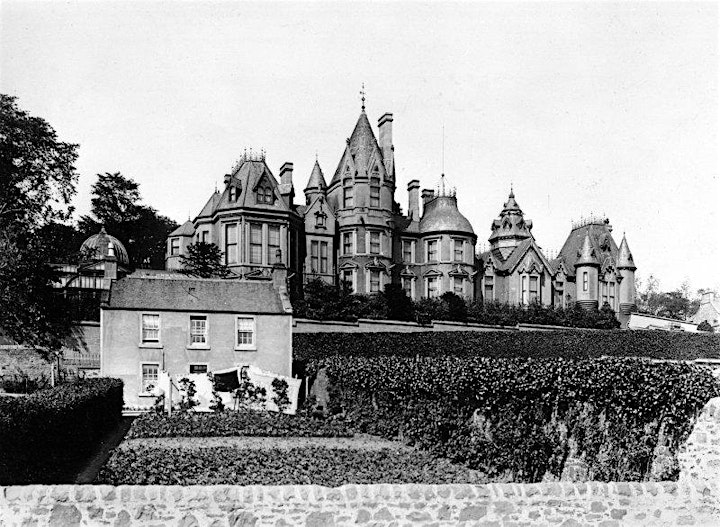 The rich grew very rich indeed, in Victorian and Edwardian Broughty Ferry. At the same time, the fishing community were often living a difficult existence- only a matter of a few streets away.
This photograph shows Carbet Castle, long since demolished.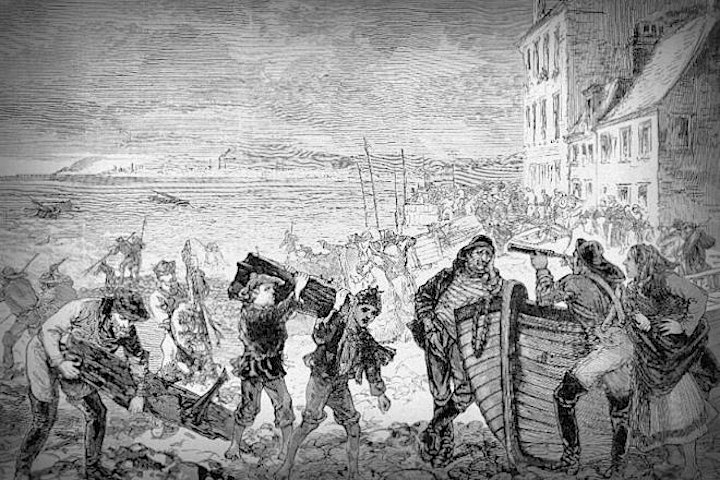 This picture, published in the Illustrated London News in1880, shows a scene on Broughty foreshore. These locals are depicted as acting almost like Wreckers , benefitting from the Tay Rail Bridge Disaster of 28 December 1879. In fact, though they did have the grim task of clearing wreckage and recovering bodies ,there was only minimal retention of goods by locals and one man known to have been fined. The fishing fleet rendered assistance with recovery.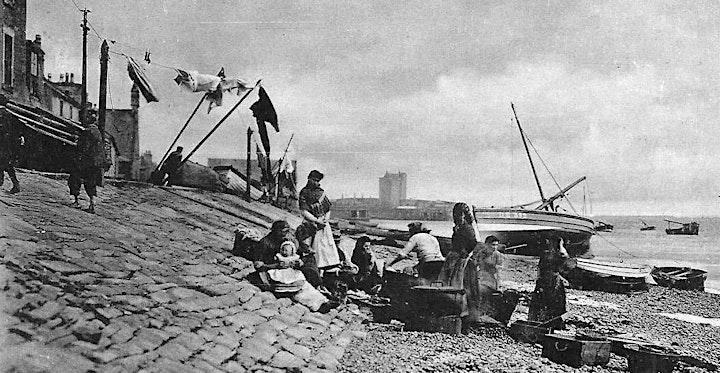 The foreshore at Fisher Street (otherwise Fish Street or even Beach Street) was the place where the families of fishermen would join together to clean the landed catch and prepare it for market here , or as far away as Russia.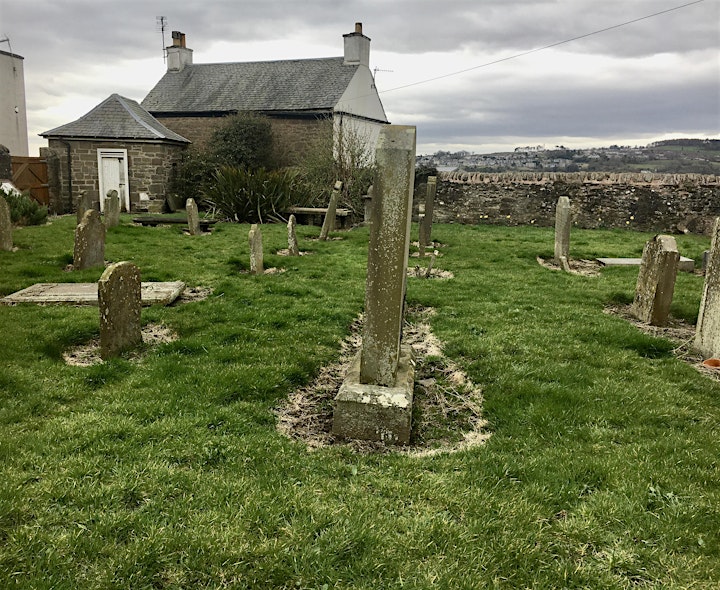 As a feature of the tour, we will make a brief visit into Broughty Ferry Old Graveyard . It lies hidden away off Chapel Lane and remains unknown to many locals !Though the burial ground is far older, the earliest tombstone is dated 1689. There are some fascinating and thought -provoking stories to hear at this point, and the ancient stones also tell the story of those who are buried or commemorated there.
ON ALL TOURS , TICKETS ARE ON SALE FOR UP TO 15 PEOPLE .
THE TOUR WILL BE COMPLIANT WITH SCOTTISH GOVERNMENT COVID REGULATIONS.
THOSE ATTENDING, WILL REQUIRE TO SOCIALLY DISTANCE 2 METRES FROM THE GUIDE AND ALL MEMBERS OF THE PUBLIC WHO ARE OUTWITH THEIR OWN FAMILY GROUP/BUBBLE.
THE TOUR IS AT ALL TIMES OUTDOORS . THOUGH THERE IS NO LONGER A REQUIREMENT TO WEAR A FACE MASK, BY LAW, THE SCOTTISH GOVERNMENT CONSIDERS IT TO BE STILL ADVISABLE.GUESTS MAY DECIDE FOR THEMSELVES ON WEARING A MASK. THE GUIDE WILL WEAR ONE DURING THE TOUR.
ANYONE ATTENDING THE TOUR WHO DOES NOT OBSERVE THESE SAFETY REQUIREMENTS WILL BE ASKED TO LEAVE THE TOUR IN THE INTERESTS OF PUBLIC SAFETY AND WILL NOT BE ENTITLED TO ANY REFUND AS A RESULT.
BY PURCHASING A TICKET ,THE PURCHASER AGREES TO HIS OR HER CONTACT EMAIL ADDRESS BEING MADE AVAILABLE TO CONTACT TRACERS RELATIVE TO THE CURRENT COVID OUTBREAK, SHOULD THE TOUR OPERATOR REQUIRE TO DO SO.THIS INFORMATION WILL BE RETAINED FOR A PERIOD OF 21 DAYS, FOR THIS PURPOSE THEN DESTROYED SECURELY.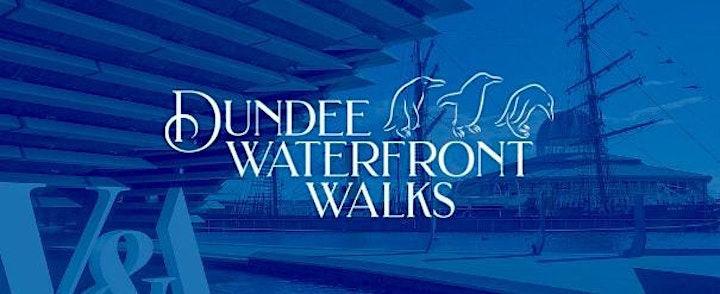 Date and time
Location
Broughty Castle Museum Ramp .
Castle Approach
Ferry
DD5 2TF
United Kingdom
Refund policy
Contact the organiser to request a refund.
Eventbrite's fee is nonrefundable.