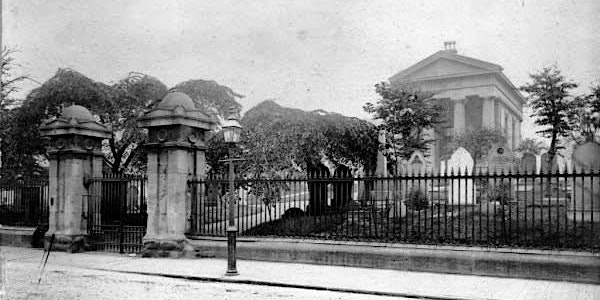 Guided Tour of Key Hill Cemetery, history of residents who rest here.
Location
Icknield Street near Key Hill Circus
Key Hill Circus
Birmingham
B18
United Kingdom
History of Key Hill Cemetery, Birmingham's first cemetery, formerly known as the General Cemetery, the unique catacombs, and residents
About this event
Welcome, please note for health and safety reasons we require each ticket to be purchased in each of the attendee's names for all tours.
Walking History Tour with our expert volunteer guide includes the history the unique catacombs and the residents resting in this non -denominational cemetery.
The final resting place of Joseph Chamberlain , Alfred Bird, Thomas Avery , William Murphy , John Skirrow Wright , Joseph Tangye, Constance Naden , Harriet Martineau , Marie Bethel Beauclerc , , Rev George Dawson , Henry Palethorpe, Joseph Gilliott, Robert Lucas Chance , William Butler , Thomas Walker , Isaac Horton, James Hinks.
Conservation -the single tiered catacombs have recently been restored, along with new railings , footpaths and planting in this non-denominational cemetery.
This cemetery is a haven for wildlife.
Meeting place: at Key Hill Cemetery, Icknield Street gate entrance near Key Hill Circus, not far from Warstone Lane Cemetery Icknield Street entrance at 1.50pm for 2pm start this allows time to be booked in before the tours starts. ( see separate event for Warstone Lane Cemetery tour at 12 noon )
Tickets via Eventbrite £7.00 plus booking fee .
Children under 16 years no charge. Please contact the organiser to reserve children's places.
All Children must be accompanied and supervised by a responsible adult at all times.
Guided tours are the second Sunday in the month except for December.
Finding a grave: Should you require to find the location of a family grave, the Friends may be able to assist. Please note this is unlikely to be achieved before , during or after a guided tour. With prior notice the Friends may be able to arrange for you to meet a volunteer on a separate day with a date and time to suit you both. Should you require this voluntary service please email the Friends in advance with the family names and year of death if known. Also state which cemetery if known.
Getting here:
Train and Tram stops at the Jewellery Quarter Station in Vyse Street , Hockley.
Bus -the 101 bus from Colmore Row to Chamberlain Clock walk to Vyse Street , see Sunday service via nxbus.co.uk and plan my journey https://nxbus.co.uk/west-midlands/plan-your-journey.
Car – Clean Air Zone From 1st June 2021 Birmingham Clean Air Zone
WILL YOU NEED TO PAY?
Birmingham's Clean Air Zone The zone, covering the centre of town, aims to reduce pollution levels and encourage more people to switch to public transport to visit the city centre. It is different to the London congestion charge which charges all vehicles so it's important that you know whether it applies to you or not.
Check your vehicle here to see if you would be charged: https://www.gov.uk/clean-air-zonesCharges are from midnight to midnight.
F.A Q
Each tour last about one and half to two hours depending on Q & A.
Toilet facilities – Vyse Street facing Warstone Lane Cemetery.
There are several café's , bars and restaurants nearby .
Cancellations: Should you wish to cancel your ticket for another date for any reason please note we require 7 days notice to allow time to resell your ticket.
Catacombs: Interior of the catacombs -the interior of the catacombs will be advertised as a separate event and does not include cemetery tours. Guided tours of the interior of Key Hill catacombs are not available during the winter months.
Volunteers of the Friends of Key Hill Cemetery & Warstone Lane Cemetery RAISING FUNDS FOR GRAVE RESTORATION preserving our history and caring for the community since 2004
All revenue from guided tours, membership, donations, plus sales at open days and history fairs pays for the damaged and broken graves, aiding grave our restoration. The Friends are the ONLY group to care for Warstone Lane Cemetery & Key Hill Cemetery both located in Birmingham Jewellery Quarter, Hockley.
Friends website: http://www.fkwc.org/
Follow the Friends on:-
Eventbrite : https://www.eventbrite.co.uk/o/friends-of-key-hill-amp-warstone-lane-cemeteries-34048000247
Facebook:https://www.facebook.com/groups/39076159104
Twitter @FriendsKHandWL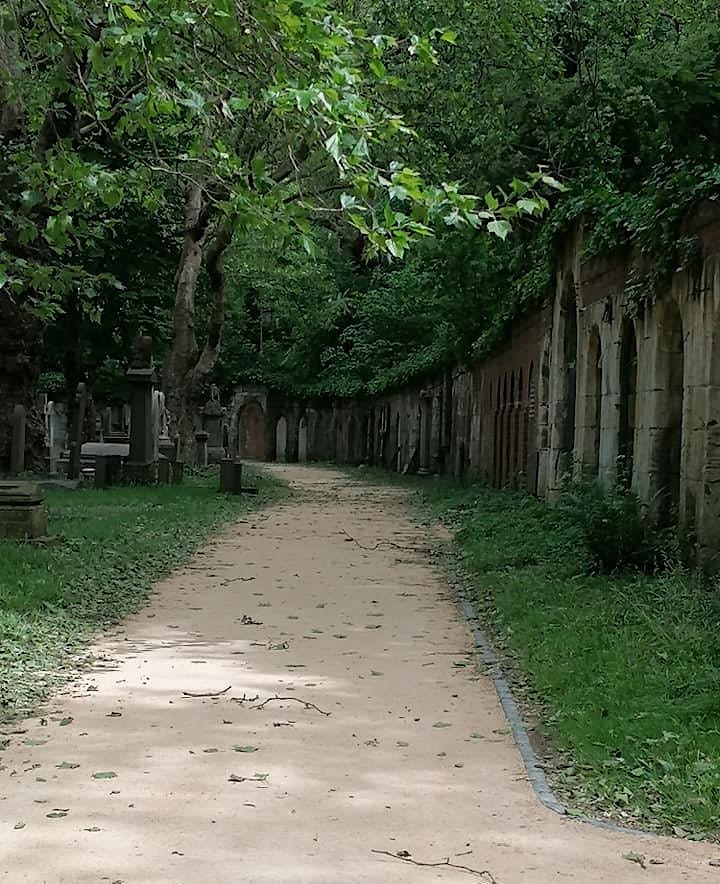 Key Hill Cemetery single tiered catacombs. Image C. Welch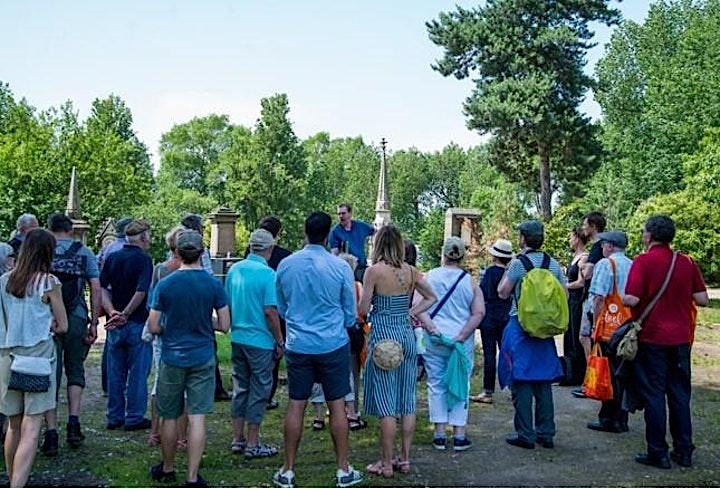 Attendee's on a guided walking tour. Image: M.Felkin