Guided Tour of Warstone Lane Cemetery in Birmingham Jewellery Quarter
History of Warstone Lane Cemetery , the unique tiered catacombs and the residents resting in this Church of England Cemetery
About this event
Walking History Tour with our experienced volunteer guide includes the history of Warstone Lane Cemetery , the unique tiered catacombs and the residents resting in this Church of England Cemetery .
The final resting place of John Baskerville , Major Harry Gem ( Lawn Tennis ) , George William Manley -a Gentleman from the Ancient Order of the Druids , James Cooper VC recipient of the Victoria Cross, Edward Warrulan -son of an Aboriginal Chief, William Edward Hipkins -Titanic, Jacob Wilson-Last Town Crier ,John Postgate Food safety campaigner , John Inshaw -Steam Carriage .
Conservation -the two tiered catacombs have recently been restored, along with , new railings , footpaths and planting in this Church of England Cemetery .
Tour of Warstone Lane Cemetery in Birmingham Jewellery Quarter , Hockley , begin at 12 Noon. ( see separate listing for nearby Key Hill Tour at 2pm )
Meeting place : In the cemetery near catacombs . Entrances at Vyse Street/ Pitsford Street / Warstone Lane & Icknield Street .
Tickets via Eventbrite £5.00 includes booking fee . Children under 16 years no charge. All Children must be accompanied and supervised by a responsible adult at all times.
Finding a grave : Should you require to find the location of a family grave, the Friends may be able to assist. Please note this is unlikely to be achieved before , during , or after a guided tour. With prior notice the Friends may be able to arrange for you to meet a volunteer on a separate day with a date and time to suit you both. Should you require this voluntary service please email the Friends in advance with the family names and year of death if known. Also state which cemetery if known.
Friends Key Hill Cemetery & Warstone Lane Cemetery Est 2004
Getting here :
Train and Tram stops at the Jewellery Quarter Station in Vyse Street .
By Bus -the 101 bus from Colmore Row to Chamberlain Clock walk to Vyse Street , see Sunday service via nxbus.co.uk and plan my journey https://nxbus.co.uk/west-midlands/plan-your-journey
By Car – Clean Air Zone From 1st June 2021 Birmingham Clean Air Zone WILL YOU NEED TO PAY? Charges are from midnight to midnight.
Birmingham's Clean Air Zone started charging on Tuesday 1st June 2021 but estimates predict that 75% of cars will be exempt from charges. The zone, covering the centre of the city , aims to reduce pollution levels and encourage more people to switch to public transport to visit the city centre. It is different to the London congestion charge which charges all vehicles so it's important that you know whether it applies to you or not.
Check your vehicle here to see if you would be charged:
https://www.gov.uk/clean-air-zones
Volunteers of the Friends of Key Hill Cemetery & Warstone Lane Cemetery RAISING FUNDS FOR GRAVE RESTORATION preserving our history and caring for the community since 2004
Follow the Friends on Eventbrite , Facebook , Twitter and via the Friends website .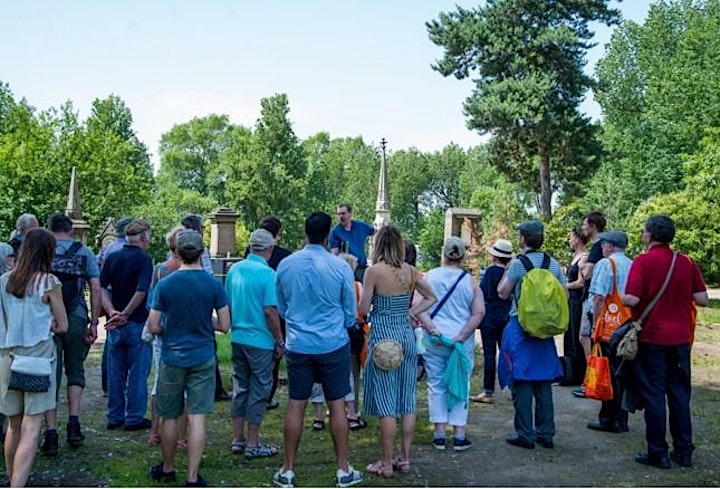 Organiser of Guided Tour of Warstone Lane Cemetery in Birmingham Jewellery Quarter
The Friends of Key Hill  Cemetery and Warstone Lane Cemetery are a group of volunteers working to preserve, research, inform and promote these important historic and interesting cemeteries.
The Friends  conduct guided tours the second sunday of the month , except for December. Hold regular clean up days and open days where we can assist with locating your family plot number. 
The Friends raise funds for Restoration.

 Key Hill Cemetery & Warstone Lane Cemetery are both located in Birmingham's Jewellery Quarter in Hockley.
Both Cemeteries are listed on the Register of Parks and Gardens of Special Historic Interest. There are several  notable people buried here. 
The Friends Est 2004 are the only group to maintain the Cemeteries, restore headstones as well as researching the lives of those who rest in the cemeteries.  
The Friends aim is to raise funds for restoartion of the broken heastones, this is achieved by guided tours, sales at open days in the cemeteries, attending local history fairs, including the Jewellery Quarter Festival , membership, and donations . 
 A  membership form is available by request should you wish to became a  member of  the Friends .
.All proceeds go towards the restoration of the headstones. 
Guided  Tours are the second Sunday of the month except for December.
Private tours for groups & societies can be arranged. 

#Familyhistory #Tours #Attractions #Thingstodoinbirmingham