Come and celebrate the birth anniversary of Guru Nanak Dev Ji, the founder of the Sikh faith (Sikhi)
About this event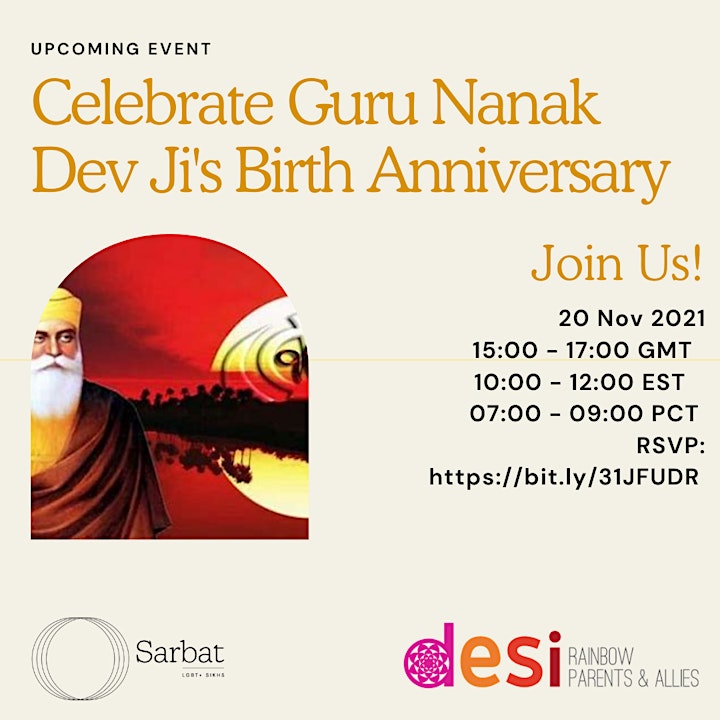 This event is a collaboration between Desi Rainbow Parents and Allies and Sarbat LGBT+ Sikhs. This global celebration will bring together members of  the global Sikh and South Asian diaspora, including:
• Amardeep Singh from Singapore, the creator of an extraordinary docuseries about Guru Nanak's life - https://thegurunanak.com/.
• Moushumi, from New Zealand, and Jasvir Kaur Rabanan from the UK offering kirtan
• Tejinder Gill, from the USA, speaking about her journey as the parent of a trans son
• Allies from across the global South Asian diaspora who will join to show their support for LGBTQ Sikhs
About Gurpurab: Guru Nanak is the founder of the Sikh faith and his birthday is celebrated as one of the most sacred festivals in Sikhism, or Sikhi.
Organiser of Guru Nanak Devi Ji's Gurpurb in collaboration with Desi Rainbow Parents