Description


Returning for it's third year of Running, Spinning and Climbing, Guy's Urban Challenge 2017 is here...bigger and better than ever!


Join us for the thrilling 'urban triathlon' experience where you will run 2.4km around Guy's Hospital, spin 15km on a state-of-the-art Wattbike before climbing 29 floor to the top of the world's tallest hospital building, Guy's Tower.


Want to take on the challenge with friends and colleagues, try the Relay option where you can split the event between two or three participants. One will Run, one will Spin and the other will Climb to Urban Victory.


Or take on the tower by itself in our Stair Climb option, starting in the event village and heading straight up the 648 steps of Guy's Tower.


After conquering the challenge, enjoy spectacular views of London and a well-deserved celebratory party with unique finisher medals, giveaways and more. All this whilst raising money for Guy's, St Thomas' or Evelina London.


For more details, read our event FAQs
Why urban challenger Sue Coates is taking part again this year


'I'm taking part in Guy's Urban Challenge for the second consecutive year to thank Guy's for the care, support and treatment my dad received there.'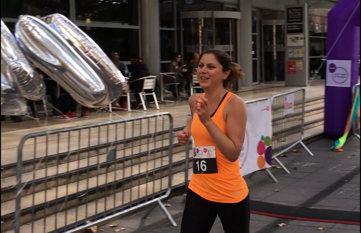 'My dad Brian was diagnosed with inoperable advanced bladder cancer that had spread to his lymph nodes in August 2016 and given a very poor prognosis but responded beyond anything we could have hoped for to palliative chemotherapy and we were able to have a further 10 months with him before he sadly passed away in June 2017.


We are all so grateful for the amazing care he received from both Oncology and Urology at Guy's and that he was able to benefit from the incredible facilities at the new Cancer Centre.