GZL x GAMIS Local Shorts - at Bat. Lab. for GIFC
Join GZL and GAMIS for a night of strange, touching and timely short films by local DIY filmmakers.
About this event
Join GZL and GAMIS for a night of strange, touching and timely short films by some of Glasgow's talented DIY filmmakers.
Screening at the all new Bat. Lab. outdoor cinema as part of Govanhill International Festival, this selection of shorts will take you from healing ritual on Barassie beach to herding trolleys in an anti-littering experimental Western. We witness an intimate portrayal of island life as a close knit community accept a new member. Fact and fiction is blurred in an iphone filmed account of lockdown. Found footage is shaped into a meditation on the elusivity of whales followed by a queer interpretation of The Little Mermaid.
All films will be captioned and suitable for audiences aged 12 and above.
FILMS:
Bridging the Gap: Turbulence | Against The Tide
Director: Giulia Candussi / Producer: Julia Moon
Duration: 13 mins
A small community on a remote Scottish island lives in deep connection with the land and the weather. This film follows a woman, Gill, during the final stages of her trial period. Will she be accepted and become a full-time member of the community?
The Sun Up & Down Like a Yo-Yo
Jack Guariento
Duration: 4 mins, 5 secs
Making use of 8mm footage and still inserts of old family photos from my childhood, 'The Sun Up & Down Like a Yo-Yo' seeks to explore the lines between the seemingly discrete temporal zones of past, present and future, and between the filmmaker and their other family members.
Is it me?
Director: Christopher McGill / Producer: Siobhan Fahey
Duration: 4 mins
An intimate portrait of a young woman's complicated relationship with her own self image.
Content warning: Body dysmorphia
Lockdown Film
Annie Muir
Duration: 6 mins 10 secs
A short film about a movie-lover who watches so many films that the boundary between fact and fiction starts to become blurred. Filmed on an iphone during the first lockdown, at home and during daily walks.
Whale Watching
Eva Jack
Duration: 10 mins 13 secs
'Whale Watching' follows the personal tale of an unfulfilled desire of seeing a living whale. Having never seen this creature for themself, the narrator is forced to look through the eyes of others, assembling fragments of found footage in an attempt to construct a picture of the elusive animal.
Content warning: Violence, dead animals.
TRØLLEY
Beth & Menzies
Duration: 1 min 55 secs
TRØLLEY is an experimental western / anti-littering picture from Beth & Menzies.
Our Take on Climate Change
YCSA Young Leaders Forum
Duration: 11 mins, 32 secs
The YCSA Young Leaders Forum explore how climate change is affecting their world and what they think about it.
In This Moment I'm Living: Ease
Thefuries
Duration: 7 mins, 57 secs
Using sound to surface how trauma changes the way survivors listen, In This Moment, I'm Living: Ease is a spell blurring the human with the non-human, calling an end to sexual violence. In restructuring sounds and engaging in a process of healing, Thefuries hopes that the listener can experience the work with moments of ease and see the strength of vulnerability.
Content warning: Poetic reference to survivorship.
I guess I need you baby
Cat McClay and Éiméar McClay
Duration: 9mins 14secs
A queer reinterpretation of Hans Christian Anderson's 'The Little Mermaid' that subverts the conservative morality imposed by fairy tales, opening a space for alternative political imaginings.
Content warning: Mild references to violence.
Bender Defenders
Director: Christopher McGill / Producer: Siobhan Fahey
Duration: 1min, 30 secs
Content warning: Mention of homophobic abuse and violence.
So Perfect it Frightens Me
Alice Cornelia
Duration: 7 mins, 5 secs
An intimate insight into a young boy's grapple with his mental health as his obsession with a wind turbine takes us on an evocative and surreal visual experience. The film is a child-like processing of the world. It explores the intense nature of childhood obsessions and where they can transcend us. Through peculiar child landscapes, a young boy experiences a wrestle with anxious feelings, intensified by an obsession with a wind turbine that becomes a haunting metaphor for his psychological state.
WATER AND WINDS/HEALER
Nichelle Santagata
Duration: 3 mins, 5 secs
I am in my power.
I danced and walked to the music of the winds and waters.
I danced and walked to what I felt inside.
I still dance with my heart and mind when not dancing with my body.
Pauses are sometimes necessary.
Content warning: Mention of death.
The Marks This Body Carries
Katie Revell
Duration: 22 mins, 37 secs
Dancer and choreographer Nora Chipaumire sees the body as an archive of inherited and lived experience. Born into Rhodesia's civil war, she witnessed the transition to an independent Zimbabwe – then left to seek her own creative freedom. Through the lens of the body, this film charts her journey.
Content warning: Mentions of war but no graphic description.
_____________________
About Glasgow Zine Library
Glasgow Zine Library is an archive and library based in the Southside of Glasgow. It acts as a growing archive of self-published works, with an inviting and accessible area of reading in the space, as well as running a year-long programme of events to celebrate the ethos of Do It Yourself (DIY) culture.
By booking a ticket and supplying your email address, you agree to be contacted after this event for feedback purposes on behalf of Glasgow Zine Library. Providing feedback is optional. Please see the privacy policy on our website for more details.
Join the GZL Patreon and support the library on a monthly basis: http://patreon.com/glasgowzinelibrary
_____________________
All films programmed by GAMIS (Glasgow Artists' Moving Image Studios) and various community partners as part of Govanhill International Festival and Carnival 2021.
Supported by the National Lottery through Creative Scotland.
_____________________
Pay what you can - see the Matchbox Cineclub / SQIFF guide on what pay.
_____________________
What is the Bat. Lab.? The Batson Street Laboratory or Bat. Lab. is a new experimental open-air screening space adjacent to the historic Govanhill Picture House, 49 Bankhall St, Glasgow G42 8SW built from a shipping container and recycled planters supported by Glasgow City Council's Animating Spaces Fund and built by the Govanhill Baths Up Hub.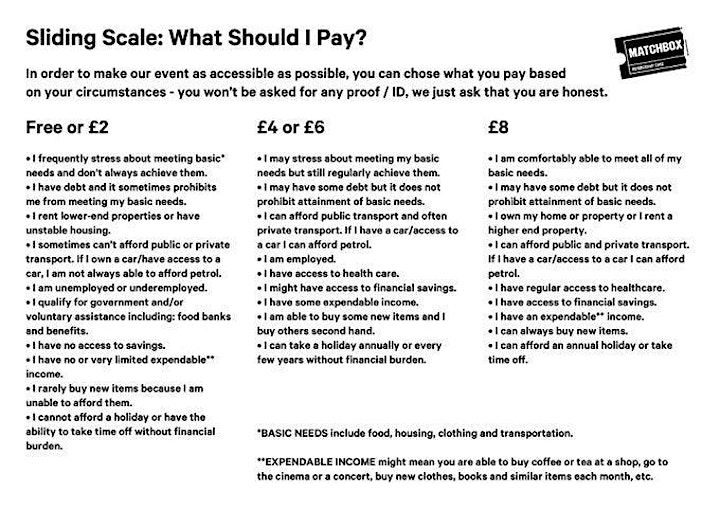 Organiser of GZL x GAMIS Local Shorts - at Bat. Lab. for GIFC