Description
**NOTE: registration fee includes a complete Arduino kit! Details below**
Hey Everybody!
This year we are once again celebrating National Engineering Month ( http://nemontario.ca/ ) with a full-day Intro to Robotics and Hardware hacking event!
Last year we had an awesome event geared toward people with an interest in hardware, robotics and IoT - as a matter of fact, it was such a cool event that we are going to use the same format for this year's event.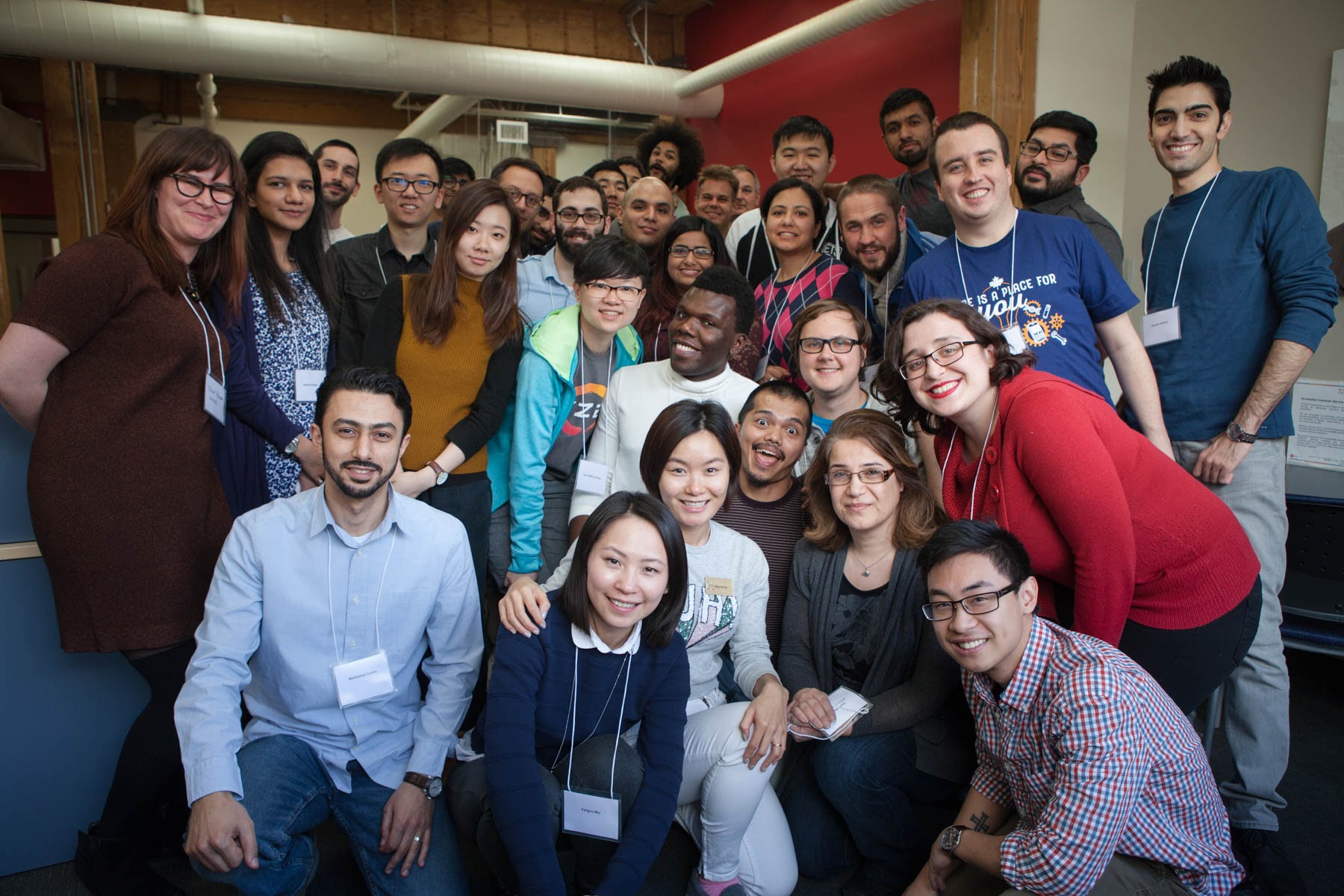 ## Participants
Are you wondering if this will be the right event for you?
- Have you ever found yourself wondering what the big IoT (Internet of Things) craze is all about?
- Are you excited about the prospect of hardware hacking, but don't know where to start?
- Are you tired of Intro to Hardware-hacks that only show you how to light up an LED?
- Are you confused between your DC's and AC's or have you accidentally tried to eat a bread board?
If you answered 'YES!' to any of these questions, this may be the event for you!
## This event will feature
- an introduction to hardware development workshop during the morning (led by Macy Kuang, Google Developer Expert and Intel Innovator for IoT)
- a catered lunch
- an afternoon of building and hacking on projects
The team has been working hard to make sure this event is beginner-friendly, but it will require some hardware and software tools.
If you don't have these available, don't worry!
We have a bunch of kits that we've put together specifically for this event.
These kits are available as part of the registration fee, and will include everything you need to get started:
- Arduino UNO
- USB cable for Arduino
- a half-size breadboard
- lead wires
- Servo motor
- a 9V battery and a battery snap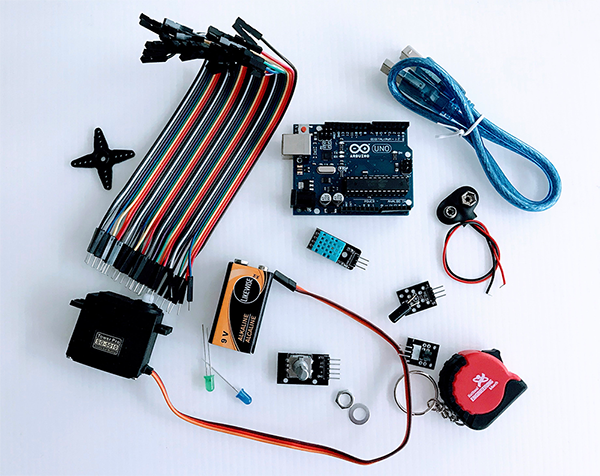 Aside from these tools that will be provided, Participants are required to bring their own laptop and adapters for the USB ports.
Participants are also required to install Arduino (https://www.arduino.cc/en/main/software) on their Laptop prior to the event.
A mini screwdriver, a pair of scissors and other crafting tools and materials will be very helpful for your own project. We are going to use Cardboard and crafting sticks to create robots and machines.
## Schedule
9:00am - Registration
9:30am - Workshop Begins
- Introduction to Sensors and Controllers hands-on workshop
- Learn how to build a circuit on a breadboard
10:30am - Break
11:00am - Control motors with Arduino
11:30am - Sensors with Arduino
12:00pm - Demo of Intel Up2, Android Things and other IoT solutions
12:30pm - Lunch Served and Group Formation
1:30pm - Hacking on Projects
4:30pm - Show and Tell - Each team shows off what they made!
5:00pm - Closing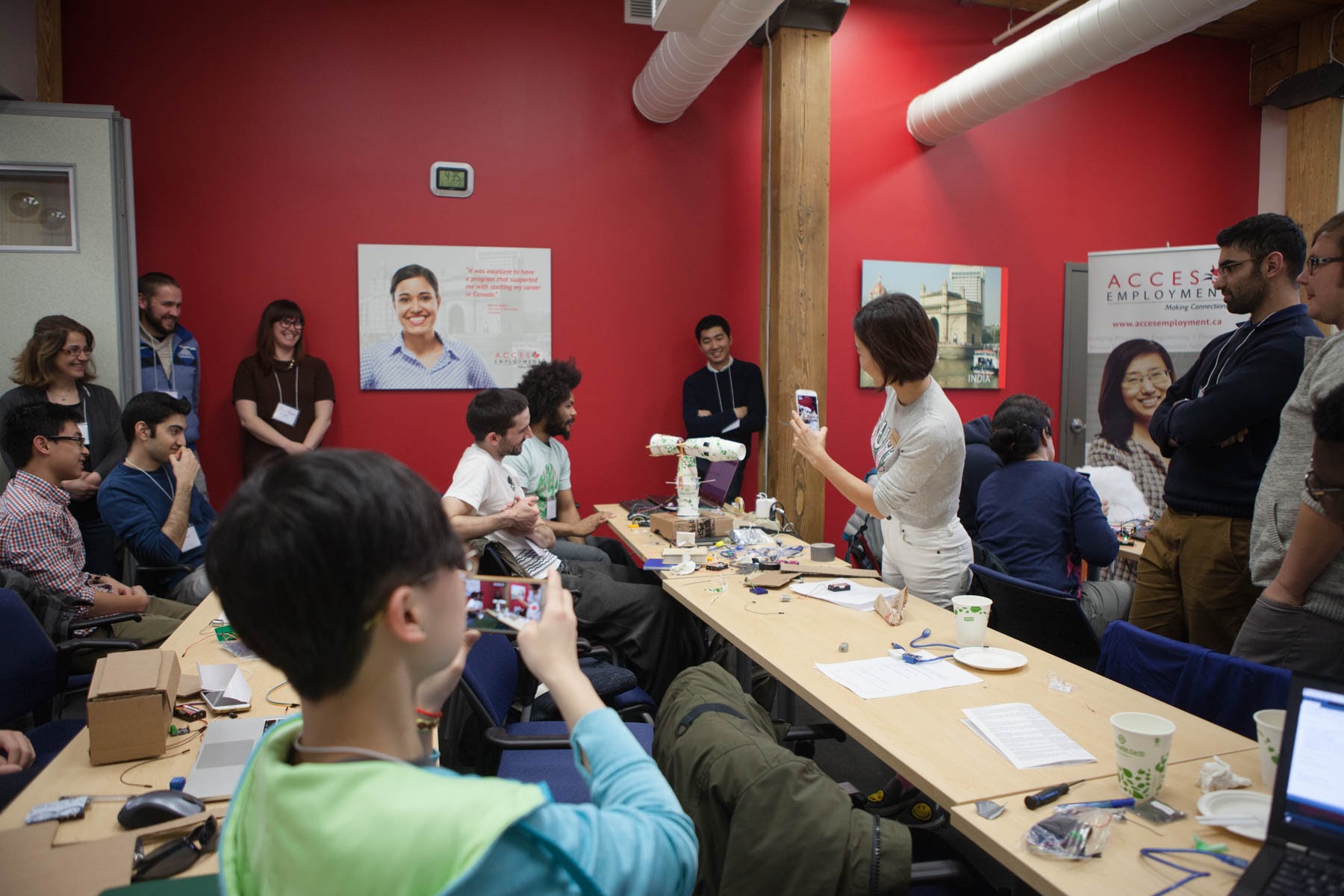 ## Mentors / Assistants
If you are experienced with Hardware development, and are interested in helping out at the event, please get in touch with the meetup organizers -
We would love to hear from you!
Any other thoughts, questions, or concerns, please let us know in the comments on Meetup -
Meetup details are subject to change.
Look forward to seeing you there!
FAQs
1. I don't have a PC or Mac
We have 1 Mac available, you can borrow it from us, please message us about it.
2. I don't have electrical hardware knowledge
Don't worry, that's what we are going to learn :)
3. Will ipad, tablets, Chromebooks, Android Phones work?
No
4. Will it work with USB C?
No, unless you bring your own USB cables or converters.
More details here: