Description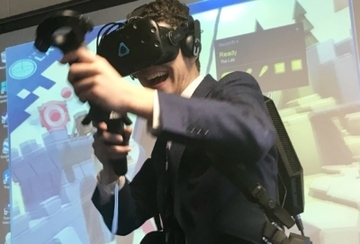 HACKMEET
This event is aimed at anyone wanting to find out how VR and AR can impact learning, and how to implement a solution in their school.
We are bringing together technology providers and schools already trialling VR Solutions, to answer your questions, discuss the potential of VR/AR and explore the use of technology in the classroom to enhance learning opportunities.
Microsoft will be demonstrating the Mixed Reality (MR) headset with Windows 10 and Steam, along with C-Learning will be demonstrating the range of Google AR/VR Expedition solutions.
By attending this event you will:
- Understand the pedagogic value of VR
- Trial latest VR equipment
- Take part in training with Microsoft and Google expert trainers
- Learn more about the ISC Digital Strategy Action Research programme
- Contribute to the creation of great resources
Agenda
9:30 Networking and coffee
10:30 Welcome
Ian Phillips, Assistant Head, Director of ICT, The Haberdashers' Aske's Boys' School,
Chair of ISC Digital Strategy Group
James Mannion, Director Rethinking Education
- Details of the VR Action Research Project so far
- Outline of the day and expected outcomes
11:00 Speed Geek sessions - Microsoft Mixed reality and Google expeditions training
12:35 Lunch
13:30 VR, AI and our future
Ian Yorston, Director of Digital Strategy, Radley College
14:00 Speed Geek sessions - Microsoft Mixed reality and Google expeditions training
15:45 Publishing the resource, next steps and how to get maximum impact from Action Research
16:15 Finish