Hackney Cycling Conference 2016

Friday, 10 June 2016 from 09:30 to 21:00 (BST)
Event Details
Over 20 speakers confirmed for Hackney Cycling Conference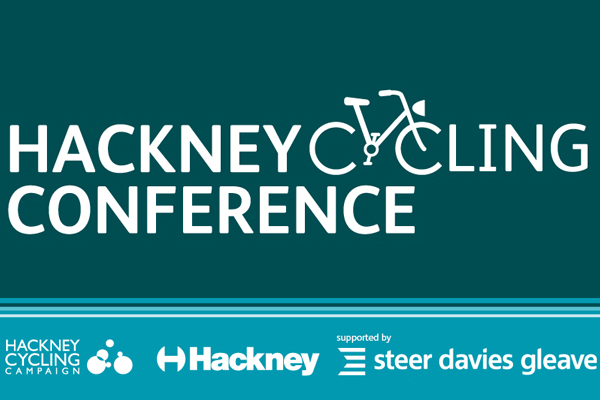 How is a major European capital planning for a car free city centre?
What are the implications on cycling of autonomous vehicles?
How can data be used to improve planning for walking and cycling?
Should active travel be embedded in every stage of the planning process?
These are just some of the questions that will be debated at the Hackney Cycling Conference on Friday 10 June.
A packed agenda of keynote speeches, Q&As, small presentations, and films will also cover diverse range of topics including: pedestrians' and cyclists' experience of sharing spaces, winning business support for cycling infrastructure and the false dichotomy of cycle training versus cycle infrastructure. Full agenda is below.
The first 50 delegates to arrive will receive free valet bike parking and a FREE BIKE SERVICE during the conference, courtesy of Cyclehoop, Cycle Confident and Steer Davies Gleave.
Tickets start at just £40, including lunch.
Short Films from the Bicycle Film Festival - 8:30pm in screen 3

Join us afterwards for a very special selection of short films from the Bicycle Film Festival. This is a London exclusive in advance of their festival in Brighton 14-16 July.
Bicycle Film Festival is a celebration of bicycles through film, art and music. The BFF has held events in 75 cities worldwide to an accumulated audience of one million people. 
www.bicyclefilmfestival.com
Agenda 
8:30

Valet Cycle Parking opens. First 50 delegates can have bikes tuned up and kept secure.

Provided by: Cycle Confident and Cyclehoop

9:00

Registration opens

9:30

Cllr Feryal Demirci, Cabinet Member for Neighbourhoods and Sustainability  for Hackney

Welcome and introduce the chair

9:40

Dr Tom Cohen, UCL Transport Studies Group

Welcome from the Chair

9:45

Jules Pipe, Mayor of Hackney

9:50

Mr Rune Gjøs, Director of Cycling, City of Oslo

Cycling's role in Oslo's plans for a car-free city centre

10:40

Q&A (15 min)

10:55

Refreshment break (25 min) 

11:20

Dr Robin Lovelace, University of Leeds & Consumer Data Research Centre

Cycling and transport policy: embedding active travel in every stage of the planning process

11:55

Andrew Gilligan, Former London Cycling Commissioner

12:15

Q&A (15 min)

12:30

- 1:30

Lunch – Hackney Town Hall Assembly Rooms                              Sponsored by Steer Davies Gleave
Streamed sessions

1:30

Stream 1  

Whole street approach to the future transport mix

(15 min presentations)

 

Chair: Bruce McVean

Stream 2

Mix of interventions for influencing the future

(7 min presentations)

  

Chair: Dr Tom Cohen

Stream 3   

Business and the future transport mix

(15 min presentations)

Chair: Carl Pittam, Steer Davies Gleave 

Discussant: Catherine Warwick-Wilson, GlaxoSmithKline

 

Andrew Meeson, Senior Sponsor (Road Space Management),TfL

Assessing cycling environments: Level of service assessments vs cyclist perception surveys

 

 

Wei Du, Project Coordinator (London), Living Streets

Pedestrians' and cyclists' experience of sharing spaces

 

 

 

Lucy Saunders & Brian Deegan

Introducing the healthy streets check

 

 

 

David Dansky, CTUK

Cycle training versus infra, a false dichotomy

 

 

 

Q&A to panel

Rachel Buck, TfL

Future benefits realization project

 Chris Harrison, Project Centre

Case study: Lea Bridge Road

  Mark Strong, Transport Initiatives

 

Cycling network audit

 

Q&A (10 min)

 

Monika Zamojska, London Bike Kitchen

Case study: Women's and gender variant nights

Justin Spinney (Lecturer in Human Geography) and Shaun Williams (Postgraduate student), Cardiff University

'If we build it they will come': including older people in the 'they' of cycle infrastructure.

Bridget Elliot, TfL

How primary school children (and their parents) and old Londoner's perceive the streets in their local area

 

Q&A(10 min)

 

Dr Robert Davis, Road Danger Reduction Forum Measuring safety differently

 Mark Treasure, Cycling Embassy of Great Britain (TBC)

Sustainable safety principle

 Discussion (15 min)

Eleni Harlan, TfL Business Engagement

Cycling Workplaces

 

 

 

 

 

Patrick Donnelly, Hackney Council

Zero Emissions Network

 

 

 

 

Chris Kenyon, Co-Founder CyclingWorks

Winning business support for Cycling Infrastructure

 

 




 

 

 

 

Q&A to panel

3

Refreshment break  (25 min)

3:25

James Long, Market Leader, Connected and Autonomous Vehicles, Steer Davies Gleave.

With autonomous vehicles coming, what will the future transport mix look like and what are the implications for cycling?

3:50

Dr Rachel Aldred, University of Westminster

Better use of data for planning for walking and cycling in the future

4:10

Sally Crew, Southwark Council

Planning for the future: space for people

4:30

Q&A (15 mins)

4:45

Closing words: Dr Tom Cohen

4:50

Networking mixer                                                  Sponsored by Steer Davies Gleave

 

6:00

Valet Cycle Parking closes. Please collect bikes and please ride carefully as they will go faster and stop quicker, courtesy of Cycle Confident and Cyclehoop.

8:30pm

A selection of short films from the Bicycle Film Festival (screen 3)
Other nearby events
Join the London Cycling Campaign's Liveable Communities event the day before the conference, with speakers from organisations including Play England, Waltham Forest Cycling Campaign, Greater London Authority and University of the West of England. More information and booking here: http://lcc.org.uk/pages/upcoming-seminars
When & Where

Hackney Picturehouse
270 Mare Street
E8 1HE London
United Kingdom


Friday, 10 June 2016 from 09:30 to 21:00 (BST)
Add to my calendar