Hackney Entrepreneurship Conference 2016

Monday, 14 November 2016 from 09:00 to 17:00 (GMT)
Event Details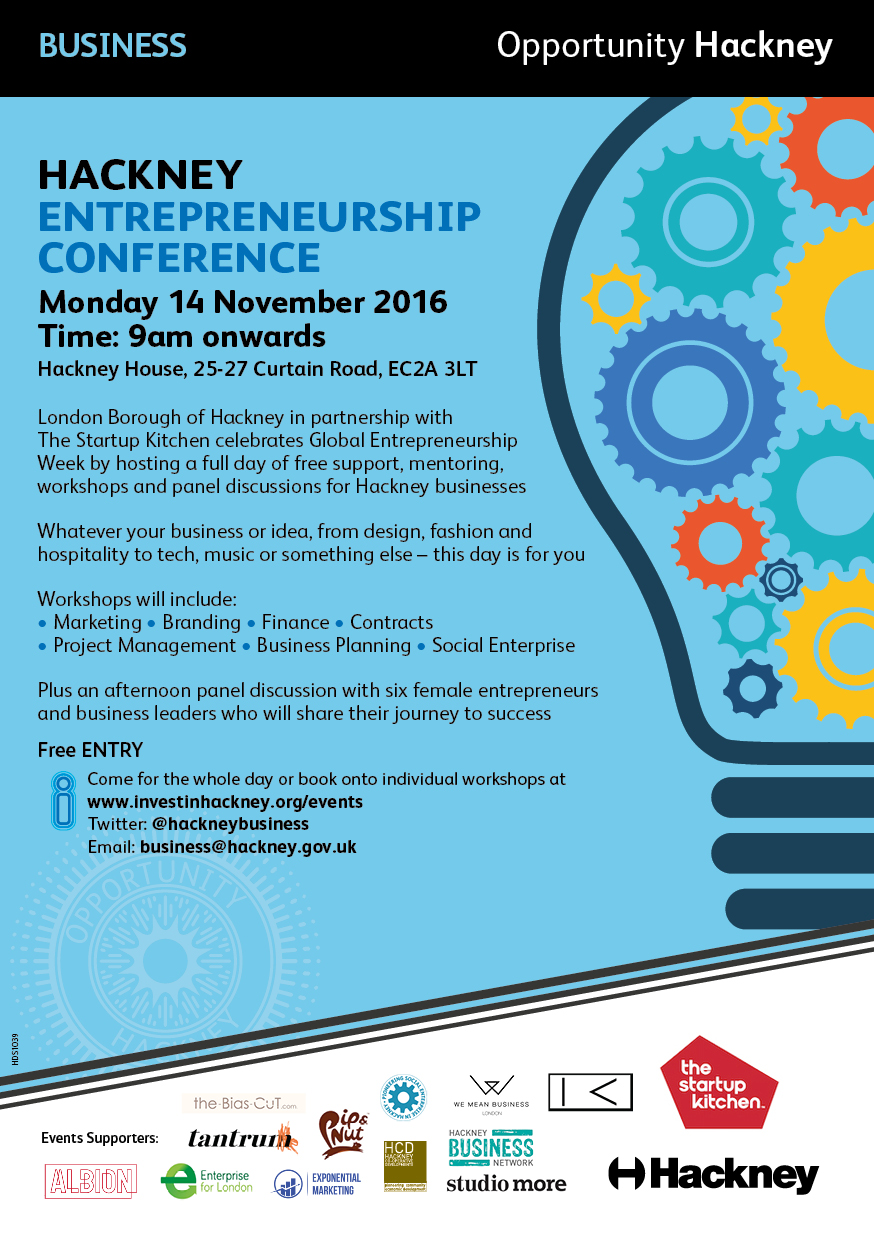 TIME

GROUND FLOOR

1ST FLOOR

2ND FLOOR

09:00

DOORS OPEN

09:30




Pimp Your Personal Brand

 

 (We Mean Business)

 

Fool Proof Finance Forecasting – Planning And Presenting Your Forecasts

 

 (Enterprise for London)

 

 

 

 

11:15

 

Maximising Simplicity – Creating Effective Branding

 

 (Studio More)

 

 

Introduction To Social Enterprise

 

 (HCD)

 

 

Commercial Strategy - Identifying & Unlocking Opportunities To Build Big Businesses

 (Albion)

 

13:30

 

Engaging Your Target Audience: Lesson 101

 

 (Exponential Marketing)




 

Project Management For Entrepreneurs – The Art Of Getting Stuff Done

 

(Albion) 

 

 

 

Contracts Don't Need To Be Scary! Tips & Tricks To Get The Contracts You Need To Get Started

 

(Peggy Pauwels)

15:00

PANEL DISCUSSION

 

Women In Business- Entrepreneurs, Innovators & Sector Leaders

 

Pippa Murray

Founder of Pip and Nut

 

Jacynth Bassett

Founder of The Bias Cut

 

Taslima Khan

Founder of Taslima K

 

Peggy Pauwels

Lawyer –Commercial Business

 

Lisa Williams

Founder of Tantrum

 

Debs Gerrard

Creative Director of Albion

 

 

 

16:30

NETWORKING & DRINKS ON 1ST FLOOR
WORKSHOP DETAIL
Ground Floor
9:30 am     Pimp your Personal Brand
We Mean Business London (Lesley Bambridge)
Start-up success is not only about having a great product or business idea, it's also about the entrepreneur behind it. But how do you start to build your personal brand so that has a positive impact on your business? In this talk we'll take a look at personal branding by successful business owners and in celebrity culture, as well as providing advice and tips for to start pimping out your own personal brand.
11:15am   Maximising Simplicity – creating effective branding
Studio More (Nikita Sun – Creative Director)
De-clutter your way of thinking, say it with simplicity, maximising your brand's thinking!
1:30pm     Engaging your target audience: Lesson 101
Exponential Marketing (Louis Howell - Director)
Touchpoint auditing – Creating the opportunities for people to engage with your brand.
Habit Analysis – Where do you fit into your perfect customer's usual buying journey?
Needs Analysis – Have you really delved into the challenges your market is facing?
Value Add – They don't care what you know until they know that you care.
Listen & Learn – Using the trends to keep the audience engaged.
3pm          Women in business – entrepreneurs, innovators and sector leaders
6 highly accomplished entrepreneurs will share their journey to success, followed by a 30 minute question and answer session.
First Floor
9:30 am    Fool proof finance forecasting - planning and presenting your forecasts
Enterprise for London
This workshop will help you understand how to plan and present your financial forecasts and will enable you to work on your own business projections, utilising Enterprise for London's fool proof spreadsheet. Enterprise for London's Gill Austen will provide full support and assistance. The areas covered will include:
- Personal budgets - Start-up costs - Sales forecast - Cash flow forecast - Profit and loss forecast
11:15am  Introduction to Social Enterprise
Hackney Cooperative Development Agency(Dominic Ellison – Director)
This workshop will be an introduction to social enterprise business models, examining new ways to do business that achieve a social and/or environmental purpose, on an individual, community or global level. Social enterprises generate most of their income through trade, not funding, by selling goods or services in the open market, and have clear rules on how profits are reinvested into their social mission. 
The workshop will look at different organisational structures and legal models, using real-life examples of best practice in doing business for good. It will also introduce the new Pioneering Social Enterprise in Hackney accreditation, which launched in October and certifies genuine social enterprises that are creating social value in Hackney and strengthening the local economy.
1:30pm     Project Management for Entrepreneurs – The art of getting stuff done
Albion (John Brombley- Director)
Getting stuff done is fundamental to any business - but too many start-ups fail because they have visionary ideas that they can't execute effectively. This short talk will talk you through some of the basics of project management - how to keep things on track, and make sure you make the most of your potential.
Second Floor
11:15am Commercial Strategy - Identifying and unlocking opportunities to build big businesses
Albion (Chris Allison – Business Director)
Many of us have that niggling idea for a new business that we think can transform a category. Commercial Strategy provides the ability to identify the next big growth opportunity and how to unlock it. This quick introduction will provide some the skills and principles that can be useful in understand quite how disruptive your next idea really could be.
1:30pm     Contracts don't need to be scary! Tips & Tricks to get the contracts you need to get started
Peggy Pauwels – Commercial Lawyer
This workshop will give you a crash course in dealing with legal ease and contractual mechanisms to enable you to negotiate your contracts more confidently.  The areas covered will include:
Things to watch out for in any contract

Plain English Rule – making sure the contract says what you want

The value of framework vs single one-off agreements

Payment terms to help you manage your cash flow better

How to hold the other party to their end of the bargain

Risk management

Focus on some industry specific contracts, e.g. hardware/software contracts; payment processing contracts
When & Where

Hackney House
25 - 27 Curtain Road
EC2A 3LT London
United Kingdom


Monday, 14 November 2016 from 09:00 to 17:00 (GMT)
Add to my calendar
Organiser
The Hackney Business Network is an initiative run by Hackney Council to support the growth and development of local entrepreneurs and businesses.
All events are free to attend and open to all businesses in East London although those in Hackney will be given priority access.