Location
London Fields Venue
London Fields
London
E8 3PN
United Kingdom
Our 2-day event will help you explore ways you can reduce your carbon footprint on your transition towards net-zero.
About this event
Ticket sales close 7th September 2022 at 9pm!
Do you want to learn how you can make more environmentally positive decisions in your business? Do you need some expert advice on ways to reduce your carbon footprint?
This event can help you take the steps to transition towards net-zero!
Day 1 : Monday September 12th, 9am - 8pm @ London Fields Venue, Hackney, London
Day 2 : Monday September 19th, 9.30am - 2.30pm @ London Fields Venue, Hackney, London
(See agenda below)
Who's the event for?
For all established small businesses who are looking to develop and grow into a more eco-friendly and sustainable business. Open to all types of businesses; from start-ups, and solo-founder/ entrepreneurs to high street shops & cafés. Participants must be living/operating in or benefiting the area of Hackney, East London. If you live in, are registered in, or your offices/workspace is/are based in Hackney, then this is for you!
As part of your participation in this FREE* event:
🌎 The latest green tips & tactics to navigate the uncertain business landscape
🌎 Your personalised "Green Action Plan" in-hand
🌎 Your company profile published as a participant of our programme on our website and social media.
🌎 Access to £250 towards your net-zero accreditation suited to your business*
🌎 Access to 3 free follow-up hours of one-to-one mentorship with an Allia Business Coach.
🌎 Opportunities to join the Allia Alumni network of 2,000+ ventures
*Free event for Hackney businesses. In order to receive £250 towards accreditation, you must be a Hackney based resident/business and successful completion of the programme is necessary in order to qualify. Speak to a member of our team at hello@futurebusinesscentre.co.uk to learn more.
Overview:
This seminar is a 2-day event, please see agenda below: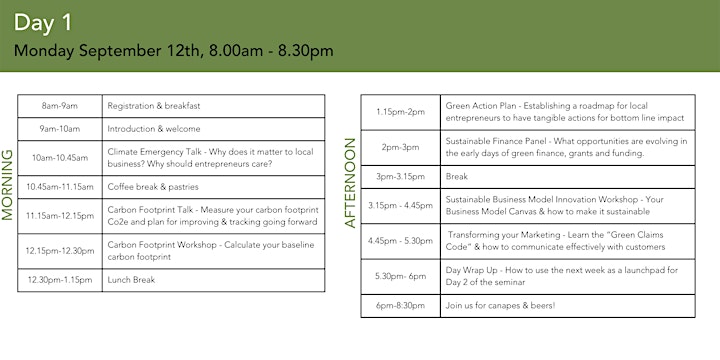 About Allia
Allia has been active in environmental issues and supporting cleantech and smart energy start-ups for many years. We pledge to help as many small businesses as we can to make substantial changes to their working practices and systems, through advice delivered by programmes and workshops, as well as within our own Future Business Centres. From working with Hackney Council we are providing a Green Business programme to help local businesses, start-ups and ventures in the borough to start making positive green steps for their business.
Special thanks to the Hackney Council who sponsor this incredible event to move towards Net Zero.
Important information
Ticket sales close 7th September 2022 at 9pm!
FQA can be found on our website here - https://futurebusinesscentre.co.uk/programmes/east-london-green-business-programme/
🌎For Hackney businesses to receive the offers above free of charge, we require some further information from you - a member of the team will be in touch to discuss.
For more information please contact hello@futurebusinesscentre.co.uk
Please note photographs will be taken at this event. If you would not like to be photographed please inform a member of the Allia team.