Event Information
Location
Here East
Queen Elizabeth Olympic Park
London
E20 3BS
United Kingdom
Description
Hackney WickED DIY Open Studios - Official Launch

'INSIDE OUT' Hackney Wick Group Show

The Hackney WickED DIY Open Studios 2017 weekend kicks-off on Friday 28th July from 6pm with the official Private View of the Hackney WickED Group Show, co-curated by HW'ED Patron Gavin Turk, HW'ED Director Anna Maloney and friends.

'INSIDE OUT' will take place at Here East canal-side exhibition space on Friday 28 July 6-9pm and Sat 29th/Sun 30th July 12-6pm.

The intension is to showcase Hackney Wick's diverse range of artists and talents, and explore the inside workings of the artist studio, outside of its natural habitat of warehouses and yards. It may also be a representation of inner emotions, ideas, shadows and trauma expressed outwardly and publicly at a time of great change in and around Hackney Wick.

Although this is a vulnerable time for the community, Hackney WickED aims to create a union, a 'bridge' between the existing creative community and the new comers to the area within the Queen Elizabeth Olympic Park, forging positive new relationships and opportunities for artists to be supported, acknowledged and continue to thrive in the changing landscape, and not become extinct to Hackney Wick.

Expect a massive range of talent from and around Hackney Wick, live art performance, drinks sponsored by Crate, and general WickED revelry that you've come to expect!

Please RSVP: http://bit.ly/2tBpb3I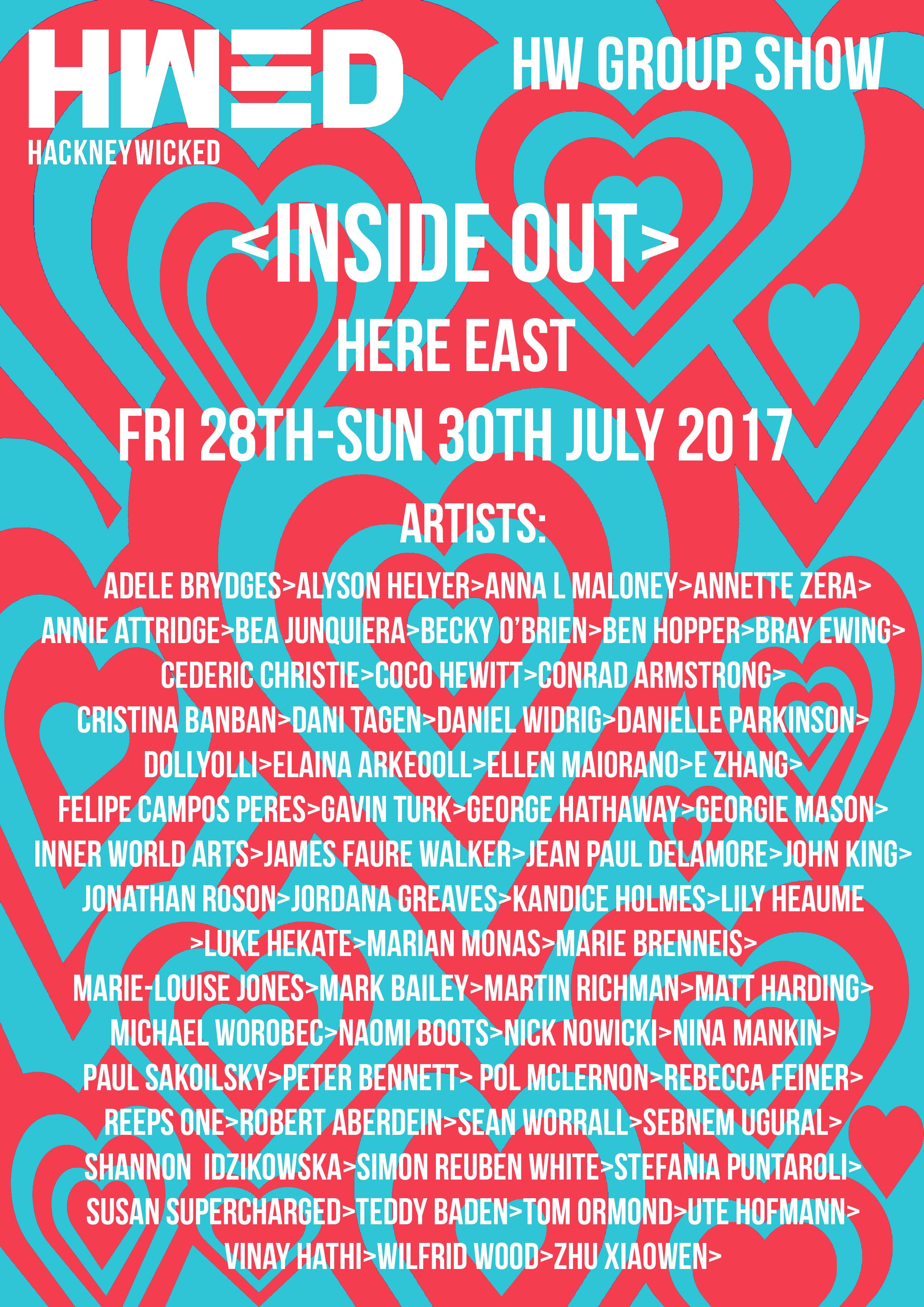 Thanks to all artists who have joined forces to collaborate and co-create for the weekend's events. includes work from:

ADELE BRYDGES>ALYSON HElYER>ANNA L MALONEY>ANNETTE ZERA> ANNIE ALTRIDGE>BEA JUNQUIERA>BECKY O'BRIEN>BEN HOPPER>BRAY EWING> CEDERIC CHRISTIE>COCO HEWITT>CONRAD ARMSTRONG> CRISTINA BANBAN>DANI TAGEN>DANIEL WIDRIG>DANIELLE PARKINSON> DOLLYOLLI>ELAINA ARKEOOLL>ELLEN MAIORANO>E-ZHANG> FELIPE CAMPOS PERES>GAVIN TURK>GEORGE HATHAWAY>GEORGIE MASON> INNER WORLD ARTS>JAMES FAURE WALKER>JEAN PAUL DELAMORE>JOHN KING> JONATHAN ROSON>JORDANA GREAVES>KANDICE HOLMES>LILY HEAUME> LUDOVICA GIOSCIA>LUKE HEKATE>MARIAN MONAS>MARIE BRENNEIS> MARIE-LOUISE JONES>MARK BAILEY>MARTIN RICHMAN>MATT HARDING> MICHAEL WOROBEC>NAOMI BOOTS>NICK NOWICKI>NINA MANKIN> PAUL SAKOILSKY>PETER BENNETT> POL MCLERNON>REBECCA FEINER> REEPS ONE>ROBERT ABERDEIN>SEAN WORRALL>SEBNEM UGURAL> SHANNON IDZIKOWSKA>SIMON REUBEN-WHITE>STEFANIA PUNTAROLI> SUSAN SUPERCHARGED>TEDDY BADEN>TOM ORMOND> UTE HOFMANN>VINAY HATHI>WILFRID WOOD>ZHU XIAOWEN>

A range of studios & private views will also be open simultaneously around the area to explore... followed by the Hackney WickED After Party: Reeps One, Hot Dog Grrrl Plus Guests


---------More Info---------

Hackney WickED Group Show

STATEMENT FROM THE CURATORS:

"The intension is to showcase Hackney Wick's diverse range of artists and talents, and explore the inside workings of the artist studio, outside of its natural habitat of warehouses and yards. It may also be a representation of inner emotions, ideas, shadows and trauma expressed outwardly and publicly at a time of great change in and around Hackney Wick.

Although this is a vulnerable time for the community, Hackney WickED aims to create a union, a 'bridge' between the existing creative community and the new comers to the area within the Queen Elizabeth Olympic Park, forging positive new relationships and opportunities for artists to be supported, acknowledged and continue to thrive in the changing landscape, and not become extinct to Hackney Wick."

Anna Maloney, Director, Hackney WickED 2017

In 2009, Gavin Turk cut a ribbon draped across the width of Wallis Yard and opened the second year of a small arts festival in East London proverbially known as Hackney WickED. Hackney WickED is now an annual community organised coming together of artists, studios and groups working in and around Hackney Wick. Scroll forward to 2017 and the physical development of the area mounts pressure on the working and living community more than ever as cranes, HGVS, road closures, concrete and steel frames, hard hats and high vis jackets turn the area in to a construction site, building accommodation for newcomers (who can afford it) to come to the area. Gavin Turk has had to vacate is studio on Wick Lane where he has worked for the past 16 years to make way for the new development there. Here East (formerly the media centre in the QE Olympic park) is providing a temporary studio for him in Studio 1 in the Press Centre and this space will house the satellite Hackney WickED Group Show .

INSIDE OUT> is a survey show of local artists work highlighting the diversity and talent the area has attracted.
Location
Here East
Queen Elizabeth Olympic Park
London
E20 3BS
United Kingdom