About this Event
Join Procure Plus and Retrofit Works on 13 September for a market engagement event, supported by GC Business Growth Hub, to explore the upcoming retrofit opportunity for installers and designers in Greater Manchester presented by the Homes as Energy Systems ERDF project
What is HaES?
Homes as Energy Systems is a European Regional Development Fund funded project in Greater Manchester that seeks to demonstrate how all homes could be transformed to become part of the UK's energy system rather than a perpetual drain on it. By combining energy generation and storage technologies with insulation and other energy efficiency measures to reduce energy demand, we will explore how households in the future can generate income to pay for the improvement works.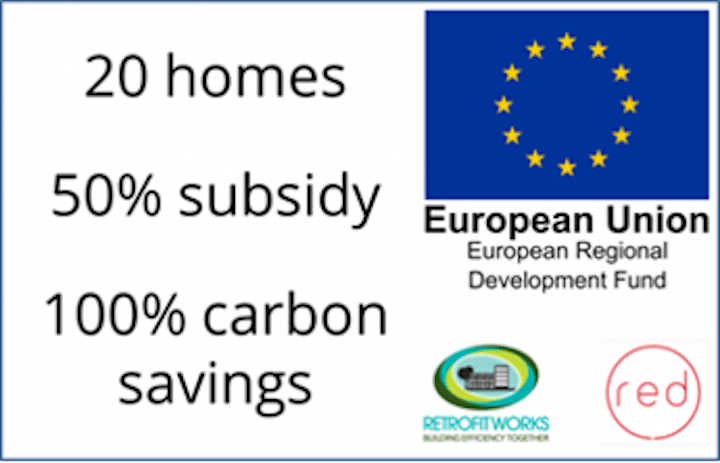 Part of the project is to see how near we can get typical Greater Manchester homes to zero net energy, so the homes use the same amount of energy in a year as is generated 'on site' from technologies like Solar PV. For this part of the project we will be setting an average budget of £50,000 per home and invite qualifying teams (designers, coordinators, contractors) to see how far they can get to the goal for this money.
The opportunity
The aim of this part of the project is to prove that our homes can do their part in moving the country to a zero-carbon economy in twenty years. This work will also make our homes more comfortable, affordable, healthy and show a way towards making sure that everyone can afford to heat their home.
While it will be up to the designer/contractor teams to propose the detailed solutions, they will most likely include internal and/or external wall insulation, underfloor and roof insulation, some new windows and doors, PV panels, battery storage and heat pump heating systems. Other measures may include ventilation and heat recovery systems.
Half of the work will be paid for by European funding. Funding for the other half is being provided by RetrofitWorks.
The event
This market engagement opportunity is a chance for interested installers and designers to learn more about the project by the project team, to explain the Dynamic Purchasing System (DPS) that will be used to allocate contractors, to introduce the client, Retrofit Works, and to seek feedback on the competitive process and appetite for the approach proposed by the project team.
Interested companies are instructed to respond to Procure Plus' Prior Information Notice, and register their interest officially with Procure Plus. By doing this, applicants can be informed of future developments relating to this procurement.
Please note, due to popular demand and limited spaces available, only one delegate per company can be accommodated.
Agenda
09:30 Welcome and introductions, Procure Plus
09:35 Introduction to the GC Business Growth Hub
09:40 Introduction to HaES and ERDF funding, Procure Plus
09:50 The DPS – what it is, how to apply and how it will operate, Procure Plus
10:05 Meet the Client, RetrofitWorks
10:20 Background to the Deep Energy Demand Reduction workstream
10:30 Workshop
Facilitated, open floor discussion with panel
Detailed table discussion
11:30 Workshop feedback
11:50 Summary and wrap up
12:00 Networking lunch and event close

Please note:
Our workshops are part-funded by European Regional Development Funds. Our workshops are delivered free of charge to participants; however, as they are fully-funded, they are classed as state aid to participating businesses and are subject to state aid rules and the associated eligibility criteria.