Description
The law around how you protect client data changes in May 2018. This will have implications for all businesses including letting agents.
Portolio has teamed up with Amiqus ID to offer letting agents a concise half-day seminar on the incoming General Data Protection Regulation (GDPR) and recent anti-money laundering (AML) obligations, now part of the Letting Agent Code of Practice, as well as an important part of estate agency compliance.
If you have questions, we'll leave plenty of time for discussion after each presentation and look forward to welcoming you.
The price of the seminar is £36 and includes VAT, breakfast rolls, tea and coffee.

---


Programme
Adams Suite, Crowne Plaza, 18 Regent Terrace, Edinburgh
09:30
Arrival and breakfast
10:00
Welcome
Chris Wood, CEO Portolio
10:15
The challenges and opportunities of GDPR for letting agents
Fiona Watson, Partner at Paris Steele WS
11:00
Tea and coffee break
11:15
Anti-money laundering obligations. What you need to know
Jonathan Williams, Legal Consultant at Lindsays LLP
12:00
Amiqus ID for letting agents
Callum Murray, CEO Amiqus
12:45
Wrap-up and departure
---


Our speakers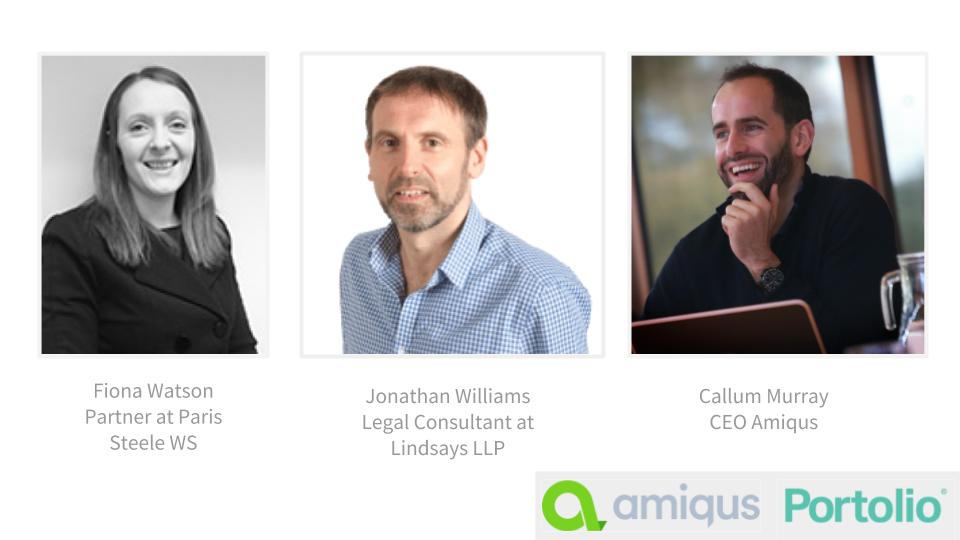 Fiona Watson
Partner at Paris Steele WS

Fiona completed her law degree and diploma in legal practice at the University of Edinburgh and is now a Partner with Paris Steele W.S., Solicitors and Estate Agents with office in Haddington, Dunbar, and North Berwick. Fiona undertakes a broad spectrum of legal work, but specialises in civil court work, and in particular residential tenancy work and matters relating to adults with incapacity. Fiona lives in East Lothian and is a keen distance runner. She is the Club Secretary of Musselburgh & District Athletics Club.
Jonathan Williams
Legal Consultant at Lindsays

Jonathan has a legal background having spent the last 25 years in the trenches of residential conveyancing as partner with three major legal firm in central Scotland. Having entered the legal profession in the early nineties where it was more KFC rather than KYC and getting someone's passport was a novelty to the introduction of AML regulations where the poor old AML manager's neck is firmly in the noose if something goes wrong. Nowadays he owns and runs a mortgage brokerage called Bricks and Mortar Mortgages advising clients in the BTL space, hosts an eponymous podcast but keeps his hand in regarding the law with a consultancy with legal firm Lindsays. When not working he has an interest in endurance sports including marathon running and triathlon but his first love is cricket and this summer at the age of 50 he is making a comeback for West of Scotland CC.
Callum Murray
CEO Amiqus

Callum set up Amiqus Resolution Ltd in 2015, with a mission to make civil justice accessible. The Amiqus ID software allows professionals in regulated sectors to efficiently and securely complete AML and compliance checks. Callum and his team work with an extensive network of businesses including regulatory bodies and firms across multiple sectors. Callum won the 2017 Rising Star Entrepreneur of the Year Award from Entrepreneurial Scotland.