Location
Rookhow Centre
Rusland
Ulverston
LA12 8LA
United Kingdom
Half Term Forest School sessions for children age 5+, to be held with Gareth Thomas (Woodmatters), in the Rusland Valley. £8 per person.
About this event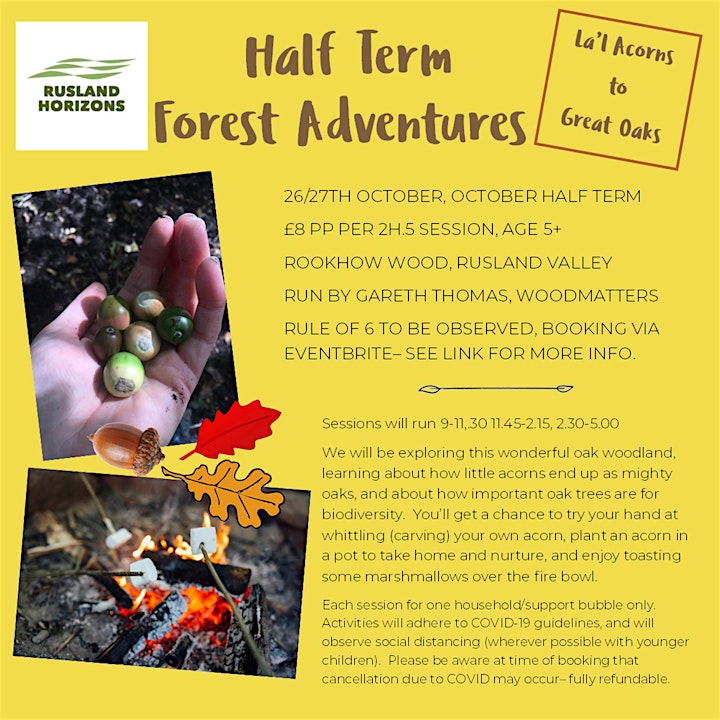 Take part in some woodland fun this autumn in the beautiful Rusland Valley. This is a great chance to enjoy some Forest School activities with Gareth Thomas (Woodmatters), run by the Rusland Horizons Trust.
We will be exploring a wonderful oak woodland, learning about how little acorns end up as mighty oaks, and about how important oak trees are for biodiversity. You'll get a chance to try your hand at whittling (carving) your own acorn, plant an acorn in a pot to take home and nuture, and enjoy toasting some marshmallows over the fire bowl.
Sessions will run 9-11.30, 11.45-2.15, 2.30-5.00. Sessions will take place at Rookhow Wood, Rusland Valley (What3Words location smoking.september.shuffles). Each session is for one household/support bubble only. Sessions will cost £8 per person per session, which represents excellent value for money. All children attending must do so with an adult. Children younger than 5 may attend if they do so with older siblings, but due to COVID-19, all attendees must have a ticket. Younger children must be closely supervised by their adult, and whilst they'll enjoy their time in the woods, its unlikely they'll be able to access the full range of activities.
Payment to be made by BACS on day before your session, or you can pay by cash in an envelope on the day. This is to ensure we are not taking payment that then needs refunding should we or you need to cancel due to COVID. (This also explains why the Eventbrite booking fee appears as 'free').
Activities will adhere to COVID-19 guidelines, with a full COVID-19 Risk Assessment in place. EACH SESSION SHOULD BE BOOKED BY ONE HOUSEHOLD/SUPPORT BUBBLE ONLY, in order to adhere to Cumbria's advisory guidance that groups of 6 should be made up of only two households. Adults will follow social distancing, and support children attending to do so as much as possible. Tools and equipment will be provided per child to avoid needing to share, and will be sanitised between each session. Contact information will be retained for Track-and-Trace. Please note, there will be no toilet available for these sessions, though handwashing facilities will be provided.
ANYONE WHO DEVELOPS SYMPTOMS OF COVID-19, OR WHO LIVES WITH SOMEONE WHO DEVELOPS SYMPTOMS PRIOR TO THEIR SESSION, MUST NOT ATTEND. THIS ALSO APPLIES FOR ANYONE TOLD TO ISOLATE BY THE TRACK AND TRACE SYSTEM.
If national or local COVID-19 regulations/guidelines mean that Rusland Horizons Trust decide the event must be cancelled, all tickets are fully refundable. Rusland Horizons Trust retain the right to cancel the event up to Sunday 25th October at 2pm.