Online fashion costume workshop for adults, teens and stylish spooks. Affordable tickets. Use materials you already have at home.
About this event
SPECIAL SPOOKY OFFER. Buy a ticket for either the Mini Witch Hat workshop or the Cute & Spooky Bead Embroidery workshop and get FREE entry to any of the Bat Bow workshops during October 2020. See all our workshops here. **
International times for this workshop
• 1400 2pm BST / GMT+1 / UTC+1
• 0900 9am EDT
• 0600 6am PDT
Learn basic millinery techniques to make your own mini witches hat in a 2 hr online Zoom workshop with Jessica Corlett. Perfect for fancy dress or general spooky style.
Keep your design sweet and simple…. Or go crazy adding decorations.
These little hats can be made from materials you might already have lying around your house or in your craft stash.
Workshop attendees will be provided with a printable pattern and all the instructions you need to complete this project. Don't worry if you do not have a printer. We will also be giving quick and easy instructions to draw your own pattern during the workshop.
Age range: This workshop is for adults and teens. However, 8-12 yr olds what have particularly strong sewing and crafting skills are welcome to join in too with adult supervision.
Difficulty: You should have a small amount of basic hand sewing experience.
These hats can be handsewn or made using a sewing machine. Or a mixture of both techniques.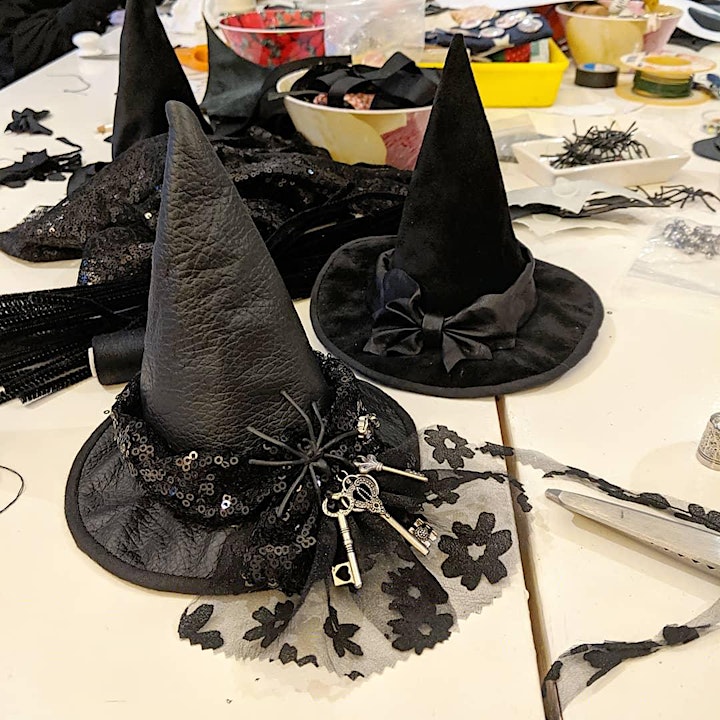 Materials needed for the workshop:
• Fabric – such as felt, leather, denim, velvet, cotton. Check out 'Top Tips' lower down for more ideas.
• Black bias binding 55cm x at least 1cm wide. Check out 'Top Tips' lower down for alternatives if you don't have bias binding.
• Wire – Just use whatever wire you can get your hands on. Basic gardening wire will do. It will not be visible.
• Decorations – such as more fabric, ribbon, lace, sparkly bits, plastic spider, beads, charms, birds skulls, feathers, etc.
• Needle and thread
• Scissors
Optional materials:
• Headband / hair clips / ribbon / hat pin to attach the hat to your head.
• Lining fabric for the underside of your hat
• Stuffing – if you want to stuff the point.
• Sewing machine
• Glue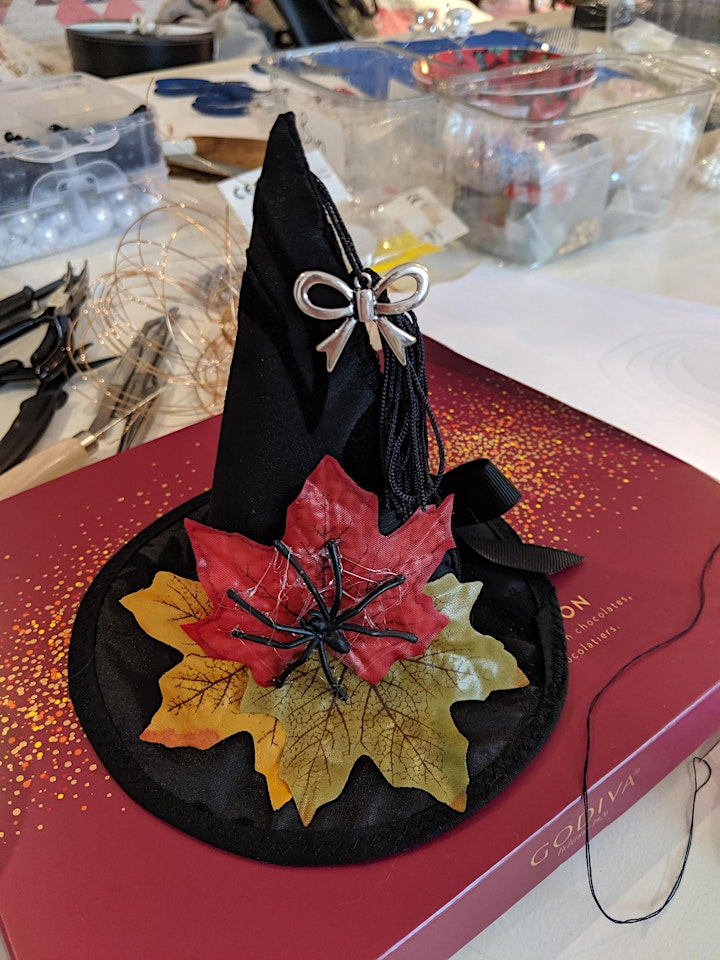 The Teacher
Jessica Corlett is a full time professional Arts & Events Coordinator based in London, UK. She has worked in film and television for the likes of Disney, Warner Bros and the BBC as well as for theatre and the UK fashion industry. Her specialism is textile and fashion workshops and events with historical and cute concepts. She runs the Otome Sewing Bee which is a J-fashion and pretty vintage crafts and dressmaking club.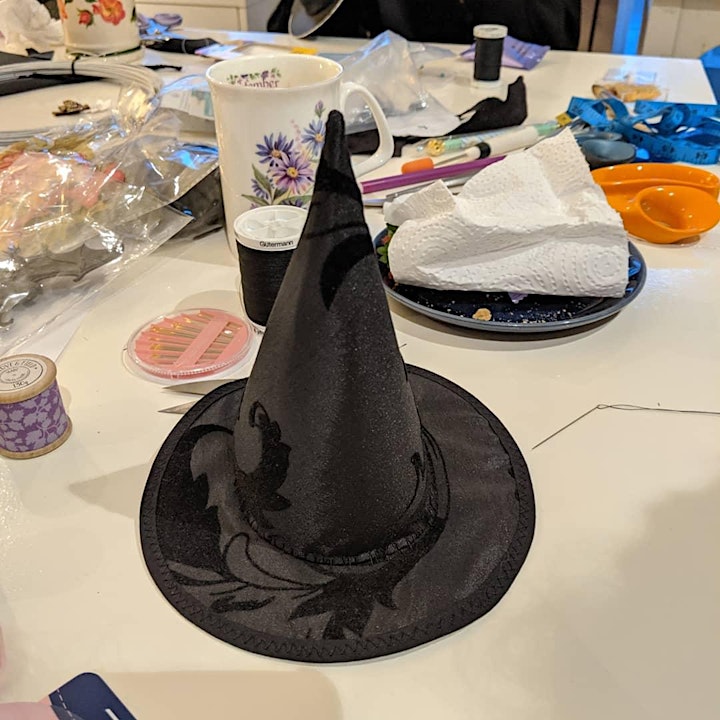 How to Zoom!
If you are new to using Zoom for video chats and meetings you can find out about how Zoom works and how to join a Zoom meeting here.
If you are on a mobile or tablet you will need to download the zoom app.
If you are on a laptop you can join the meeting through your browser using the event link.
Top Tips for fabric and craft supplies.
We are big on repurposing and working with materials you already have. Especially because Covid-19 might make it hard for you to get to the shops.
For this little hat you can use any sewable fabric you already have. We have previously used felt, leather, velvet and even sweatshirt jersey. How about some black denim from an old pair of jeans? Or repurpose the leather from an old pair of boots or handbag. Old real wool jumpers can be hot washed to make fantastic felt.
Remember it does not have to be black.
Scrap leather can sometimes be picked up from Arts Recycling type schemes and projects so it is worth keeping this in mind if you like doing crafts with leather.
Bias binding is used to cover the wire and edge the brim of the hat. If you do not have bias binding you can easily substitute a black ribbon. Or make your own bias binding from whatever material you do have. Something soft like cotton would be a good weight of material to use.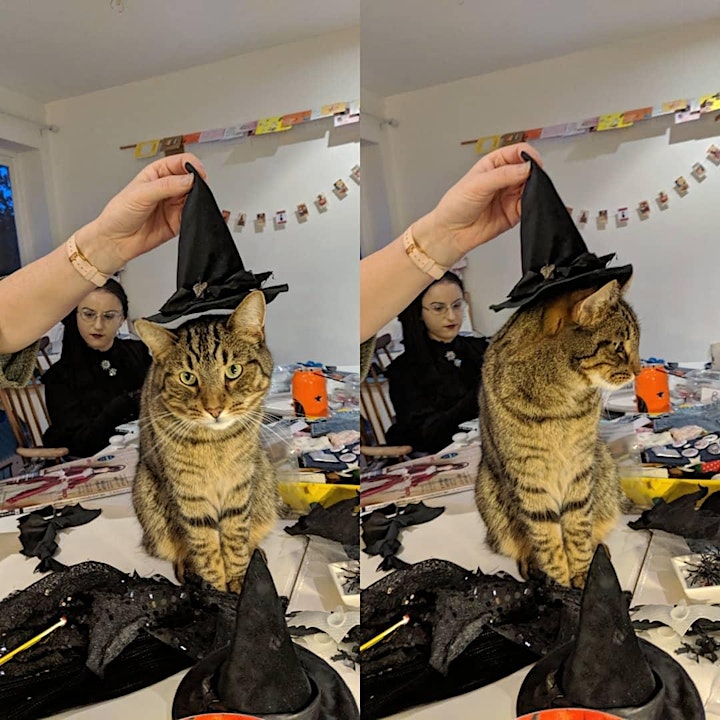 These workshops are wonderful sociable occasions with lots of laughs and stories shared. Shy people and chatty people are all welcome. Our workshop regulars come the first time for the crafts… and come back the second time for the creative social experience.
Don't forget to come to this workshop armed with tea and biscuits. And if you want to come in your pyjamas go for it. It's an online event after all.
See you there!
**Special spooky offer. Your free entry information to the bat bows workshop of your choice will be sent to you after you purchase a ticket for this workshop.