Get a FREE spinal health check for your children and chat with your chiropractor - Get all your health questions answered.
About this event
Brought to you by Dr Arthur Tovar DC. A Chiropractor with more than 20 years experience. We invite you to bring your kids to a FREE spinal health check.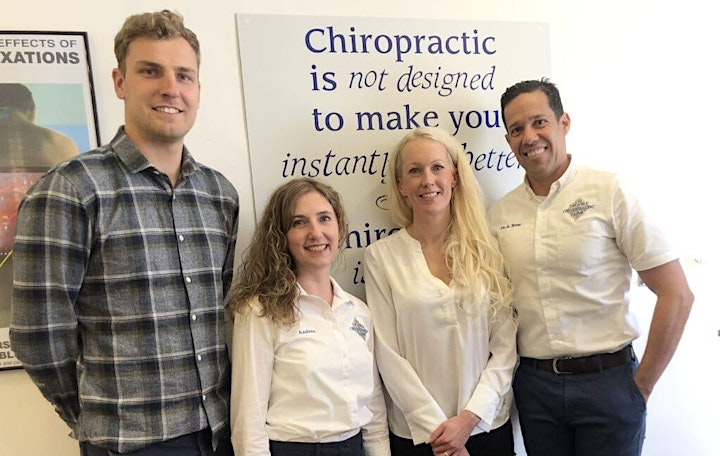 Led by our Doctor of Chiropractic Arthur Tovar who will look to identify abnormalities or dysfunction that may be occurring around the body. Arthur will take the time to assess any postural issues your child may have and will discuss if there are any underlying issues that may respond to treatment.
We believe that health is among our most valuable possessions and that optimum health can be achieved given time and the correct environment.
At this event, a chiropractor will exam your child's spine to locate nerve interference and vertebral misalignment.
Benefits of Chiropractic care for Children?
There are many benefits to Children having Chiropractic care. Some of the key ones are listed below:
Helps improve spinal function
Ease colic symptoms
Boost Immune System
Aid in proper physical development
Assist in treating and preventing ear infection
Helps with sleeping
Helps with ADHD/ADD
What happens in a screening?
We carry out a spinal screening using our myovision scanner which is a state of the art digital sEMG scanning device. A simple method to locate stress points in the skeletal structure that may be the cause of or lead to future pain and discomfort throughout the body.
Who is this event for?
This event is for all kids under 16, but specifically for anybody who has spinal related issues and suffers from back pain that doesn't go away, consistent headaches and migraines, sleeping issues, stiffness and lack of flexibility or a lack of energy.
When should my child have their spine checked?
There is no better time than now! The central nervous system comprises of the brain and the spinal cord from where all the nerves for every organ and tissue emerge. Any kind of dysfunction in the vertebral column may result in various disorders relating to any body system. Symptoms experienced could be ear infection, sleep problems, reflux, constipation, colic, bed wetting etc. Any misalignment, if left untreated, could cause inflammation and become a bigger problem in later years. So even if your child appears to be fine, it's a good idea to have a Chiropractor check them over to help prevent future problems. By recognising the above problems, you are already taking a proactive step toward improving your childs spinal health!
This event is for under 16's, so come along and why not bring the whole family or friends with you! PLEASE NOTE: These events are very popular and WILL sell out. So register now to avoid disappointment.
Date: 21/08/2021
Time: Between 09:00 -13:00. We will be in contact with you to book a time slot.
Location: Thame Chiropractic Clinic, 6a Buttermarket, Thame, Oxfordshire OX9 3EW
Cost: FREE