Halloween Fun in Farnham - Little Foodies Cookery Workshop - Cookie Monste...
Description
Half Term fun for Little Foodies!
Halloween themes cookies with The Organic Cookery School

Monday 31st October 2016, 12 noon-1pm
The Organic Cookery School runs hands on family cookery workshops across Hampshire, Surrey and West Sussex. This workshop is suitable for families with children aged 2 1/2 to 11 years.
Whilst this session is free of charge, we welcome voluntary contributions towards the cost of ingredients for families who can afford to do so (suggested £2 per child payable on the day). Children MUST be accompanied by a parent or other adult family member (eg Grandparent).
How to book: reserve a place online and we will email a full booking form to you within 48 hours. Places will be allocated on a first come, first served basis on return of booking form. We will confirm your place and venue details by email by Monday 24th October. We require a minium of ten families to run this class. Part funded by Surrey Family Learning. Please direct any queries to bookings@organiccookeryschool.org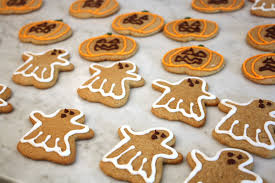 This booking constitutes an expression of interest in attending one or more of our FREE cookery workshops listed above, and will give you priority when we have received enough bookings to confirm the workshop. We require a minimum of ten families to make each session viable, and will confirm whether you and your children have a place and exact venue details no later than one week before the event by email. We reserve the right to cancel or postpone the session if needed or to offer you a place on an alternative date if the session becomes oversubscribed.
Please email if you have any specific food allergies or intolerances before booking. We will do our very best to accommodate you and adapt recipes wherever practicable.