About this Event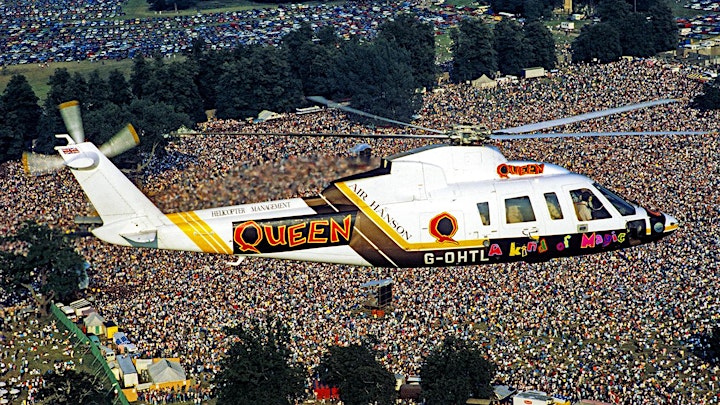 Escape Brexit for a couple of hours and join Denis at his Hammersmith Gallery for a unique Halloween themed evening of regal anecdotes, Q&A, champagne on arrival, gin cocktails, soft drinks, music and luxury canapés. Reduced prices on all limited edition fine art prints for one night, and your ticket price deducted from any purchase over £250.
Denis O'Regan has travelled the planet with some of the world's greatest icons of rock, including The Rolling Stones, David Bowie, Pink Floyd, and of course Queen. He shot as official photographer for festivals such as Coachella, Glastonbury and Download, and unique events Live Aid and Concert For Diana.
Selected images of Queen from 1975-1986 will be on display as limited edition prints and across our five TV screens. Memorabilia from Queen's 1986 'A Magic Tour' will also be featured. This is a fantastic opportunity for fans and collectors alike to own a Queen limited edition fine art print.
Denis O'Regan first saw Queen at London's Hammersmith Odeon supporting Mott The Hoople in 1973. Two years later, as an amateur, he photographed their Christmas show at the same venue, one of the pictures becoming his first ever sale. Denis continued to photograph the band for a decade, becoming their official photographer on the European 'A Magic Tour' on what were to be their last ever performances.
At the final show, at Knebworth Park, Denis accompanied Queen's helicopter as it flew in over the crowd of 125,000. After the tour the official 'Magic Tour' book was published. His Queen album and DVD front covers include: 'Live Magic' (featuring the helicopter centrefold), 'Queen On Fire - Live At The Bowl', 'Live At Wembley 1986'; with credits on 'Queen Greatest Hits' albums I, II & III.
Photographs on display at Halloween Queen will cover shows such as Knebworth, Budapest and Wembley in 1986, backstage at Live Aid 1985, Brussels 1984, Milton Keynes Bowl 1982, Lyceum Theatre 1979, Pavillon de Paris 1978, Earls Court 1977, Hammersmith 1975. Many images feature the band relaxing, travelling, and backstage.