We're BACK...the most entertaining 'Fun Runs' on the Royal Arsenal followed by a spirited impromptu 'Thames Clipper' Halloween Trip.
About this event
2021 Zombie 5K (Fun Run On The Royal Arsenal-Now in it's 5th year)
It's another in our series of fun runs '5k around the RA'.
Get to know more of your community. It's on your doorstep... 'Halloween Zombie Tag' fun run walk around Royal Arsenal. All Ages Welcome(under 16 accompanied by adult). If you know any make up artists or face painting participants please get in touch. We are also fundraising for our partner charity 'Wooden Spoon' so it's all for a good cause. Afterwards we are planning a night out, while we present the best costume award!
Registration will begin at 4:30pm sharp at the Dial Arch. If you are not registered on the day and given a stamp you are not in the Fun Run.
*Please note the impromptu 'Thames Clipper' trip is NOT FREE. Whoever is up for this is totally up to themselves and not part of the '5K on The RA' fun run.
Prizes sponsored by Tesco Local & Berkeley Group
WARNING! THIS EVENT IS EXPECTED TO BE A COMPLETE SELLOUT. LIMITED SPACES DUE TO THE HISTORIC NATURE OF THE RUN AND IT'S SURROUNDINGS. REGISTER ASAP. ONLY THOSE REGISTERED WITH EVENTBRITE WILL BE ALLOWED PARTICIPATE. DON'T BE DISSAPOINTED.
Whereas the event is within a relatively closed community, as with all sport, there is a risk of injury. All participants enter entirely at their own risk and it is entirely at the discretion of each person whether or not to take part in the fun run. The organisers of the event therefore take no responsibility for and hereby excludes liability to the fullest extent permitted by law for any personal injury or loss or damage to any personal property sustained while participating or while present at the Royal Arsenal Zombie Tag Fun Run Sat Oct 30th,2021 Have Fun. That's what it's all about!!
REGISTRATION IS AT THE DIAL ARCH SQUARE ON THE ROYAL ARSENAL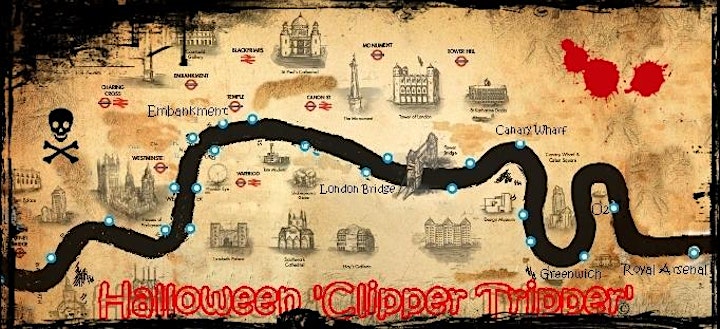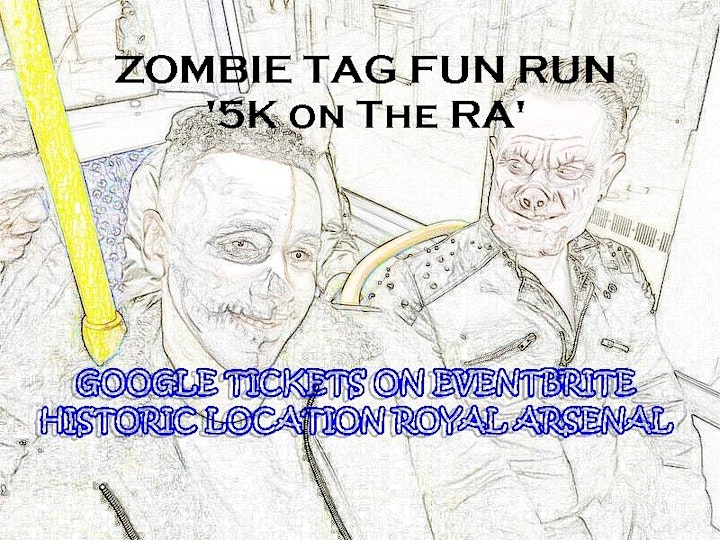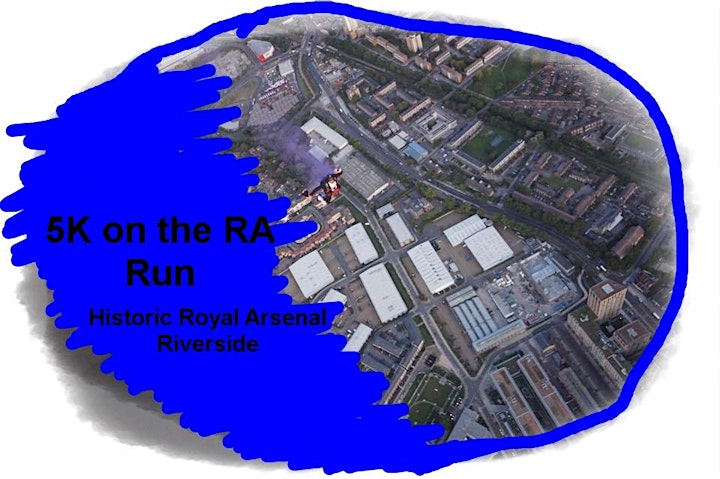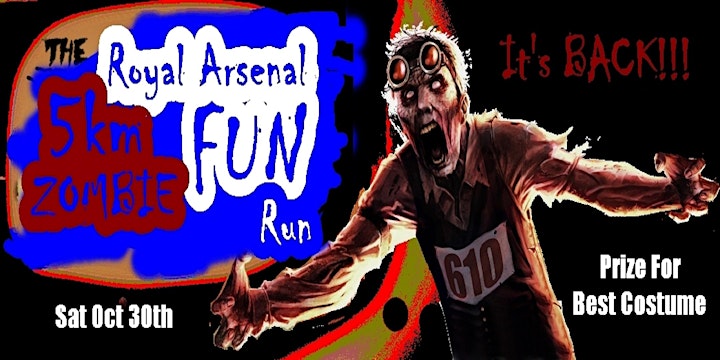 Organiser of Halloween Zombie Fun Run '5K on the RA' (Few Tickets Left)
Touch & Tag Organiser Of Leagues & Events
Event Cancellation:
From time to time, events are cancelled.
Should this happen, we will try to contact you as early as possible by e-mail, with the e-mail address you have supplied at the time of booking.

Refund requests(due to NCR cancellation) must be received by NCRSports within 14 days of the original date of the cancelled event. Requests received by email after that date will not be entertained.
In most cases refunds are for the basic cost.
Event Rescheduling:
From time to time, events are rescheduled.
Should this happen, we will try to contact you as early as possible by e-mail, with the e-mail address you have supplied at the time of booking.
If an event is rescheduled, you will be informed of the new date once it is confirmed. You can then attend the rescheduled event if you wish or opt to receive a refund.
NCRSports will communicate a cut-off date by email by which time refund requests must be made. Refund requests made after this date will not be entertained, although you will still be able to use your tickets or contact us to arrange for someone else to use them instead, if you wish.
Inconvenience, loss or expenses arising from cancelled events:
NCRSports will not be held responsible for any inconvenience, losses of any kind or expenses incurred by the customer as a result of an event being cancelled, rescheduled or moved to a different location.
The customer is wholly responsible for any expenses which they incur in order to facilitate attending an event. This includes all transport, accommodation, subsistence, miscellaneous and all other relevant costs not mentioned here.
Please be aware that events can, and are, cancelled and rescheduled from time to time and be prepared for this eventuality. You should make financial provision for this possibility personally or take out appropriate insurance to cover any such losses.
Assumption of the Risk and Waiver of Liability Relating to Coronavirus/COVID-19
PLEASE READ CAREFULLY
The novel coronavirus, COVID-19, has been declared a worldwide pandemic by the World Health Organization. COVID-19 is extremely contagious and is believed to spread mainly from person-to-person contact. As a result, provincial and local governments such as Non-Contact Rugby Sports ("NCR") and local and provincial health agencies recommend social distancing and have, in many locations, prohibited the congregation of groups of people.

NCR has put in place preventative measures to reduce the spread of COVID-19 at its venues and similar programs; however, NCR cannot guarantee that you or your child(ren) will not become infected with COVID-19. Further, attending the venue or similar activity like non-contact rugby could increase your risk that you and/or your child(ren)'s risk of contracting COVID19.