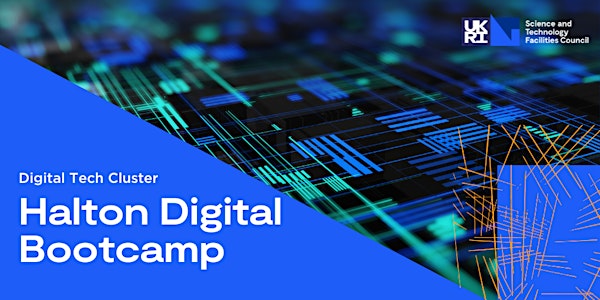 Halton Digital Bootcamp - Business Support for Digital Tech Start-Ups
Location
Sci-Tech Daresbury
Keckwick Lane
Daresbury
WA4 4FS
United Kingdom
About this event
The Halton Digital Bootcamp aims to support entrepreneurs from around the Halton area to grow their digital tech startup companies.
The intensive, week-long programme, for a select few Digital Tech companies, will be delivered by James Bedford, Digital Cluster Manager, Science & Technology Facilities Council (STFC), and will bring together experts who have agreed to volunteer their time to help local entrepreneurs.
STFC is working closely with Halton Borough Council and Halton Chamber of Commerce to ensure the companies are encouraged to implement their action plans after the Bootcamp through linkages to further business support.
The week-long Bootcamp will include business-growth workshops, interviews with digital tech entrepreneurs, peer network building, and action planning.
Topics covered by the programme will include;
building a team
product-market-fit
creating value
scaling digital products
intellectual property and finance
Who should apply?
To be eligible to apply, companies must be selling (or intending to sell) digital tech products or services, be based in or around Halton, and be less than 4 years old. All companies must be registered at Companies House.
Apply now and complete the registration form by 12 PM Thursday 23rd June 2022 for the opportunity to be part of this exciting week, starting on 11th July.
James Bedford - Digitial Tech Cluster Manager
(James.Bedford@stfc.ac.uk)