Description
Ham Open Gardens, Ham Common – Sunday 21 May
Advance ticket sales have now ended, but tickets are available from the ticket tents on Ham Common: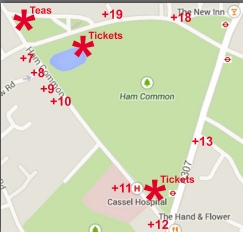 Come and explore the beauty behind the garden wall
Once every two years, Ham's most exquisite private gardens open their gates to the public for an afternoon. The 2017 Ham Open Gardens event, taking place on Sunday 21 May from 1pm to 5pm, will be a wonderful opportunity to explore these hidden treasures, which reflect the diversity of the area's rich history from the 17th century through to the present day.
Organised by the Ham and Petersham Association, this bi-annual event is a 'must' for keen horticulturalists, or for anyone who simply enjoys beautiful gardens. This year, over 15 gardens will be on display, including a number which have not previously been opened. From the garden of one of Ham House's Gatehouses dating back to Tudor times, to those of grand Georgian lodges and Victorian cottages, each garden has a fascinating story to tell.
In addition to private gardens, visitors will also get the opportunity to visit community based gardens such as Ham Library's Bird and Butterfly Garden and Grey Court School's innovative Community Allotment.
The gardens are all within short walking distance of Ham Common, which is easily accessible by public transport (the No 65 bus runs from both Richmond and Kingston to Ham Common every six minutes). Tickets are £11 each or two for £16.50 (free for under 16s) and can be bought in advance at www.hamandpetershamassociation
Homemade teas will be served from 2-4.30 pm at St Thomas Aquinas Church near the pond on Ham Common).
Proceeds from Ham Open Gardens will be distributed between Home-Start, the restoration fund for the Duchess of Teck Memorial and the Ham and Petersham Assocition. Home-Start is a national charity which supports local young families struggling to cope due to issues such as post-natal depression, isolation, premature births and disabilities.
The Ham Open Gardens event is made possible by the support of young people from Grey Court School, local volunteers and our local sponsors: Pharmacare the chemist, Revitalise hair and beauty salon, Goddards the vet, Eyecare the opticians and LGS, Landscaping and Gardening Services.