Hammer & Tongue Cambridge featuring Sam J Grudgings and Elizabeth McGeown
Live poetry! Up to eight compete for a place in the Regional Final. Plus amazing feature acts Sam J Grudgings and Elizabeth McGeown
About this Event
Time for the next open round of the Cambridge Hammer & Tongue 2020-21 season... Spoken word artistry and competitive fervour. What more could you want?
This is your chance to become part of the spoken word slam brilliance that has graced this here fair city since 2009, in the warm and wonderful surroundings of fabulous venue your house, courtesy of Zoom! Sign up as one of the eight to compete for a place in the Regional Final next September, become a judge, or just dive in and soak up the atmosphere and talent on display. Facebook event here.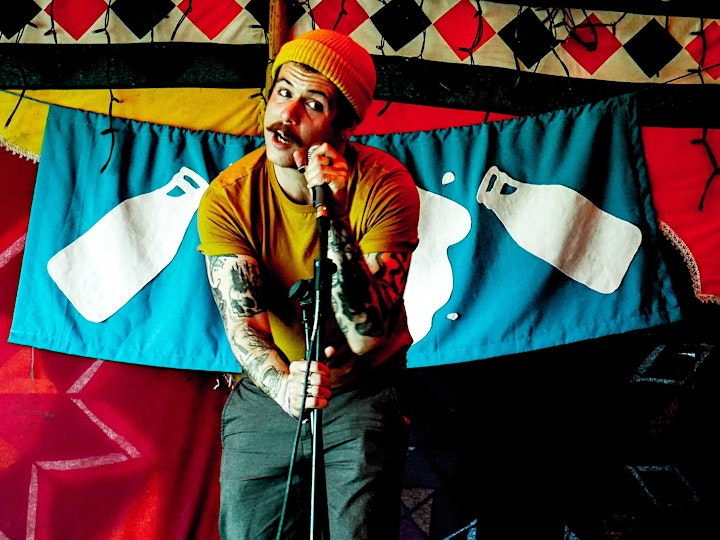 Sam J Grudgings is a queer poet from Bristol. Shortlisted for the Outspoken Poetry Prize in the performance category in 2020 he is renowned for his frenetic delivery and whirlwind stage presence. His work combines visceral metaphors with frank gutter honesty and dark gallows humour. He yells stories about loss, 50 ft monsters, fighting god and haunted people because it's cheaper than therapy and less physically taxing than porno. If he invites you to join a cult, it's because he sees more than just a sacrifice in you.
He has toured the country delivering his weird explorations into addiction and the complicity of privilege in explosions of flailing arms and off brand hypnotism and cheap magic tricks. A frequent collaborator with artists of all mediums, he has appeared on pop punk albums, alongside dancers, in art galleries, haunted churches and on most wanted lists, somehow dating three hundred years in the future. Pushing the boundaries of performance and inviting people along for the wild ride Sam has fought for and earned, the respect of poets and the ire of Gods.
His debut collection "The Bible II" is due out with Verve Poetry Press in 2021, in the meantime, his work can be found in Riggwelter Press, Nine Arches, Cipher Press and scribbled in the margins of prophecies predicting the fall of man.
Find out more at https://www.samjgrudgings.co.uk/
Follow him on Facebook, Twitter (@storygiverpoet), and Instagram (@samjgrudgings).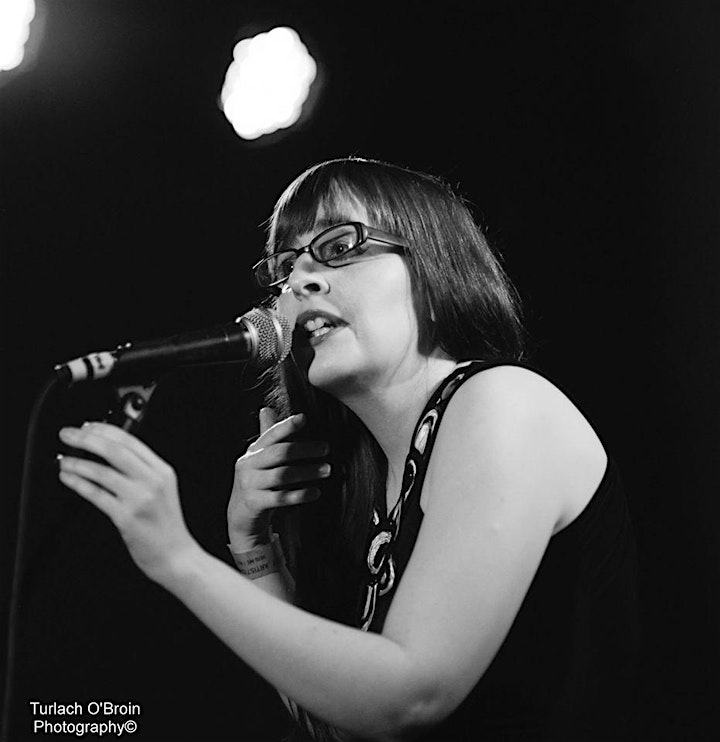 Elizabeth McGeown is from Belfast, Northern Ireland. She is a Pushcart Prize nominee and has featured in publications including Banshee, Abridged and Riggwelter. As a spoken word artist she is the winner of the 2019 Cursed Murphy Spoken Word Prize, the 2019 Cuirt Literary Festival Spoken Word Platform, has been a finalist in the All-Ireland Poetry Slam four times, and represented Northern Ireland at the 2019 Hammer & Tongue UK Slam Finals in the Royal Albert Hall. Featured gigs include Body & Soul, Loud Poets, Electric Picnic, Sonnet Youth, and as a regular 'cast member' in Other Voices Alternative Spoken Word Cabaret at the Edinburgh Fringe. She has received funding from Arts Council Northern Ireland and The National Lottery to work on her first full-length spoken word show.
Follow her on Facebook, Twitter (@candyseyes), and Instagram (@candys_eyes).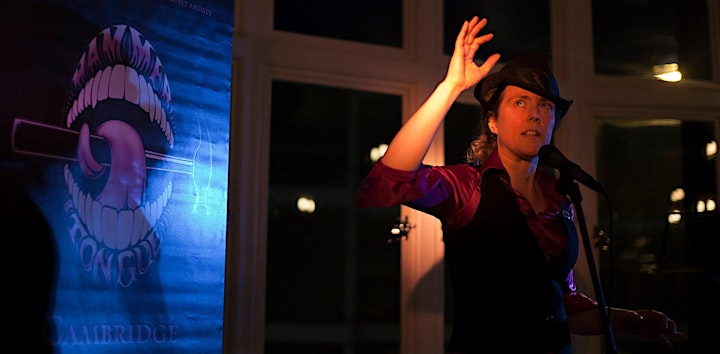 Hosted by Fay Roberts, a Cambridge-based poet, musician, and unrepentant geek.
~~~~~~~~~~~~~~~~~~~~~~~~~~~~~~
Fancy Slamming? Sign up at http://bit.ly/htcslamform. (Please note: we operate a quota system to try to ensure gender parity for female, nonbinary, and male slammers, and a waiting list if/ when the list becomes full.)
The rules for H&T slams are as follows:
Slammers are chosen in a random order from the sign-up list to perform – spoken word only, no music, no props. Each competitor has 3 minutes from the time they start talking on the mic. After 10 seconds' grace period, they start losing points (1 point for every 10 seconds!). At the end, they're given points out of 10 by 5 judges chosen from the audience, while the top and bottom scores are removed to ensure fairness. The slammer gets a score out of 30, and the competition moves on.
The winner of that evening's competition goes through to the Regional Final (the Cambridge one tends to be held in September), and the winner (and runner-up) of the Regional Final goes through to the National Final. The winner of the National Final gets crowned H&T National Slam Champion.