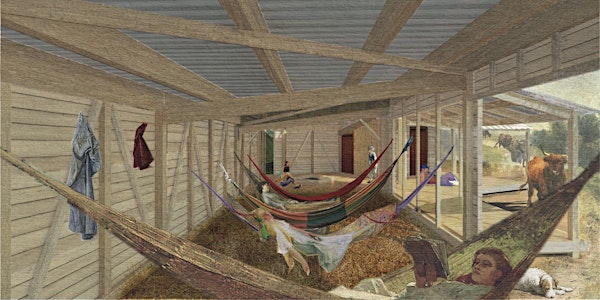 Location
Uvie Farm
Uvie Farm
Newtonmore
PH20 1 BE
United Kingdom
Settle for one day in a farm, meet the cattle, camp on the site over night and listen to Highlanders stories around the hearth!
About this event
Hammocks and Highlanders employs a new building by Victoria Caubet celebrating the connection between Highland cattle & their keepers.
It adds to a farm infrastructure that purposefully aims to magnetise energy into an area that has lost much over the recent past. Yet these animals remain - rooted in their locale and to their genetic function. They possess a glamour compelling even to those with little or no experience of animals or agriculture. Why is this?
The answering narrative, ancient and familiar, will be expressed at this Architecture Fringe event by making physical contact with these primeval beasts, engaging in stories told round a central hearth, absorbing a sound frieze of cattle keepers voices.
Finally, participants enjoy the live experience of a multi-purpose farm building, when they turn in for the night in hammocks slung in the building that, at other seasons, is used to shelter the animals.
There are only 8 available Hammocks under the shed. If you have one you can hang it in the forest.
There will be a large parking space and a camp site in the meadows where you can set up your tent. Food can be provided, please let us know if you want to eat from the barbecue we will prepare.
Volountary contribution for the organisators and artists at the gates, the day of the event.
Please tell us if you plan to attend to this event by taking a ticket.
If any inquieries please contact Roy : roy.tylden.wright@gmail.com
or Victoria : victoria-c-@hotmail.com
Part of the Architecture Fringe Festival IN REAL LIFE 2019
http://architecturefringe.com/
Part of the Highland Cattle Society, to support this association :
https://www.justgiving.com/highlandcattlesociety