Hampshire Business Expo 2012

Thursday, 21 June 2012 from 09:30 to 17:00 (BST)
Event Details
Date: Thursday 21st June
Time: 9.30am - 4.30pm
Venue: Basingstoke Apollo Hotel, Hampshire, RG24 9NU

On Thursday 21st June the Hampshire Business Business, one of the county's largest independent business-2-busines events, will return for an olympic size event to celebrate business growth and development in 2012.
To celebrate the London Olympics, this year's theme is about growth, development, opportunities, competition and winning more business.  There will be over 50 different businesses exhibiting their products and services and a fantastic full-day event programme with sensational speakers and excellent networking sessions to help grow your local network.


10.00am-10.30am ~ Seminar with Nicky Hirst
"Pinning Your Hopes on a Social Media Medal?" 
 
11.00am-11.30am ~ Dave Gammon (Keynote Speaker)
"6 Success Secrets that Athletes Know But Business Owners Ignore!" 
 
11.45am-12.30pm ~ Business Networking
 
1.00pm-1.30pm ~ Seminar with Zoe Dunn
"If You Do What You've Always Done, You'll Get What You've Always Got!" 
 
2.00pm-2.30pm ~ Seminar with Ray Vernon
"The Winning Ways to Website Marketing!"
 
2.45pm-3.30pm ~ Business Networking
 
3.45pm-4.15pm ~ Social Media Workshop with Paul Allen
"How Videos Online are Changing the World we Watch!" 

10.00am-12.00pm ~ FREE Marketing Clinics
"Free 20-minute Business Marketing Clinics with Brevity Marketing"


           STAND 05            STAND 30            STAND 16            STAND 13            STAND 35

STAND 63            STAND 38            STAND 64            STAND 47            STAND 36

STAND 40            STAND 01            STAND 61            STAND 45            STAND 57

STAND 07            STAND 17            STAND 55            STAND 04            STAND 03

STAND 23            STAND 37            STAND 51            STAND 49            STAND 46

STAND 39            STAND 33            STAND 08            STAND 42            STAND 06

STAND 24            STAND 67            STAND 62            STAND 60            STAND 41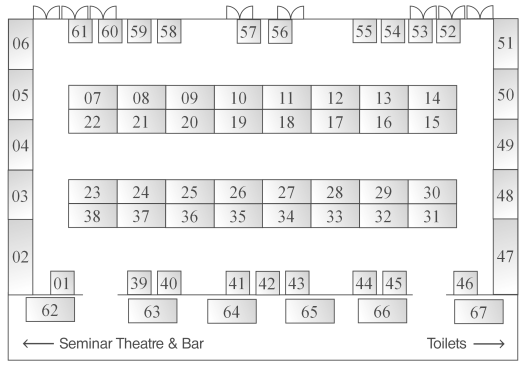 Hampshire County Council ~ M B Learning ~ Grundon Waste Management ~ Wettone Matthews
Low Carbon Essentials ~ Coker Exhibition Systems ~ Talk Design & Print ~ Kestrel FM
Southpoint Films ~ Basepoint Business Centres ~ Newbury Building Society ~ Mentor-Net
1-1 Recreuitment ~ Vacancy2Market ~ Environmental Handling Systems ~ Pampered Chef
Hampshire Chamber of Commerce ~ Creative Conundrums ~ Training Expertise Ltd
JMS Gardens ~ AQ Networking ~ Town or Country ~ Moonlight Business Gifts ~ Tetra4
Finn Geotherm UK ~ Worting House ~ Impact Plus Training ~ Tadley Digital Associates
Brevity Marketing ~ Hampshire Business Network ~ Memo Events ~ ActionCoach ~ Splice Marketing
Bullseye Publishing ~ Hampshire Fire & Rescue ~ M3 Job Club 



LIMITED STANDS ARE NOW AVAILABLE!
If you are interested in exhibiting and showcasing your business at the Hampshire Business Expo please contact Matthew Larcome at Memo Events on 01256 838386 or you can click here to be redirected to the official show website.
Copyright © 2012 Memo Events, Winton House, Winton Square,
Basingstoke, Hampshire, RG21 8EN.  Tel: 01256 838386
www.memoevents.co.uk
www.hampshirebusinessexpo.co.uk
www.hampshirebusinessnetwork.co.uk 
When & Where

Apollo Hotel
Aldermaston Roundabout
Basingstoke
RG24 9NU Hampshire
United Kingdom


Thursday, 21 June 2012 from 09:30 to 17:00 (BST)
Add to my calendar
Organiser
Memo Events
Memo Events is one of the South's largest independent events and exhibitions company with a portfolio of three of the South's biggest business to business exhibitions including the Hampshire Business Expo, Portsmouth Business Expo and the West Sussex Business Expo.  Memo Events was established in 2011 and is based in Basingstoke, North Hampshire.
Hampshire Business Expo 2012