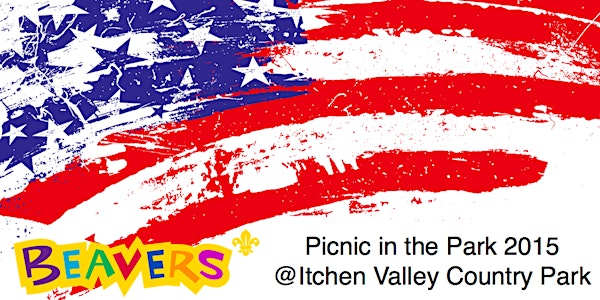 Hampshire County Beavers Picnic in the Park @Itchen Valley Country Park
Sales Have Ended
Registrations are closed
Thank you
Sales Have Ended
Registrations are closed
Thank you
Description
On 4th July 2015 Beavers across Hampshire will be joining in with picnics at 3 venues around the county.
The Picnic at Itchen Valley Country Park will include a special visit from Chip the Beaver, use of the play area and trails and lots of open space for you to run your own games and activities. There will be a flag coming round to each event for everyone to sign and we will also be making our totem poles (details on county Website).
The end time is flexible, main events will finish by 14:00 but the park is open much later and you are free to stay as long as you like so please choose a pick up time from then onwards to try and spread out the traffic.

We thought it might be useful to give you some idea of the new programme requirements you may be able to cover, depending on the activities you do.

Adventure
There is a zip wire in the playground (though this will undoubtably be popular) There is a totem pole trail and a play trail. Leaders can also take their colony on a ramble and follow a nature walk.

Skills
We hope to teach everyone some American songs and possibly have a little "hoe down" dance
For those who have never been to Itchen Valley before, it will be somewhere new and leaders can encourage them to find out five facts about it. There is a visitor centre and various information boards.
My World
We will be taking part in activities from the USA

Teamwork
Leaders can use the space for team games. Perhaps challenge other colonies?

It is also an opportunity to complete elements of the Explore badge, the safety badge (stranger danger) and there will be sufficient space for sporty beavers to demonstrate their skills as part of the sports activity badge.

Have fun and meet new friends!
UPDATE 29/06/2015 (1)
A Message from Wendy Turner and her County Team:
Please find below a link to our risk-assessement and useful links for the upcoming Picnic in the Park. On the day one leader per group must attend the briefing at 09:30 and collect the timings for the day. Our base will be signposted from carparks. Leaders are responsible for drop-off and collection arrangements, the tarmac carpark next to Go Ape is set out as a big turning circle.
This is a basic risk assesement based on our inspection of the site on two occasions. Leaders will be responsible for making their ongoing assessment on the day and also any special arrangements for their colony including relating to allergies. The site will be open to the public. Also be aware the only toilets are at the entrance which is a 5-10 minute walk from the picnic site (toilets open at 10:30 though the disabled one is left open).
If you have any questions please let us know.
Michael
Michael Collins
County Beaver Scout Leaders
Risk assessement http://www.hampshirescouting.org.uk/wp-content/uploads/2015/06/Picnic-Risk-assessement.pdf
Map and trail guide https://www.eastleigh.gov.uk/media/49635/Trail-Guide-2013.pdf
Itchen Valley County Park Website https://www.eastleigh.gov.uk/ivcp
UPDATE 29/06/2015 (2)
I have been asked to send out a reminder that this event isn't catered - Beavers and leaders should bring their own picnic. Also there aren't many bins so rubbish should be taken home with them.
Event badges will be available on the day for £1 each.
If you have any questions please let us know - michael.collins@scouts-hants.org.uk
Organiser of Hampshire County Beavers Picnic in the Park @Itchen Valley Country Park