Location
University of York
Newton Way
Heslington
YO10 5DD
United Kingdom
Refund policy
Refunds up to 30 days before event
Hamster Fair UK 2022 is the UK's first ethical hamster fair. We will be hosting talks from industry professionals, and have ethical vendor
About this event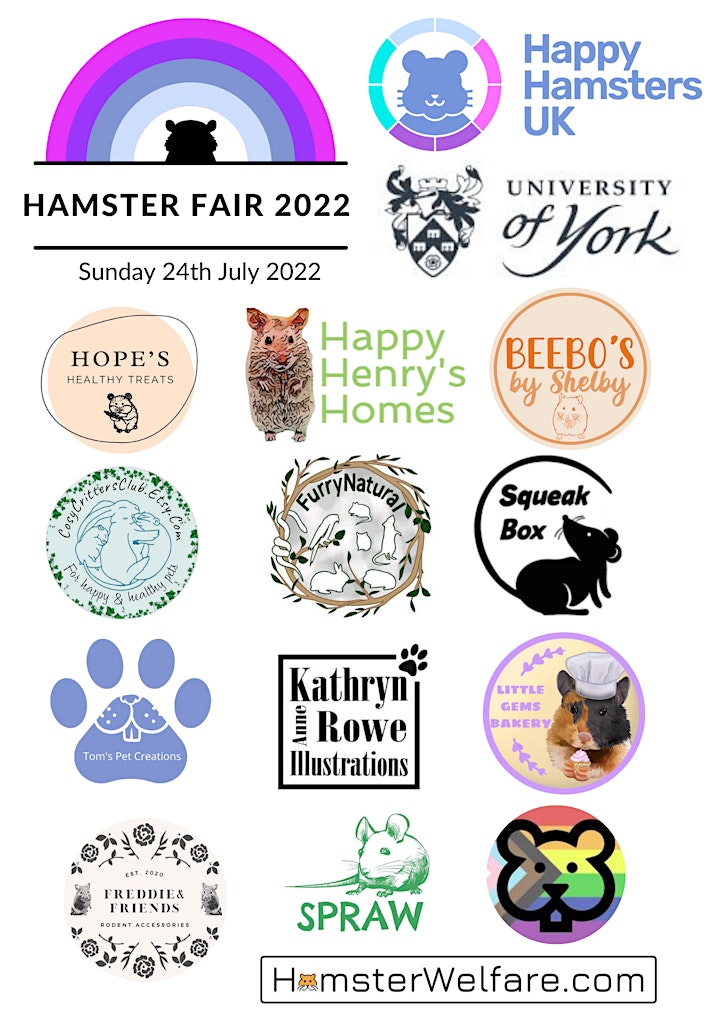 We have:
Hope's Healthy Treats, who sell a wide range of hamster products, including wheels, tunnels, hides, treats and more!
Happy Henrys Homes, who sell a range of wooden slot-together hamster products, including sand baths, multichamber hides, castles and more!
Beebo's by Shelby - https://www.etsy.com/shop/beebosbyshelby/?etsrc=sdt, who sell vinyl customisable enclosure stickers!
Tom's Pet Creations - https://www.tomspetcreations.com/, who sell a variety of tasty treats and enclosure accessories, including Silent Runner wheels!
Cosy Critters Club - https://www.etsy.com/uk/shop/CosyCrittersClub, who sell a range of hamster products including coco soil, edible grass, ceramic dishes and more!
KariArt - Kathryn Anne Rowe Illustrations, who sell printed pet coasters, ceramics and customisable prints!
FurryNatural, who sell wooden enclosure accessories, including attachable branches, perches, freestanding platforms and more!
Squeak Box, who sell a variety of enclosure boredom breakers, treats and monthly subscription boxes!
Freddie and Friends, who sell IKEA Detolf lids and accessories to help with converting to a hamster enclosure!
Little Gems Bakery, who sell tasty hamster treats, including hammy dodgers, birthday cakes and more!