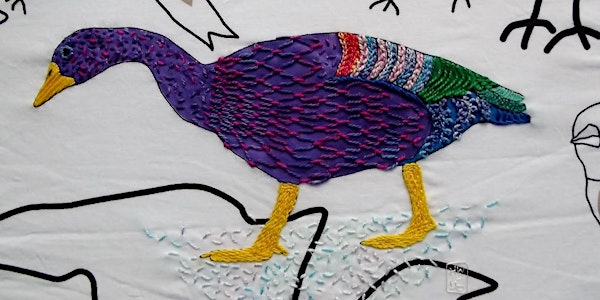 Hand Embroidery: Embellishing Printed Fabrics with Helen Walsh
Event Information
Location
Shambellie House
New Abbey
Dumfries
DG2 8HQ
United Kingdom
Embellish patterned fabric with hand embroidery, fabric pens and pastels, beads, buttons and sequins.
About this event
Embroidery is a wonderfully creative and mindful art form. This course offers a great way to explore hand embroidery by embellishing patterned fabric; you will explore how to use printed fabric as a base for your work allowing you to create unique pieces of textile art. We will look at how to add colour to printed cloth using fabric pens and pastels before exploring how to use different embroidery stitches to create your own unique pieces. We will also have a go at adding other embellishments such as beads, buttons and sequins to develop the surface. This workshop is a great opportunity for beginners to learn some basic stitches and for more experienced stitchers to develop their repertoire. We will also discuss how to finish and display our work.
This course is suitable for anyone including beginners.
We will supply all the materials you need, plus the loan of tools such as hoops and needles. However you can bring your own sewing kit if you have one. Beads, buttons and sequins will also be provided, but you can use your own if you have particular favourites. We provide one piece of fabric and if you would like additional pieces these are charged at £1 each. Again if you have a piece of material you would particularly like to work on, then bring it along.
Course fees include refreshments throughout the day, including fresh coffees, teas and a light lunch.
The workshop takes place in the Ground Floor Drawing Room. There is a flight of stairs from the main entrance with a stair lift.
Date and time
Location
Shambellie House
New Abbey
Dumfries
DG2 8HQ
United Kingdom
Refund policy